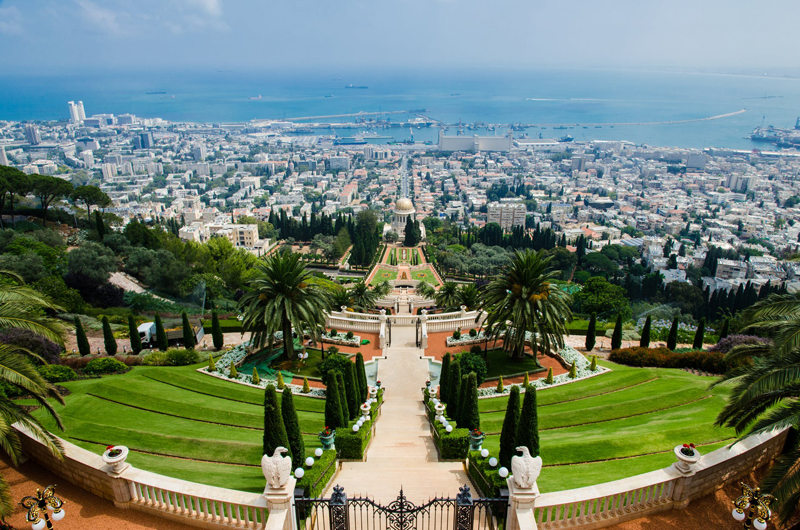 This is not the article I was expecting to write for that lovely Spring Saturday, but the topic was fresh in my mind and newly broken heart. We had just lost our youngest grandchild to a severe asthma attack, and I was dealing with the shell shock by delving into the Bahá'í writings for solace.
The Bahá'í Faith addresses death in two parts: the progress of the soul, and the grief that comes from separation. Because basic Bahá'í theology is that true human nature is eternal--only the body is transient--there is no need to fear death:
"Although the loss of a son is indeed heartbreaking and beyond the limits of human endurance, yet one who knoweth and understandeth is assured that the son hath not been lost but, rather, hath stepped from this world into another, and she will find him in the divine realm. That reunion shall be for eternity, while in this world separation is inevitable and bringeth with it a burning grief." - 'Abdu'l-Bahá,
Unto Him Shall We Return,
p. 99-100
Nevertheless, dealing with the loss and separation, however temporary it might be in the time frame of eternity, is critical. So critical that the topic has been a major part of religion throughout history.
I'm no good at separations--I used to cry when my kids went to a sleepover!--so I really need the reassurance that all is well with my loved ones who have left this material plane of existence. I need to know that life, and death, have a purpose and positive outcome. This passage feels like it was written to me, personally:
"The death of that beloved youth and his separation from you have caused the utmost sorrow and grief; for he winged his flight in the flower of his age and the bloom of his youth to the heavenly nest. But he hath been freed from this sorrow-stricken shelter and hath turned his face toward the everlasting nest of the Kingdom, and, being delivered from a dark and narrow world, hath hastened to the sanctified realm of light; therein lieth the consolation of our hearts.

"The inscrutable divine wisdom underlieth such heartrending occurrences. It is as if a kind gardener transferreth a fresh and tender shrub from a confined place to a wide open area. This transfer is not the cause of the withering, the lessening or the destruction of that shrub; nay, on the contrary, it maketh it to grow and thrive, acquire freshness and delicacy, become green and bear fruit. This hidden secret is well known to the gardener, but those souls who are unaware of this bounty suppose that the gardener, in his anger and wrath, hath uprooted the shrub. Yet to those who are aware, this concealed fact is manifest, and this predestined decree is considered a bounty." ibid pp. 100-101
Thus reassured, I can spend energy on taking care of myself and my family and friends, because it is the living who need the most care. I'm old, so I know that all things, including grief, pass. As an older friend once told me, you don't ever 'get over it'--whatever the loss--but you do eventually 'get on with it.'
The article for next week will deal more specifically with grief, including a bunch of resources that are available to anyone who needs them. I think they are especially useful for family and friends of the bereaved, because I don't expect my son, for instance, to be in any shape to read stuff for a while. He and his wife and other children are walking wounded right now.
I'll end with this particularly touching quote from a letter written to a grieving mother by 'Abdu'l-Bahá, who knows whereof He speaks, since he lost five of his nine children in their infancy. Here He takes the voice of her son:
"O thou kind Mother, thank divine Providence that I have been freed from a small and gloomy cage and, like the birds of the meadows, have soared to the divine world--a world which is spacious, illumined, and ever gay and jubilant. Therefore, lament not, O Mother, and be not grieved; I am not of the lost, nor have I been obliterated and destroyed. I have shaken off the mortal form and have raised my banner in this spiritual world. Following this separation is everlasting companionship. Thou shalt find me in the heaven of the Lord, immersed in an ocean of light."
ibid,
p. 100
You Should Also Read:
Dealing with Grief Resources
The Bahá'í Concept of the Soul
Life after Death


Related Articles
Editor's Picks Articles
Top Ten Articles
Previous Features
Site Map





Content copyright © 2022 by Cheryll Schuette. All rights reserved.
This content was written by Cheryll Schuette. If you wish to use this content in any manner, you need written permission. Contact Cheryll Schuette for details.