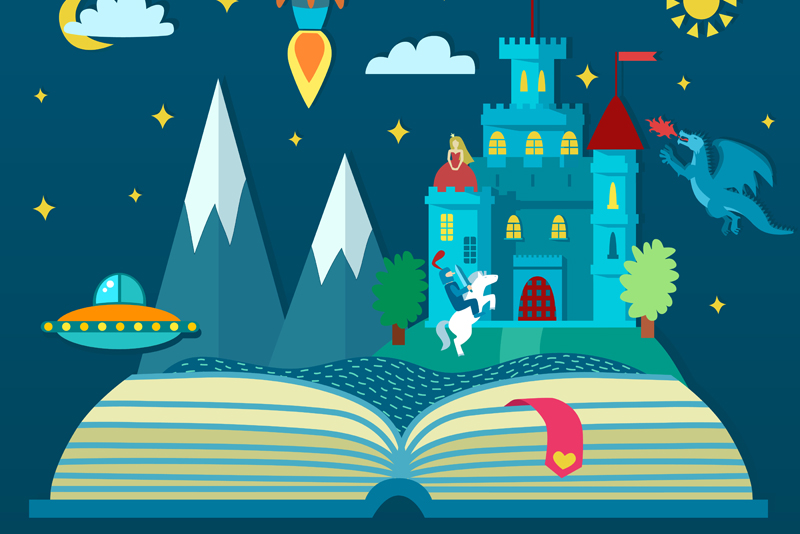 When people find out I'm a children's author one of the first questions they ask is "How do get ideas for your books?" The truth is that ideas are somewhat magical. They spring from an alchemy of events, opportunities, a passionate desire to write, inspiration and imagination. You witness something and a piece of who you are as a person connects with it in a unique and interesting way. Most children's authors have never lost that tiny inner child inside themselves. The ability to look at the world through the eyes of a child is a very important quality for a children's author.

Ideas from Nature

One of the wonderful children's books on my shelf is Eric Drachman's Leo the Lightning Bug (ISBN 0-9703809-0-9). This great picture book grew out of a unique event that the author witnessed. He was watching a huge lightning storm from the porch of a cottage in the countryside north of New York City. When he saw a little lightning bug, flashing his light by the window screen at the same moment, he wondered if the lightning bug thought he was making all the lightning…and that was the start of this imaginative picture book about a lightning bug who wants to make a light all his own. Not only was it the start of this book, but Eric started his own publishing company, Kidwick Books, www.kidwick.com to create other books and audios for children. Another book on my shelf inspired by nature is the beautifully illustrated and softly told story of Quiet Bunny by writer and illustrator Lisa McCue (ISBN 978-1-4027-5719-8). For children who love the sounds of nature this is the perfect book. The author tells the story of a little bunny who wants to make his own sounds. All the other animals make noises but quiet bunny can't make any sounds the same way that they do. With the sights and sounds and smells of nature interwoven throughout this lovely book, the author tells a sweet story that I'm sure resonates with children. I wasn't surprised to read that the author's window faces out on Chesapeake Bay.

Classics Retold

Those of you who read my column regularly know that at the age of 55 there isn't a gift that I love better than a new children's book for my shelf. For my birthday, my husband brought home the classic Hans Christian Andersen tale of Thumbelina as retold by Brian Alderson with luminous illustrations by Bagram Ibatoulline (ISBN 978-0-7636-2079-0). This story of a little girl who's as tiny as a thumb still retains its charm even though the original story was written in 1835. I would be frightened to tackle the retelling of such a famous story, but the author has done a great job with this wry, witty modern version. I did try my hand at a very expanded version of Aesop's one-paragraph story of a mother crab who unsuccessfully tries to teach her baby crab how to walk in my story Crabby Lessons (ISBN 0-9659222-9-4). There's a wellspring of inspiration available in classic stories and folktales. The joy of this type of writing is that you can retell the classic tale or you can create a unique spin-off all your own.

Family Relationships

Family relationships inspire lots of children's authors. The best-selling children's book Love You Forever by Robert Munsch (ISBN 1-55209-109-0) is the poignant story of the love of a mother for her son. Another great book about the unconditional love between a mother and son is I Love You, Stinky Face by Lisa McCourt (ISBN 0439634695). The wildly imaginative little boy in this book keeps dreaming up scary, stinky characters he could become and asks his mother if she could still love him. It's touching and comforting for both mother and child.

There is inspiration all around you. Look at the world with new eyes and you'll see it everywhere.


You Should Also Read:
Recharge Your Imagination!
Writer's Block - The Writer's Nightmare


Related Articles
Editor's Picks Articles
Top Ten Articles
Previous Features
Site Map





Content copyright © 2022 by Annamaria Farbizio. All rights reserved.
This content was written by Annamaria Farbizio. If you wish to use this content in any manner, you need written permission. Contact Annamaria Farbizio for details.