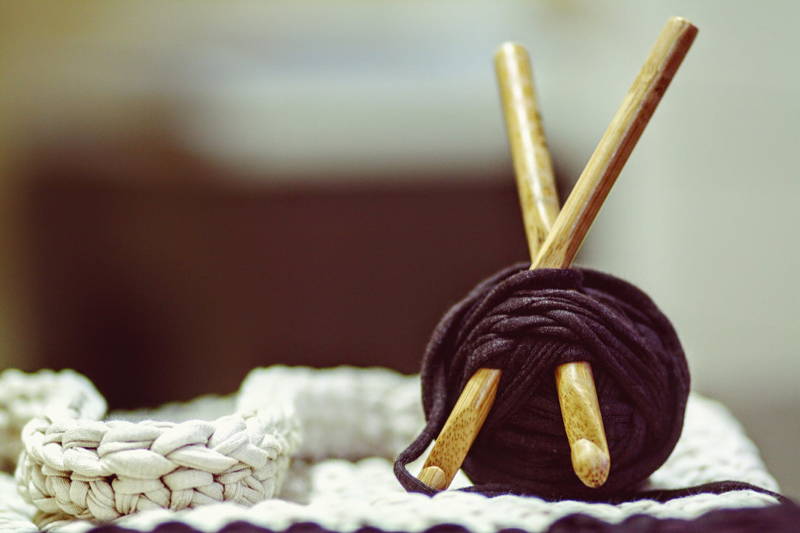 May 27, 2017 was Edmonton's first Fibre Frolic, organized by two local indie yarn dyers. They put together a beautiful sale, showcasing the beautiful work of local Alberta yarn dyers and spinners.

It was my first time ever attending an event like this, but I can tell you, it won't be my last! By the time the doors opened, there was a line-up at least 30 people deep. You could feel the excitement buzzing in the air!

Maybe the event was so well-attended because Alberta's weather tends to cause a craving for cozy indoor activities that require yarn, and creates a need for warm and woolly accessories. But I tend to think yarn lovers are everywhere!

And the fun thing about an event like this is that you don't have to rely on the quality of pictures online to decide on a purchase. You can touch and feel, and see how the colors go together. You can buy yarn from multiple dyers to use in the same project, and you can compare them in real life, rather than hoping the colors on your screen will match in real life.

It's also really fun to know you're using yarn from a local maker. You get to meet them, get to know their philosophy and color schemes, and ask a thousand questions.

Local events are gaining in popularity as yarn and fiber arts are making a comeback in popular culture. There are huge events, such as the Maryland Sheep & Wool Festival, or the Black Sheep Festival in Oregon, or Knit City in Vancouver. But there are also smaller, local events, and social media is making it easier than ever to be in the know about local events.

Want to find an event near you? Join a Facebook crochet group. There are many regional groups, as well as groups dedicated to crochet no matter your location. Ask among the group about how to find a local yarn event. Local yarn swaps are another really fun way to clear out unused yarn from your stash, while finding gems for your next project.

Search for local indie dyers on Instagram, Ravelry and Facebook, and ask them to do a custom dye for you. They'd probably love the opportunity to work with someone local, and might even know of ways for you to shop local.

And, of course, your local yarn shop is another great resource for locally-sourced yarns and upcoming events. Stop in and get to know the people there, ask questions, and feel good about your purchase, knowing you're supporting local.

It's amazing how easy it is to fall in love with beautiful hand-dyed yarns, or pick up a new skill, such as spinning or dyeing your own yarns, when you meet other artisans at a tradeshow dedicated to fiber arts. Make sure to find one near you!

You Should Also Read:
Yarn Stash Organization
Seaside Yarn Maker Interview
Does it Matter How a Yarn is Made?


Related Articles
Editor's Picks Articles
Top Ten Articles
Previous Features
Site Map





Content copyright © 2023 by Holly Messenger Aamot. All rights reserved.
This content was written by Holly Messenger Aamot. If you wish to use this content in any manner, you need written permission. Contact Holly Messenger Aamot for details.