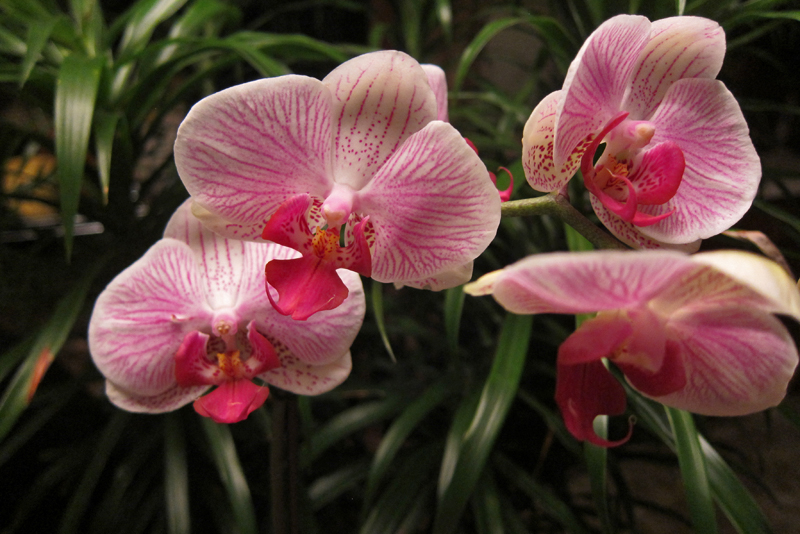 For the Christmas season I would like to introduce you to an orchid named the Star of Bethlehem for its enormous creamy white flower with along spur which gives the appearance of a comet tail. It blooms reliably during the holiday season.
Angraecum sesquipedale
a vandaceous orchid from Madagascar produces the stunning flower which can be 7 to 8 inches (20 cm) across with a spur or nectary (a long tube like appendage at the back of the flower) that can reach 14 inches (32 cm) in length. The name of the plant "sesquipedale" means that it has a one and a half foot spur.
Angraecum sesquipedale
is also known as "Darwin's Orchid" because when he saw the flower at Kew Gardens in the 1880s he developed the theory that there must be a moth with a proboscis (or tongue) long enough to gather the nectar at the end of the spur. No such moth was known at the time and he was ridiculed for his idea. Fifty years after Darwin's death, such a moth, Xanthopan morganii praedicta (the name praedicta means predicted) was discovered.
The American Museum of Natural History
has an interesting article on Darwin's prediction of the moth. Darwin used the moth/orchid as an example of the mutual dependence of two different species.
Moth-pollinated orchids, although mostly white with an occasional green cast, are almost always very fragrant in the early evening in order to attract their pollinators. This orchid is known as one of the most fragrant in the whole orchid family. The beautiful fragrance will fill a room as the sun goes down.
Angraecum sesquipedale
is known as quite an easy plant to grow in warm to intermediate conditions. It will grow in Cattleya conditions of light and humidity although it should not be allowed to dry out severely. It grows throughout the year and does not require any kind of rest period. The plant itself will grow quite large (up to 30 inches or 75 cm), but they are well known for blooming at a fairly small size. One extremely important thing to remember about growing this wonderful species is that they hate to be repotted. When it is necessary to do so, be extremely gentle with the root system – both those in the medium and those growing in the air. Any major disturbance to the roots can cause the plant to go into decline or sulk for several years! The reward for growing this plant will be 1 to 6 sweet smelling flowers per inflorescence. An example of a particularly well grown specimen is available on
The Houston Orchid Society
home page.
You Should Also Read:
Did you know Vanilla was an Orchid?
Orchid Posters
Gifts for the Orchid Lover


Editor's Picks Articles
Top Ten Articles
Previous Features
Site Map





Content copyright © 2022 by Susan Taylor. All rights reserved.
This content was written by Susan Taylor. If you wish to use this content in any manner, you need written permission. Contact Anu Dharmani for details.