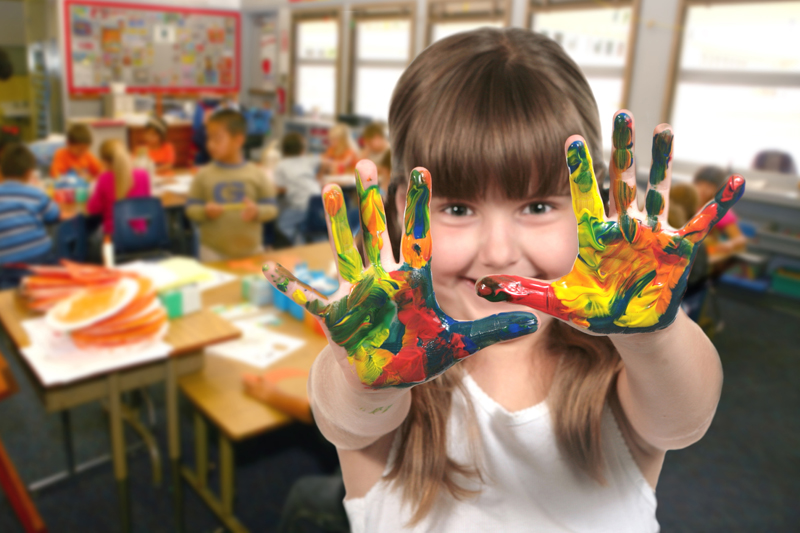 By an exciting chain of events I found myself with my sons at the world famous Comic Con Convention in San Diego the past couple of days. The best way to describe the atmosphere is an excited swarm of bees bustling around, everyone headed in a different direction- and some in costumes to pay homage to favorite characters from pop culture. Superheroes were super huge at the convention! This craft how-to is my way to commemorate a great past couple of days. To make a super hero cape you will need:

-1 old adult sized T-Shirt in a light color
-Scissors
-Fabric crayons, markers, or puff paint
-Hook and loop closures for fabric

Step 1: Begin by cutting a line directly down the center of the front of the T-shirt, from neck line to waistline.

Step 2: Next, cut along the neck line just below the existing collar. You will begin the cut at the front of the T-shirt and cut around to the back leaving about six inches of the collar uncut. Complete this step on both the left and right sides of the collar.

Step 3: Open the T-shirt and lay it out on a flat surface. The next cut will shape the cape. Cut a straight line from the collar to the bottom hem of the T-shirt. Begin that cut right at the point where you stopped cutting around the collar in Step 2. You will want to make the shape of the cape narrower at the collar/ top and much wider at the waistline/ bottom.

Cutting is now complete. You should have a cape with the collar to be used as the way to secure it around the neck.

Step 4: Follow the package directions to secure the hook and loop closure firmly on the ends of the collar ends. I have seen some that require ironing to secure. They could also be sewn.

Note: If you make the decision to secure the cape in a different way, consider safety aspects and the risk of strangulation. The hook and loop closure can break away if the cape is caught somewhere.

Step 5: Now that your cape is ready to go, it is time to decorate it! Go with the classic designs of existing heroes or personalize the cape with a name.

Dress up/ dramatic play with these inexpensive and easy capes will bring out the super hero in all of us. Watch as the children light up with interest and excitement.



Related Articles
Editor's Picks Articles
Top Ten Articles
Previous Features
Site Map





Content copyright © 2022 by Angelica Arroyo. All rights reserved.
This content was written by Angelica Arroyo. If you wish to use this content in any manner, you need written permission. Contact Launa Stout for details.