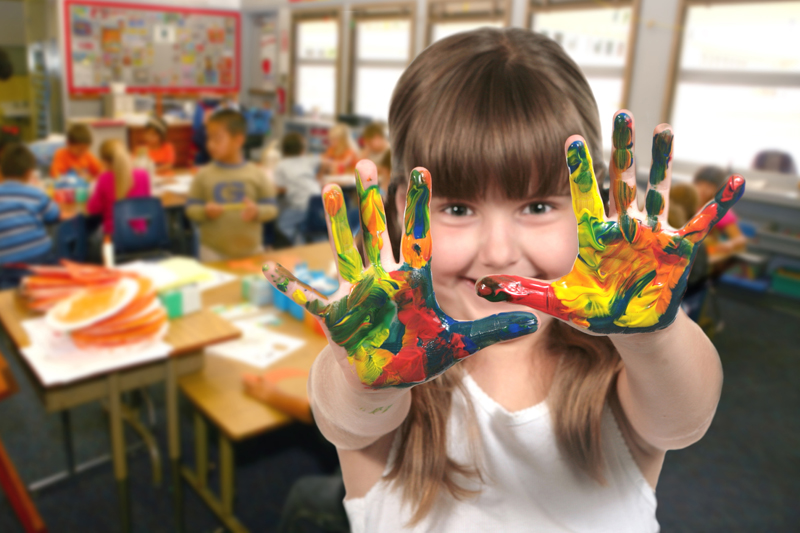 Mother's Day is just around the corner and I know you are looking for some simple ways to help Mom celebrate and have fun on her very special day. One of the things my children enjoy is giving me breakfast in bed. It would be nice to be able to serve Mom breakfast using a place setting that her child(ren) created. (Dad-you may need to help out a bit here!)

What goes into a place setting? I'll define it as the silverware/plastic ware, plate, cup, placemat, napkin and a tray for carrying these items to where you would like them to be. Yes, you could simply get some really pretty paper products at your local party story, match the silverware to the plates and napkins and maybe put a fancy table cover onto your table. I know I would be happy to have my children make me breakfast and I'd gladly walk to the table.

For the sake of letting the kids have some fun, let's just say they need to carry the food to you. One of the things they will need is a tray. This could be a wooden tray that they painted and/or decoupaged some pictures onto it. Why not make one that is generic for any special occasion? Paint on words like "You are Special Today" or "Today is Your Special Day" . Add decorations like stars, balloons, and streamers for some finishing touches.
Placemats and napkins would also add to the occasion. Just purchase these in any pattern or color you wish. Wash them, but do not add any fabric softener. Then have some fun with fabric paint, stencils and/or stamps. Just be certain when you are painting that you have plastic under the placemat or napkin. One year I did a similar project using bandanas. The paint went through the bandana and onto my table cover. I guess I was simply due to get a new table cover! We did add some more to the design on the table cover, after putting plastic under it and created a new cover for picnics.

Plates, cups and silverware are a bit more tricky. I have seen kits where you can paint your own glass plate. You could also purchase a clear plate and use paints to decorate the back. The only problem with this is the paint will wash off and you'd need to create a new design each time you want to use it. Another idea would be to go to a paint-your-own pottery store and make a plate and mug set. We have been doing this for my mother and father-in-law and they seem to enjoy it. If your mom likes flavored coffee, why not make her a chocolate covered spoon to stir her coffee? Just coat a plastic spoon with melted chocolate, cover it with some plastic wrap and tie it with a fancy ribbon. Make several of these to put into a mug and you have a simple gift to give to anyone for any reason.

I hope you have fun crafting for Mother's Day. Stop by the forum to let me know if you were able to use these ideas, and to add a few of your own. It'd be great to hear if you have any holiday traditions to share!



Related Articles
Editor's Picks Articles
Top Ten Articles
Previous Features
Site Map





Content copyright © 2022 by Deborah L. Kompare. All rights reserved.
This content was written by Deborah L. Kompare. If you wish to use this content in any manner, you need written permission. Contact Launa Stout for details.