Delheim Winery, South Africa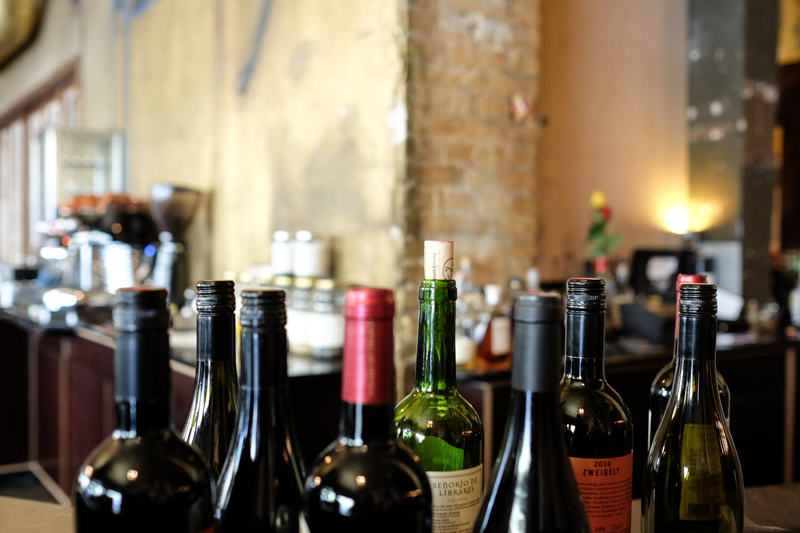 I am lunching in the open air at Delheim Winery, high in the foothills of Simonsberg mountain. On the horizon I can see Table Mountain and beyond that the Atlantic Ocean.
Delheim is one of South Africa's pioneering wine farms and it's owned and operated by the Sperling family.
Although the property has been farmed since 1699, its modern history starts with the arrival from Germany in 1951 of teenager Michael Sperling, who was so scrawny his nickname was 'Spatz', meaning 'sparrow'.
Michael had come to help his aunt Deli Hoheisen and her husband Hans who'd bought the land for their retirement. But working a farm is hard work, times were tough, deer were eating the vines, Atlantic gales blew down fruit trees and the farm wasn't paying its way. Spatz enthusiastically pitched in but by 1957 Hans wanted out. Spatz and Deli loved the farm — named Delheim, meaning Deli's Home — so the Hoheisen's signed over the land to Spatz and gave him enough money to tide him over in return for a share of any future profits.
Spatz taught himself to make wine. His first vintages left much to be desired but strangely resulted in one of his greatest successes. Pouring glasses of his earliest wine to friends, he overheard one whisper to another that it tasted like 'dreck', meaning excrement.
He determined to make his friends 'eat their words' and went on to make a delicious sweet wine that he called Spatzendreck (or sparrow poo) with a golden label showing a cheeky sparrow depositing a 'contribution' into a wine barrel. That wine became famous, even winning a 'worst label' award by Decanter magazine, and its success meant the survival of the wine farm. Spatz was a fast learner and by 1959 his dry wines were winning trophies at competitions.
Spatz Sperling had a much greater vision. He foresaw that wine tourism would become important. In 1971, after much opposition, he and two other wine farmers, Neil Joubert of Spier and Frans Malan of Simonsig, opened the Stellenbosch Wine Route, the first in South Africa, and in 1976 Delheim was the first winery to open a restaurant to cater for the increasing number of visitors travelling the wine route.
Today Spatz is in poor health but he still oversees what happens at Delheim. He regularly walks the vineyards. "Youngsters think they can do it without leaving their computer," he told me, rather unfairly, as his son Viktor is the viticulturist and there's hardly a day he doesn't spend with vines.
Spatz also saw the future lay in red wines at a time when semi-sweet German style whites were the fashion. Delheim's high mountainside vineyards, while ideal for white grapes, are too cool for black varieties so a neighbouring farm was added to the property. This was named Vera Cruz – or Vera's Cross — in honour of Vera, Spatz's long suffering wife.
More than 60 years have passed since Spatz arrived at Delheim and the wines have a fine reputation, its garden restaurant is a popular dining place and its tasting room and winery tours are a must for visitors.
The restaurant menu changes with the seasons. There's an influence from Spatz's German heritage but one standard is a fixture which I've been eating for almost 20 years and that is Cape Malay curry served in an individual potjie with rice, poppadoms, sliced banana and coconut.
Potjies were the cast iron cauldrons on three stumpy legs placed over open fires that could cook an entire meal, meat at the bottom with vegetables layered on top. The curry is a fusion between Afrikaner meat stews and flavours introduced by immigrants from Indonesia and Malaya; not hot, just scented with fragrant Asian herbs and spices.
I accompany this with either a fruity red Pinotage or crisp white Chenin blanc, but many prefer Gewürztraminer.
The wine scene in South Africa has changed out of all recognition in the past twenty years and hundreds of new wineries have opened, but Delheim maintains its position as a Stellenbosch wine route leader.
For more about Delheim and where to buy their wines see www.delheim.com
Talk about wine on our
forum
.
Peter F May is the author of
Marilyn Merlot and the Naked Grape: Odd Wines from Around the World
which features more than 100 wine labels and the stories behind them, and
PINOTAGE: Behind the Legends of South Africa's Own Wine
which tells the story behind the Pinotage wine and grape.
Peter F May visited and dined at Delheim at his own expense.


Related Articles
Editor's Picks Articles
Top Ten Articles
Previous Features
Site Map





Content copyright © 2023 by Peter F May. All rights reserved.
This content was written by Peter F May. If you wish to use this content in any manner, you need written permission. Contact Peter F May for details.