Becoming a Beer Judge - A Woman's Personal Journal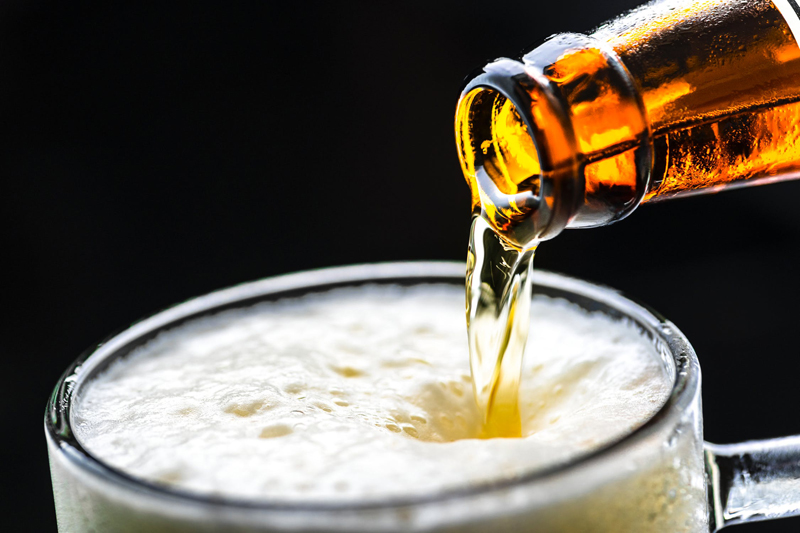 Why Would a Woman Want to Judge Beer? Introduction - Entering Nirvana

The discovery and appreciation of real beer is one of the great joys of life. Among men, it ranks at the top of life's achievements, with sex and food. Many women, however, never discover this Nirvana, due to the popular belief that beer girls are a "cheap thrill," while champagne girls are"sophisticated and sexy."

It makes one wonder how such an influential turn-around could have occurred. Beer had, after all, been the chosen beverage of kings and queens throughout European history. During a recent trip to the USA, Prince Charles and his wife, Camilla, relaxed with beverages of royal stature, California brewed Anderson Valley Boont Amber and Lagunitas IPA. The Oktoberfest Beer Festival in Munich, Germany, continues to be held each September, a festival commemorating the marriage between Crown Prince Ludwig I and the lovely Princess Therese of Saxony-Hildburghausen, originally consecrated on October 12, 1810.

Due to effective marketing efforts between the wine and champagne producers of France and the United States, an association linking viniculture and sophistication has been achieved throughout media markets in America. In the late 1800's, forward thinking vintners sent cases of wine and champagne to those known as wine connoisseurs within the more populated cities. These aficionados would hold elaborate parties, bestowing such honorary titles as "The Great Champagne of the Western World," and influencing the tastes within avant-garde circles who, in turn, commanded imitation by other segments of society.

For Laurent-Perrier of France, it was a matter of survival. On the verge of bankruptcy following World War II, Maurice de Nonancourt used his love for champagne and ability as an innovative leader to build a profile associated with the upper cusp of society throughout countries with a higher gross national product.

In 1995, Laurent-Perrier tied a bond with the Academy of Motion Picture Arts & Sciences as the exclusive champagne at the Oscars. It became the official champagne at the Emmys in 2001, through an agreement with the Academy of Television Arts & Sciences. That same year, Laurent-Perrier partnered with Relais et Chateau, an international association having a focus on promotion within hotels and restaurants known for their exceptional standards. They also partnered with the Professional Golfers Association of America in 2002 as the "Official Champagne of the PGA of America." Such high profile within the visual circuits of the media is enormously convincing to the average Joanna.

Style-setting women who are individual thinkers, however, may wish to discover the exciting realm of Belgian ales, Champagne beers, IPAs, Irish stouts and French saisons. Nothing is more seductive than a self-assured woman in a brasserie, enjoying a drink of topaz with a voluminous, rocky head. Recently, I feathered my glass of Unibroue's Ephemere beneath the noses of two friends who were committed wine drinkers, only to see their eyes dance, while signs of approval crossed their lips. Slow progress, but progress all the same.

For those who have watched wine tasters spit, one wonders how this beverage could have possibly achieved such a position of respect. Beer tasters do not spit. In order to fully delineate the nuances within a well-balanced beer, including the hop profiles that can only be appreciated at the back of the tongue and within the throat, beer tasters swallow. Such sophistication!

As the Beer Fox, my energy is driven by a love and appreciation for the various styles and signatures of beer, one that I enjoy sharing with others. To that end, I have made the commitment to become a part of the Beer Judge Certification Program, an independent, non-profit membership organization of beer judges dedicated to promoting beer literacy and an appreciation for real beer. The BJCP has developed style guidelines that incorporate a common language for the evaluation of beer, and assures that those who enter competitions will be judged fairly and competently in a proven, standardized evaluation method. What this actually means is that those who become beer judges need to be dedicated to acquiring a high level of knowledge and evaluation skills on a continuing basis.

Advancement within the program requires a thorough knowledge of the brewing process so the judge can intelligently discuss techniques and ingredients and how they may have affected the beer samples, including the chemical processes involved; how to formulate all-grain recipes; a thorough knowledge of individual beer styles and their roots, common ingredients or intrinsic differences; how to identify faults in beer and offer constructive advice to correct those faults; and a knowledge of beer styles associated with different cities of origin throughout Europe, noting descriptions and commercial examples. It also requires that the judges acquire experience points on a continuing basis to assure that up-to-date knowledge and a mastery of skills are maintained.

One of the most positive segments of the program is that the BJCP is open to anyone wishing to know more about beer and willing to acquire these skills, whether they are male or female, brewer or not, professional or amateur. If some of the areas seem mind-boggling, find comfort in the fact that there is an Apprentice Level for those who have taken the exam but may have fallen short in some significant area of understanding. This gives potential judges time to increase their skill level, while remaining involved with the program.

My first class (of eight) was held at the end of December 2005 in Iron Hill Brewery of North Wales, Pennsylvania, in conjunction with Keystone Homebrew of Montgomeryville. As predicted by demographic statistics, I was one of only two women in a group of thirty. We discussed the program, expectations, and a light review of ingredients, along with an initial assessment of three beers of different styles. Follow along while I share my successes and frustrations within the next few weeks.

As I began to study the material, my initial impression was, "What the hell is 'primarily reduced by proteolytic enzymes into polypeptides, peptides and amino acids'?" I initially wondered why it was necessary to know so much - after all, you don't have to know everything about electricity to flip the switch and get the light. As I studied, I realized that a thorough understanding of beer is necessary to become an adept evaluator, and one must make a commitment to giving accurate advice to those wishing to improve their brewing skills. Many of the processes parallel basic cooking processes, with the "why" added. There is a unique vocabulary involved with beer and brewing, and it is necessary to learn the language in order to communicate effectively.
For information on the Beer Judge Certification Program, check it out at https://www.bjcp.org

Stay tuned!

Cheers!
 
You Should Also Read:
Beer Tasting Tips - Training your Taste Buds
Flat Beer - Off Flavors & Stale Ale
Beer Judge Basics & Continuing Education


Editor's Picks Articles
Top Ten Articles
Previous Features
Site Map





Content copyright © 2022 by Carolyn Smagalski. All rights reserved.
This content was written by Carolyn Smagalski. If you wish to use this content in any manner, you need written permission. Contact Carolyn Smagalski for details.