Favorite Creative Activities From Childhood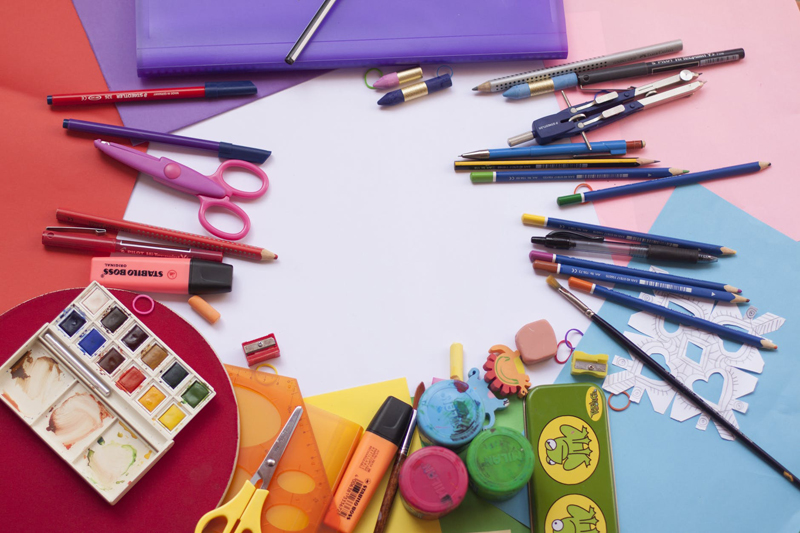 Glitter, glue, crayons and paint! When we were younger these things were our tools and toys. Art or any creative activity were a freeing experience and a place where we were able to fully express ourselves. Take a minute to remember what it was like to be creative as a child.

Did you like to finger-paint or was it too messy? Did you create dioramas, not because it was an school assignment, but because you liked to build and design? Did you constantly take pictures and save them in a book? What was it that you enjoyed creating? If we can remember the simple, pure fun and contentment we felt back then it will serve as a guidepost for our creativity now. Is it time to revisit your childhood favorites for some fresh new energy? Below are a few suggestions for creative fun inspired by childhood favorites.

Finger-painting:
This activity is as rewarding as it is messy! Try not to make sense with your painting, but rather have fun and let yourself go a little wild, combining colors and making streaks and circles around the page. If that doesn't work for you, try this fun exercise: Scribble a line or circle on your page and use that as a jumping off point for a drawing. For instance, the circle you draw might be the beginnings of a flower or the jagged line can become a tree branch.

Coloring Books:
This is one of my favorites! There is something very satisfying about putting color to a picture and watching it develop. And a new box of crayons is always welcome! Gather up some crayons and coloring books. Alternately, a quick internet search will return many free websites that offer coloring pages, varying between simple designs to more complex pictures. Try to find a theme that you like such as your favorite animals or medieval symbols such as castles and knights.

Paper-cutting:
Paper-cutting is almost an universal experience with many of us having first tried our hand at it in kindergarten around Christmas time when we cut "snowflakes" from folded paper with our scissors. Traditional and contemporary paper-cutting or "Scherenschnitte" can be very involved. However, it is doesn't have to be this way. Try folding a piece of square paper in half lengthwise, and then fold it again, except horizontally. From there start making snips with your scissors on the seams. Each new cut makes it all the more unique!

Sock Puppets:
Try your hand at puppet-making again by using a mate-less sock. The more interesting the sock, the more fun the puppet is! Find some "googly eyes" to glue onto the sock and a small pom-pom for the nose. Include ribbons, glitter, and paint. Make it as decorated or as plain as you want.

These fun activities are meant to focus on the creative process and going with the flow rather than obsessing about the end product. It isn't so much what we decide to do as long as we give it a try. Do try to do something fun this week! Stepping out of your normal creative activities and doing something fun from your childhood will bring fresh, new energy to your creativity. Feel free to pick and choose from the above list or let me know in the forum what your favorite childhood creative activity is.


Related Articles
Editor's Picks Articles
Top Ten Articles
Previous Features
Site Map





Content copyright © 2022 by Jennifer Spedowfski-Martin. All rights reserved.
This content was written by Jennifer Spedowfski-Martin. If you wish to use this content in any manner, you need written permission. Contact Jana Taylor for details.