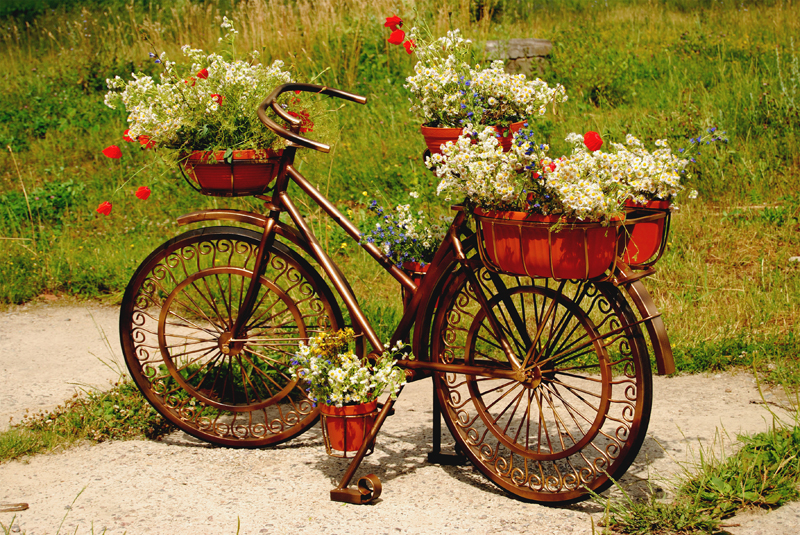 So now you have your first pot(s) prepared, your first seeds or seedlings planted, and you've been watering regularly. Congratulations! Now it's time to help your plants grow.

1. Trellises or cages
If you have planted something which will grow tall and/or bushy or with a climbing habit, you will want to give the plant(s) some support.

For most tomatoes some sort of cage is best, though some varieties have a long trailing habit and can be trained onto a trellis or poles. The smaller tomato varieties can use a smaller cage, larger 'beefsteak' varieties will need a large one. Don't be skimpy on your support! I find that no matter how big I plan for, the cage is somehow always too small.

Large vining plants like cucumbers, squash and melons will need a heavy-duty cage or trellis with horizontal poles for climbing and support. Train the vines up the vertical posts and across the horizontal supports. As the fruit or vegetables develop make sure they have enough support – if they are large (in the case of melons) you may have to tie them to the cross-bars. Old pantyhose work great for this! Just slip an old leg over the developing melon and tie off loosely to the cross bar. The fruit still gets plenty of sun and the pantyhose will stretch as the melon matures. When it's ripe, simply untie!

Small vining plants such as beans or peas do very well on a 'tee-pee' or cone-shaped trellis. These can be made of bamboo, willow, or other wood or metal and are widely available in garden stores or can be made yourself. Besides giving your plants a 'home' to climb, they also make harvest very easy as the beans and peas will hang down inside the 'tee-pee' and away from the leaves. And they look pretty, too!

2. Watching for disease and pests
Most vegetable and fruit plants don't do well if their leaves are wet for extended periods, and especially if wet overnight. This leaves them susceptible to all sorts of fungus, such as mildew or brown spot. For this reason try to water your plants in the mornings and avoid getting the leaves wet if possible.

Your plants, in general, should have a healthy green color and large leaves. (Exceptions would be some varieties which have a natural color other than green, but these are rare). If the leaves are yellow, brown, spotted, or curled, or you see white 'dusty' sections, check further for the source of the problem.

Spotted leaves are most likely caused by a fungus of some sort. If the older leaves are more affected than the younger ones this is most likely the problem. Make sure the plant is getting enough sunlight and air and that the leaves are not wet overnight. You can spray with a sulfur or neem oil spray (available at most garden centers) as recommended on the bottle. Be sure to watch the plant after application – make sure it doesn't react adversely to the spray.

White 'dusty' spots on the leaves or plant are most likely powdery mildew. This is also a type of fungus; treat this as described above.

Yellowed or curling leaves may be a sign of insect infestation. Check the leaves and stems, and especially the undersides of the leaves. Many insects like to hide under the leaves to feed. Some are so small you may need a magnifying glass to see them. Most feed by latching onto the leaf veins and sucking out the sweet juices, which causes the leaves the wither up and curl. If the infestation is a bad one spraying to get it under control quickly is recommended. There are many organic and chemical sprays available – I prefer to use something like neem oil or insecticidal soap, the less harsh the better. Better yet, start out early in your garden with a batch of ladybugs or green lacewings – in the years when I have introduced these early I have had little or no problems with bugs. And they are fun to have in the garden, too!

Another cause of yellowed or discolored leaves may be lack of fertilizer. If the potting mix used had plenty of compost, manure, or other nutrients added then this is probably not the problem, but you can try using a liquid fertilizer with iron for a few weeks to see if it helps. Sometimes your plants just need an added boost when they get started, or need some help later in the season as they've used up a majority of the nutrients in their soil.

................................................................................

CASUAL VISITOR … and just browsing? Why not sign up to the Container Garden newsletter? It won't matter what space or how many pots you have or even how much time you have to spend in your container garden; what will matter is that you get our reminders and good advice and ideas all in one interesting article.


You Should Also Read:
Starting a Container Vegetable Garden


Related Articles
Editor's Picks Articles
Top Ten Articles
Previous Features
Site Map





Content copyright © 2022 by Jessica Carson. All rights reserved.
This content was written by Jessica Carson. If you wish to use this content in any manner, you need written permission. Contact Lestie Mulholland for details.