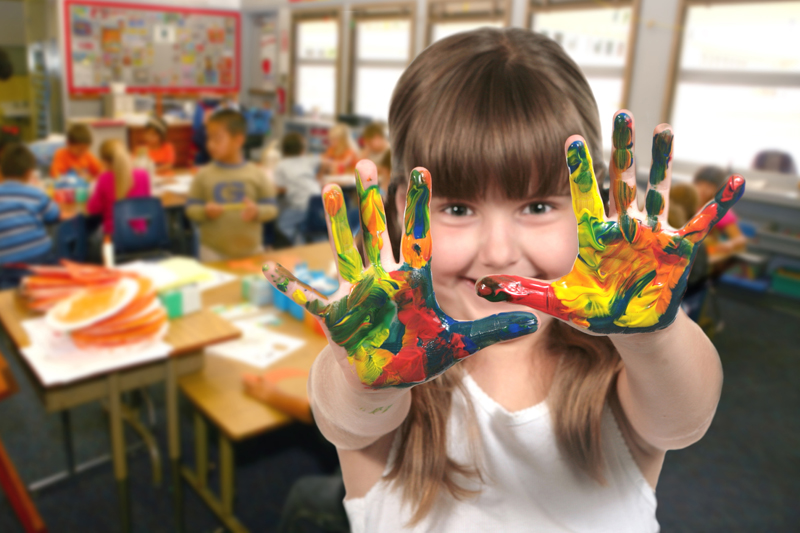 Want a craft that will really make an impact on kids? Try creating and erupting your own volcano! This project takes some extra time, but the results are well worth it. Even kids who don't usually enjoy crafts will want to help with this one. Best of all, your volcano can be saved and used again and again. For this project, you will need an 8 oz soda bottle, a pie tin or baking dish, self-hardening clay, baking soda, vinegar, food coloring, liquid dish soap, and acrylic paint.

Start by shaping the clay around the bottle. The bottle is your volcano, so try to make it look as mountain-like as possible. Build the clay out from the bottom of the bottle to form the base of the mountain. Don't worry about perfection; you'll be painting the clay, which will add a great deal to the realism. Be sure to leave the bottle's opening clear. Let the volcano dry according to the package instructions, usually several hours to a day or two.

Once your volcano is dry, you can paint it. Use acrylic or another non-washable paint because it's going to get wet! We painted ours dark brown with streaks of black. Let the paint dry thoroughly before you continue. Stand the volcano up in your pie tin or baking dish to help contain any splashing. If you wish, you can add some action figures or model buildings around the base of the volcano.

Now you're ready to add your ingredients to the bottle. Use a funnel to make pouring the liquids easier for kids. Add 1/2 cup of warm water to the bottle, followed by two tablespoons of baking soda, several drops of liquid dish soap, and a few drops of yellow food coloring. Explain to the kids that when you add the vinegar, the volcano will erupt. The baking soda and vinegar will react to form carbon dioxide gas. The gas bubbles force the liquid in the bottle up and out. It may be best for a parent to add the vinegar the first time; younger kids sometimes feel nervous about the eruption until they see it for themselves.

Mix several drops of red food coloring into 1/2 cup of vinegar. When everyone is ready, add the vinegar to the volcano and watch it erupt! You can make the volcano erupt as many times as you like, simply by adding more ingredients to the bottle. When you're done, rinse the volcano out and let it dry. If you wish, you can then save it for another time. Have fun!



Related Articles
Editor's Picks Articles
Top Ten Articles
Previous Features
Site Map





Content copyright © 2022 by Kimberly Misra. All rights reserved.
This content was written by Kimberly Misra. If you wish to use this content in any manner, you need written permission. Contact Launa Stout for details.