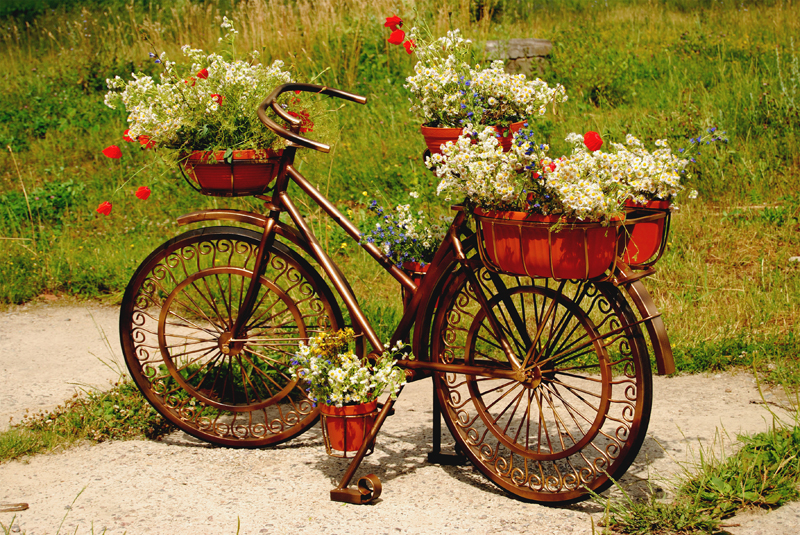 Strawberries can be grown in nearly any type of container – hanging baskets, pots, tin cans, pocketed strawberry pots, and in tiers, to name a few. A tiered strawberry tower design (layers of pots stacked on top of one another, graduated in size) is the most versatile, as it can be easily adapted to the amount of space you have and the number of plants you wish to grow.

Space and Location
First, decide how much space you have for your tower. Select a location with at least 5-6 hours of sun a day as strawberries like sun. The more sun you can give them the sweeter the berries will be.

How Many to Grow?
Once you have determined your space, decide how many plants you would like to grow. Ten plants or more will give you a nice little harvest for regular snacking – if you would like a crop for freezing then consider 25 to 50 plants or more. Plan on 1 cup per plant in the first year and 4 cups in subsequent years. Strawberries can be planted quite close together in pots so don't hold back!

Types of Strawberries
Next, decide what type of strawberries you want. You can plant several varieties according to your needs and desires. See the article on Choosing Which Strawberries to Grow for help in your selection – the link is supplied below.

You can order bare-root strawberries for Spring delivery and planting, and your local nursery may have six-packs, 4" pots or even flats of a few varieties for planting later in the season.

Selecting Your Containers
Next, determine the shape(s) of pots you would like and how many tiers. Strawberries only need about four to six inches of soil for their roots so shallow bowls will work, as will the more commonly shaped conical pots. A relatively inexpensive large three-level tower can be made using a 24" diameter plastic pot at the base, a 16-18" plastic pot in the middle and an 8-10" pot on top. Just make sure you have at least a 4 inch band of soil all around each layer for planting when your pots will be stacked and filled with soil.

You can also make beautiful towers by stacking layers of low bowls on top of taller pots. Experiment! Go to the nursery supply or landscape shop and pull out all different shapes and sizes of pots and stack them up to see what you like. Strawberry plants will produce for several years as long as they get a dormant period each winter, so design a planter you will enjoy to look at.

Preparing Your Pots
If you are using deep pots (taller than 12") you have two choices: fill each layer completely with soil, or partially fill the lower layers with smaller pots, a tray, or something else to take up the space that won't be needed by the strawberry roots. Whatever size or shaped pots you use, make sure they have adequate drainage holes in the bottom.

Planting Your Strawberries
1.(Optional) Place a 'filler' pot or other material in the bottom of your base pot to take up space if the pot is deeper than 12 inches. Make sure the pot will still drain well.
2.Fill the base pot with soil to within 4 inches of the top.
3.Position your second pot in the center of the base pot and add some soil to weigh it down and hold it in place.
4.Plant strawberry plants all around the rim of the base pot about 4" apart, keeping the crowns just above the soil level and packing the soil down well around each plant. Water in.
5.Plant your second, third, etc. layer of pots as you did the first, nestling each layer into the one below and watering well with each layer.

Water your strawberries whenever the soil is dry to ½ inch depth. Do not over water as constantly damp soil encourages disease, but don't allow the plants to dry out. Give your plants monthly feedings of a good fertilizer such as compost tea. If your plants produce runners train them into the pots so they will take root, then plant the runners into new pots to start fresh plants. Be sure to keep the soil around them damp until their own roots are established.

Your plants will grow quickly and most varieties will give you a nice harvest the first year. Your second and third years will yield the best harvest, with some varieties producing well for up to five years or more. When the plants no longer produce well, re-plant your tower with fresh soil and new plants.
................................................................................

CASUAL VISITOR … and just browsing? Why not sign up to the Container Garden newsletter? It won't matter what space or how many pots you have or even how much time you have to spend in your container garden; what will matter is that you get our reminders and good advice and ideas all in one interesting article.




You Should Also Read:
Choosing Which Strawberries to Grow
Compost Tea Recipe - Fertilizer and Disease Prevention
Specialized Potting Soil Recipes


Related Articles
Editor's Picks Articles
Top Ten Articles
Previous Features
Site Map





Content copyright © 2023 by Jessica Carson. All rights reserved.
This content was written by Jessica Carson. If you wish to use this content in any manner, you need written permission. Contact Lestie Mulholland for details.