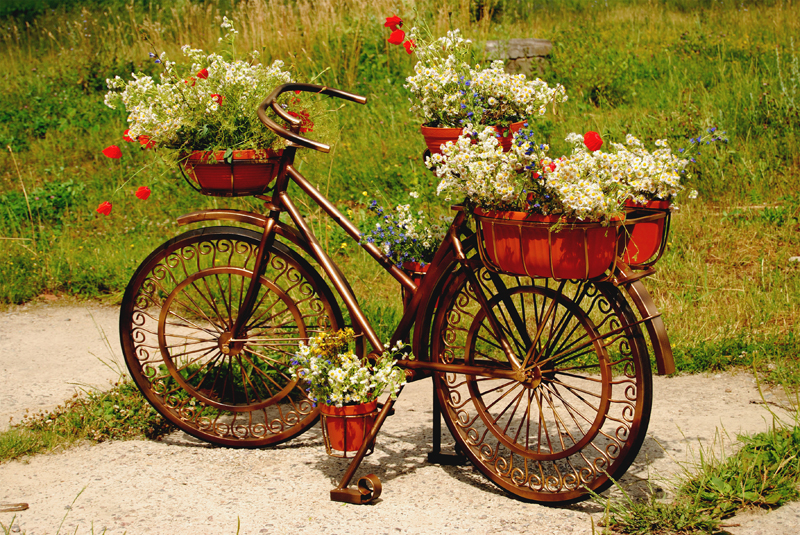 Most herbs for tea can be easily grown in containers. In general, herbs are not picky about soil, water, or temperature and will do well in most any climate. In areas of severe winter they can be grown from Spring through Fall as annuals, in warmer climates most herbs are perennials. Many herbs can even be grown as house plants if located in a sunny window.
SUGGESTED HERBS FOR TEA
German Chamomile is easily grown from seed and is popular for its relaxation properties. The flower heads, rather than the leaves, are used for tea and can be used fresh or dried. Chamomile is often mixed with other herbs, such as lavender, mint, or lemon grass.
Mints are very popular for teas and most are mildly invigorating. Try regular mint or any of the other varieties, such as pineapple mint, apple mint, peppermint, spearmint, or chocolate mint.
Lemon Balm is similar to mint but with a mild lemony flavor. It is also said to help ease digestive problems.
Lemon Verbena also has a mild lemon flavor, and is an excellent tea for any time of the day.
Lemon grass is also lemony. It actually is a grass and is used in many oriental food recipes. It makes an excellent tea either fresh or dried.
Rosemary, Sage and Thyme all make excellent teas, through their flavor can be overpowering. Mix them with one of the mints or with Lemon Balm for a real treat.
Lavender flowers can be used for tea, though their flavor can also be strong. Mix a small amount with Chamomile for a wonderfully relaxing bedtime tea.
Sweet Fennel seeds make a great tea with a slight licorice flavor. The leaves of the plant are not used for tea, so this one can only be harvested at the end of the season, after the seeds have formed.
Bee Balm (bergamot) flowers make a good tea. Most cultivars are highly susceptible to powdery mildew so they will need more care than most herbs grown for tea.
Stevia is a natural sweetener and a great addition to your herbal tea garden. Add some to any of the above herbs for a naturally sweet taste.
GROWING CONTAINERS
Make sure to plant your herbs in containers large enough for the plant and with adequate drainage. Most herbs can easily tolerate being a little dry but will die if kept too wet. If you will harvest any of your herbs regularly then grow two or more of that variety, so as not to stress the plant too much.
HARVESTING
Most herbs will branch and produce more leaves if the branch tips are pinched periodically. The herb will then send out new side shoots along the lower part of the pinched branches. If you are growing the types of herbs where you will use the leaves for tea (rather than the flowers or seeds) then regular pinching is recommended.
Be careful not to harvest too many leaves at once. Leave at least 1/3 of the leaves at all times or you'll risk killing the plant.
Flowers should be harvested just as the flower begins to fade, though young flowers can also be used.
DRYING
Loosely tie small bunches of the herb branches or flowers together with string and hang upside down to dry in a cool, dark place, such as a closet. Once the herbs are dry store them in airtight containers away from sunlight, or better yet, in the freezer.
MAKING TEA
You can brew your teas by pouring boiling water over your herbs and straining when ready to drink, or by placing the herbs in a tea ball.
For fresh herbs, use 3 tsp (1 TBS) of herbs per cup of water. Crush, rub, or chop the herbs to release the essential oils, then brew with boiling water.
For dried herbs, use 1 tsp of herbs per cup of boiling water.
Experiment with different mixtures until you find ones you really like, and mix things up for fun and excitement. Enjoy!
You Should Also Read:
Herbs - an Introduction
Edible Flowers for Containers


Related Articles
Editor's Picks Articles
Top Ten Articles
Previous Features
Site Map





Content copyright © 2023 by Jessica Carson. All rights reserved.
This content was written by Jessica Carson. If you wish to use this content in any manner, you need written permission. Contact Lestie Mulholland for details.