Belgian Beer at the Brickskeller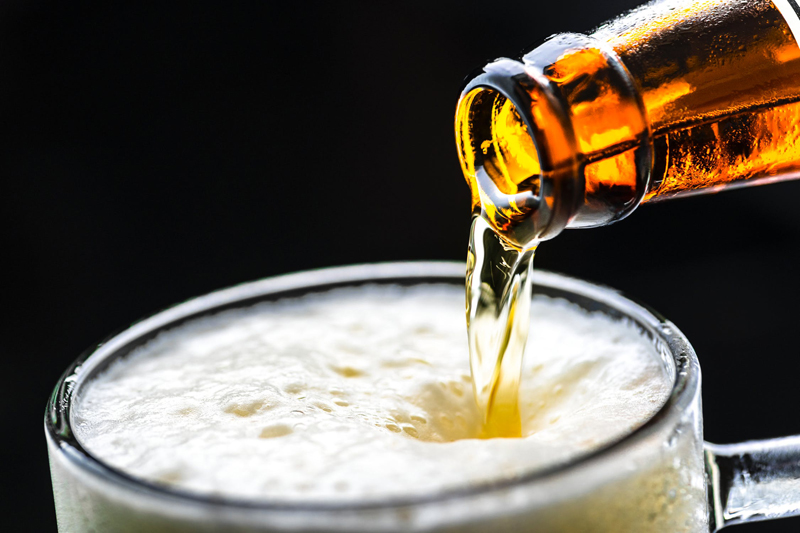 A Smithsonian beer event at the Brickskeller in Washington, DC should never be taken lightly. The Brickskeller is the ne plus ultra in the world of beer bars, listed in the Guinness Book of World Records for "the most varieties of beer commercially available…[having] added 1,072 to the list since 1983." Within walking distance of Dupont Circle and Embassy Row, it is filled with a medley of individually styled patrons - college professors and students from Georgetown, ambassador types, tourists, authors and neighborhood beer geeks. Such a reputation has attracted beer aficionados since opening in 1957.


A heavy oak door, one that immediately conjures up images of knights and beer-wenches, beckons you to descend into its cellar of timeless brick. The walls metaphorically speak to you, coming to life with impressive breweriana - antique beer cans and bottles, photographs of American breweries of the past, beer clocks, beer mirrors and whatnot. Arched doorways separate rooms into smaller intimate spaces, with the red brick walls and dark wood adding personality that transcends time.

Owner Dave Alexander is milling about, adjusting the finer details within this enclave for optimum ambience. He is a legend in his own right, the first American beer bar owner to be inducted into the Knighthood of the Brewers Mastshaff in Belgium.

It is March 4, 2006, and we are here for a special presentation, Brewing with a Belgian Accent. Our distinguished panel is comprised of Master Brewer Randy Thiel of Brewery Ommegang in Cooperstown, New York, USA, the first American recipient of the Chevalerie du Fourquet des Brasseurs, or Knighthood of the Brewers Mastshaff award; Master Brewer Paul Arnott of Unibroue in Chambly, Quebec, Canada, who learned his craft in Belgium over the course of ten years as a brewer for Chimay - one of only seven Trappist monasteries in the world that brew beer for distribution; and Master Brewer Steve Frazier of the Brewer's Art in Baltimore, Maryland, USA who creates Belgian-style beer as if it were a blank canvas with an unlimited landscape.

Similarities between them are astounding. All of these stylistic experts emerged from backgrounds unrelated to beer. Randy Thiel has a degree in microbiology and had been employed as a laboratory scientist in the diagnosis of communicable diseases. Paul Arnott also had his roots in microbiology, with his focus in the dairy industry. Steve Frazier hails from a physics background that channeled him into the field of commercial fishing and shipbuilding.


Serendipity took over and lured all three into the artisanal craftsmanship of creating Belgian-style craft beer. Initially attracted by the chemistry involved in brewing, they quickly became immersed in the traditions, magic, genius and gastronomic sense that define Belgian beer.

Belgian beer, per se, does not fall into one defined category, but encompasses a broad range of characteristics. Within the little country of Belgium, an area comparable to the size of Maryland in the USA, there are over 450 brands and varieties of beer, all with classic signatures that define them as unique.

One such style is Belgian Blanche, the traditional "farmhouse beer" of Belgium. It is not surprising that Unibroue icon Andre Dion chose Blanche de Chambly to be the first beer to be distributed from La Brasserie Massawippi, the fledgling name of Unibroue, in 1991.

Trappist Beers lay claim to the proprietary appellation that defines the parameters under which they can be produced. They must be brewed within the walls of a Trappist abbey, by or under the control of Trappist monks; the brewery and choices of brewing must depend on the monastic community; and their economic purpose must be directed toward charitable assistance, and not for profit. This definition creates a narrow distinction of style that cannot be violated by outside breweries or marketers.

Abbey Beers are more loosely defined. They may have some connection to an abbey, either by recipe or through the granting of rights to use the abbey's name, but do not fall under the auspices of control that is known in the Trappist world. These beers may be refermented and effervescent, but their characteristics may also encompass a broader range of style.

Anti-Christ beers are the Belgian Golden Strong Ales, complex beers with fruity esters, moderate spiciness, and distinctive, floral hop aromas. Examples of these are Duvel, Lucifer, Demon, Judas, Delirium Tremens and Unibroue Eau Benite.


In North America, this broad range of variability has a way of seeping into the spirit of the Belgian-style brewer as he creates an approachable sense to the counterparts of wine. The style itself lays ownership to a broad, ever-evolving morphology that defines its own place in the realm of beer creativity, while still retaining the connection to its roots in Belgium.

In addition to their own development of the Belgian style, our Master Brewers praised the efforts of other North American brewers who focus on this unique category - breweries such as New Glarus Brewing in New Glarus, Wisconsin; New Belgium in Fort Collins, Colorado; and Russian River Brewing in Santa Rosa, California.

The common thread that weaves them together is in the arabesque quality created by proprietary yeast strains, refermentation, and careful selection of grain profile. Creativity is further enhanced by the addition of gourmet ingredients that impart an aromatic and flavorful sketch to the Belgian base. Madagascar peppercorns, coriander, orange peel, or dark cherries may be selectively blended within styles that range from lightly effervescent to richly complex.


The tastings, both singular and comparative, demonstrated the similarities and differences between the Belgian beers and their North American counterparts. Ozzy, an anti-Christ beer from The Brewers Art, was sampled along with its inspiration, Duvel from Brouwerij Duvel Moortgat in Belgium. Other samplings were of Ommegang Cave Aged Hennepin; Unibroue Blanche de Chambly; and two tripel styles from Unibroue - La Fin du Monde and the newest star in the lineup of superb beers, 15th Anniversary.

Brickskeller patron Guido Deboeck, Belgian author of Un"beer"ably Delicious: Recipes for Cooking with Artisan and Craft Beers, congratulated the Panel for their knowledge about Belgian style beers, but even more so, everyone in the audience for their interest in Belgian beers, because he would be hard pressed to think about a meeting of this size where Belgian beer lovers would show the same interest in American beers.

Such is the landscape of the American brewer - ever interested in the traditions that define the style, yet innovative; seeking the intrinsic characteristics from which it grew, yet expressing genius in the development of further complexity.

This stellar event at the Brickskeller was coordinated by Jim Dorsch, publisher of Mid-Atlantic Brewing News and editor/publisher of American Brewer and Greg Kitsock, editor of Mid-Atlantic Brewing News and senior editor of American Brewer.

Photos from top: (left to right)Beer Fox and Dave Alexander of the Brickskeller; Greg Kitsock with Panel of Brewmasters: Paul Arnott, Steve Frazier and Randy Thiel; Paul Arnott and Author Guido Deboeck share tasting notes; Randy Thiel holds a captive audience

Cheers!
 
You Should Also Read:
Trappist Beer - The Select Seven
Champagne Beer for Champagne Girls
Biere de Garde - The Best Kept Secret of French Flanders


Editor's Picks Articles
Top Ten Articles
Previous Features
Site Map





Content copyright © 2022 by Carolyn Smagalski. All rights reserved.
This content was written by Carolyn Smagalski. If you wish to use this content in any manner, you need written permission. Contact Carolyn Smagalski for details.