Random Musings of a Beer Fan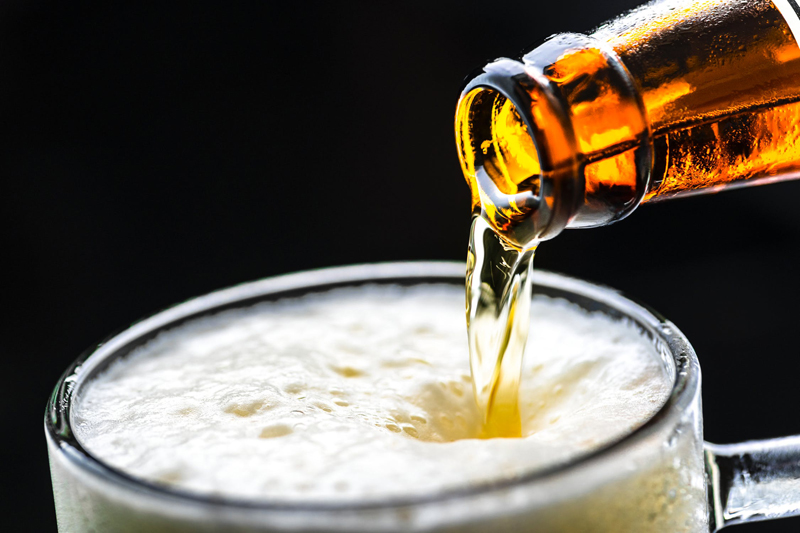 As a special April Fool's Day Treat, Angie Rayfield, BellaOnline's Classic Rock Editor, has generously contributed her thoughts to our Beer & Brewing Resource Site.  Hers is a true reflection of the path many women beer enthusiasts have taken on their way to the discovery of Beer Nirvana.
Written by: Guest Author Angie Rayfield


I have to confess – I haven't always been a beer fan. Once upon a time, I would drink beer only as a second choice, when my budget wouldn't stretch far enough to order a "real drink." And it didn't really matter what beer it was, because "they're all the same, you know." (I suppose when you're drinking Buckhorn or Mickey's, that's a fairly accurate statement.) I couldn't have told you the difference between an ale or a lager, a stout or a porter. For that matter, I couldn't have told you any of those even existed.

But even if I wasn't a beer drinker, I always had warm memories associated with beer. My dad was a beer drinker; I don't remember a time growing up when there wasn't a six-pack (or two) of Budweiser in our refrigerator. When I was little, it was a matter of pride to fetch him a beer when he got home from work, an even greater honor to get to pull the pop-top. (If you're the right age, you remember when those actually pulled off the top of the can, and you had to be very careful with them, because if you dropped them in the yard, you were bound to cut your foot on them later.) There were summer bar-b-ques with everyone's dad standing around the grill with a beer in hand, discussing the proper technique for ribs and chicken, or holiday dinners with them, kicked back in the recliner with a beer and some Frito's to watch the ball game.

That can of beer seemed to be such a symbol of grown-upness, although now that I think about it, "isn't it funny that all of those memories involved the men drinking beer?" The women were always in the kitchen, or watching the "little kids," or cleaning something. But I remember knowing when my older cousins had really arrived, because they'd graduate from playing touch football in the yard to having a beer with the men. I only had two girl cousins, but I can remember thinking that they were really cool when I saw one of them with a beer. I mean, think about it, a girl with a beer! You'd think I'd have become a beer drinker for that reason alone, wouldn't you?


I didn't want a beer. It was bitter and nasty. Wine was much better, although at that point in life, I didn't have such great taste there, either, preferring a concord grape wine that might as well have been alcoholic Welch's. Since college bars didn't serve wine, I went through phases of preferring cheap whiskey, cheap gin, cheap tequila, cheap amaretto, and cheap vodka, falling back on beer only when completely broke. I could hardly wait to get out of school and get a real job so I would never have to drink beer again!

But it's funny thing how things work out. My "real" job didn't give me as much financial freedom as I thought once I had to pay the rent and the bills. And my brother went to work for a local brew-pub/restaurant, where I could drink cheap or even free as long as I was drinking their beer – and raving about it to other patrons, of course! My brother would pour me the palest ale available, and toss in a dash of Chambord to cover the beer taste so that I wouldn't make faces when I drank it. (It's not very encouraging if you grimace when you're drinking the product, after all.)

Well, not surprisingly, it didn't take long before I was curious about those other beers. Is there really a difference between these two beers? Why are they different colors? What's an ale? Why does the porter taste like burnt coffee? Luckily, I was with some true beer fanatics. They made it their mission to enlighten me, and they were successful.

Nowadays, I have my favorite local beer-bar, where "my" bartender knows me by name and is always ready to recommend something new (hey, they have over 100 beers on tap, not including the seasonals - it's going to take a while to try them all). You don't open my refrigerator without finding a six-pack – or two. And while I'm a micro-brew fan, I'm not a beer snob. That beer might well be Budweiser, although it could be Boulevard or Fat Tire. But it won't be Buckhorn.
Cheers!
 
You Should Also Read:
Champagne Beer for Champagne Girls
Reasons to Drink Beer - A Woman's Passion for the Brew
Does Carmen Electra Drink Chimay ?


Related Articles
Editor's Picks Articles
Top Ten Articles
Previous Features
Site Map





Content copyright © 2022 by Carolyn Smagalski. All rights reserved.
This content was written by Carolyn Smagalski. If you wish to use this content in any manner, you need written permission. Contact Carolyn Smagalski for details.