Does Carmen Electra Drink Chimay ?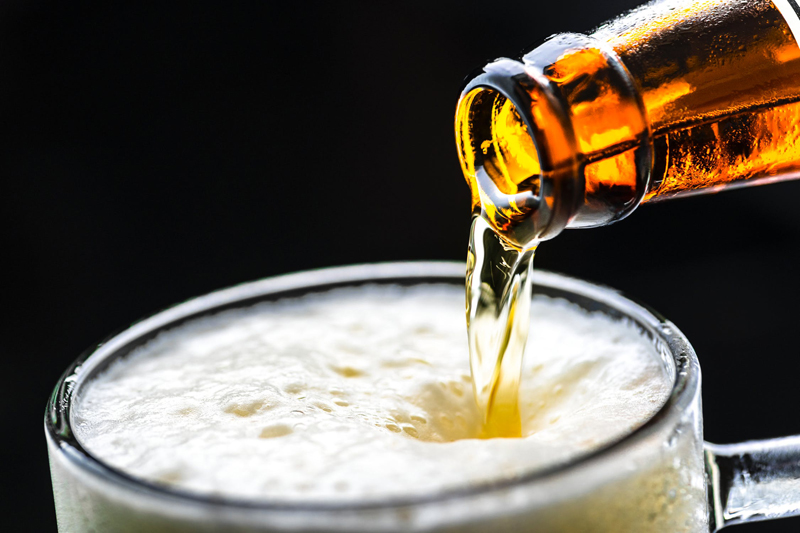 What could be more seductive than Carmen Electra's pliant tongue piercing the silken white head of a Chimay Cinq Cents Tripel?

Or Angelina Jolie sliding her finger into the cream-colored head of an Ommegang Rare Vos…or licking the foamy meringue from her full, luscious lips, as the apricot glow of moon dew glistens in her crystal chalice?

Beer can be oh…so…sexy!

Unfortunately, average Americans knows more about the features of an SUV than they know about finely crafted beer. In the transitional period between the 1970's and 1980's, movie directors and celebrities brought the US onto an even playing field with their European counterparts in the realm of wine. As a result, it is not an uncommon feat for an American woman to peruse a wine list in search of the floral-and-fruit characteristics of a sauvignon blanc or the full, dry body of a New Zealand merlot.

Beer, however, is a different story. It is not our fault.

When was the last time Jason Binn served fine hand-crafted Belgian ales at a celebrity bash in the Hamptons or did a photo shoot for LA Confidential while holding a crystalline tulip-glass of Stone Brewing's 2004 Symposium Ale? Any celebrity worth his salt would distance himself from the image of Homer Simpson and Duff Beer!

Gifted movie directors like Martin Scorcese and Ron Howard have the style and imagination necessary to lift the image of beer from the hands of the couch potato to the lips of the elite. The creative faculties of gifted brewers have introduced such a diversity of beer to the American market that the boyz can still own their football brews, while the rest of the country celebrates in the lusty, carnal titillation of hazy, sunlit ambers and firm, rocky heads.

Wouldn't Tracy Lords deserve the enjoyment of a Three Philosophers Quadrupel with 9.8% ABV, shining deep crimson from her bulbous glass? This Belgian blend from Brewery Ommegang in Cooperstown, New York fills the nose with aromas of bittersweet dark chocolate, malt and cherries. These aromas slither into a bittersweet fruit flavor-profile, blending with the more complex tongue-teasers of orange, French roast coffee and cloves. It's expensive, like the sultry lady herself!

What about Halle Berry? A corked bottle of Cave Aged Ommegang from Brewery Ommegang! The deep, dark burgundy highlights, reflecting on her supple skin, topped with a rich tan head that awaits entrance to her lips. Mellow, with flavors of plums, raisins, figs, grapes, chocolate and spice taking command of her mouth, demanding attention and fully satiating her thirst. A captive of the cave, beckoning her into its 156 foot depths where more pleasures await.

And what about that Chimay Cinq Cents for Carmen Electra? This Tripel wit of 8% ABV hails from Abbaye Notre Dame de Scourmont in Baileux, Belgium. Carmen would delight in its body - cloudy and golden, like a hazy morning on the French Riviera, with a stiff, silken head that lasts forever. Aromas of barrel fermented white wine…dry…herbal. The light citrus, accented with dried mint and white pepper, finishes sweet with a smooth and satisfying alcoholic warmth. Perfection served to a lady of perfection!

Who ever said beer wasn't sexy?

Cheers!
 
You Should Also Read:
Beer Goddesses and Surly Girls
The Pleasures of Beer - A Woman's Passion
A Classic Beer Guide for Women


Editor's Picks Articles
Top Ten Articles
Previous Features
Site Map





Content copyright © 2022 by Carolyn Smagalski. All rights reserved.
This content was written by Carolyn Smagalski. If you wish to use this content in any manner, you need written permission. Contact Carolyn Smagalski for details.