7 Facts about St. Patrick's Day in Ireland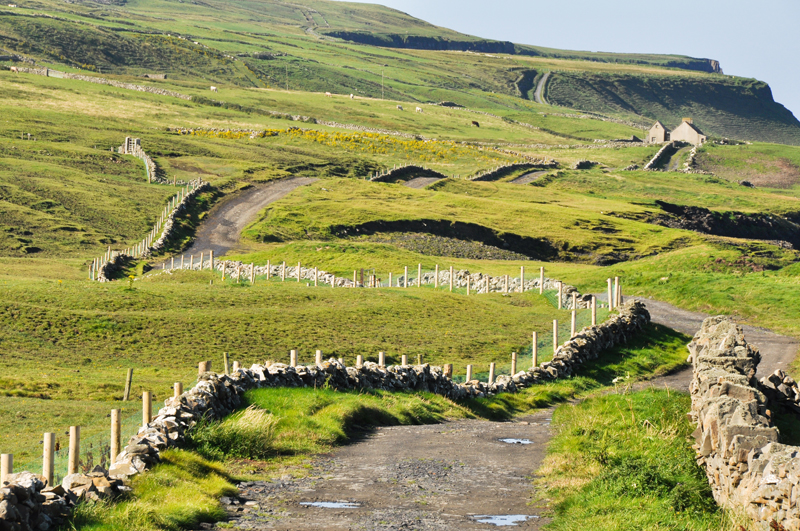 Everyone is going green for 17th March, St. Patrick's Day. Everyone wants to be Irish all over the world. Cities dye their rivers green. People drink green beer. Sales of corned beef and cabbage soar. Parades happen all over the globe. But what is it like to celebrate St.Patrick's Day in Ireland? Here's a snapshot.

1. St. Patrick's Day is a national holiday for both the Republic of Ireland and Northern Ireland. That means banks are closed and so are many shops; those that do open generally maintain Sunday opening hours. It is a holy day of obligation for Roman Catholics, which means attending Mass is mandatory.

2. St. Patrick's Day inevitably falls in the Christian season of Lent. Until 1970, the national holiday was officially a 'dry' day. That meant that it was forbidden to sell alcohol, like it still is for Good Friday. So the jolly pub fest is a relatively new St. Patrick's Day development in Ireland. Pubs were closed and the Gardai (Irish Police force) enforced the ban. Older friends recall the old regime as grim; indeed, I have seen grown men shudder at the memory. It rained often. Television offerings were scant with few channels back in the day and most of the programs seemed to be only Irish language. There was Mass and nothing much to do after the midday big dinner. A general air of boredom and crankiness clung to the day. It felt more penitential than Good Friday when you knew that there was a hope of chocolate eggs in a day or two.

3. The St.Patrick's Day Parade is an American invention. Rural Irish parades are humble, home grown affairs. One friend who was viewing the queue of tractors shook his head, saying, "all those sexy tractors! I've been too long in Leitrim!" Others claim to grow murderous if they hear one more diddly-dee tune from the fiddler. Satire is part of the parade festivities and policitians can expect lampooning.

4. The leprechaun hats are popular and are seen out and about at public events around the holiday. But so are stick on plastic bare buttocks that say "Pogue Mahone!" Let's just say that the translation from the Gaelic is a riff on the "Kiss me, I'm Irish" theme and leave it at that.

5. It is fairly well-known that Patrick was not Irish, but from Britain, most probably of Roman citizen family. Less known is that St. Patrick was not the first monk or priest to venture out to evangelise the Irish to Christianity. Other monks came to Ireland but seemed to take their peregrinations as spiritual retreats. While they may have converted some natives they did not seem to have had Patrick's zeal for a big missionary push.

6. No self-respecting publican dyes his beer green. Besides, most people In Ireland drink the 'brown stuff' – Guinness or the Cork brewed Beamish and Murphy's stouts. Whiskey may be taken, but given Ireland's EU membership, wine is an increasingly popular tipple. You don't dye any of those green either!But you may find the lid on your pint sporting the impression of a shamrock.

7. Outside of Ireland most people consider the national dish corned beef and cabbage. First off, the spiced and brined brisket is called 'salt beef' in Ireland. It is something of a County Cork fashion and is rarely available in supermarkets. If you want salt beef you have to have a chat with a proper butcher. I think I last saw Salt Beef and cabbage on a café menu in Ireland
sometime circa 1990.

If you want celebrate St.Patrick's Day with a traditional menu I would make these two simple suggestions. Both give a nod to the fact that St. Patrick's Day is in Lent. While meatless Fridays may have gone out of fashion, many people still go easy on the meat during Lent. (Old habits die hard, as they say.)

My first suggestion would be to make a Fish Chowder. This is a combination of white fish like cod, whiting, or pollack, with salmon tail scraps and smoked haddock or mackerel. My friend John Wilmott garnishes his superb version with a flourish of a dulse seaweed condiment. Serve with home made soda bread.

Another typical menu would be Smoked haddock with mashed colcannon and an apple tart for dessert.

Colcannon is easy to make. You need a good floury variety of Irish potato. In Ireland we would use Rooster or Maris Piper. Boil and peel as you would for ordinary mash.

In another pan steam finely chopped Savoy cabbage or curly kale. In a small milk pan warm a small quantity of milk with a knob of butter; add a few finely chopped spring onions (scallions) to the pan and season with a bit of pepper and nutmeg. When you have drained your potatoes, mash with the scalded milk and spring onions. When it is nice and smooth stir in the chopped, steamed Savoy cabbage or kale. Feel free to make a well in the mound of colcannon and put a dollop of butter to melt into it.

However you celebrate the Irish heritage on this national holiday make sure to add a dash of music(easy on the diddly-dee) and some good conversation. That's the real craic!
You Should Also Read:
St. Patrick's Day
St. Patrick Banishing Ireland's Snakes


Related Articles
Editor's Picks Articles
Top Ten Articles
Previous Features
Site Map





Content copyright © 2022 by Bee Smith. All rights reserved.
This content was written by Bee Smith. If you wish to use this content in any manner, you need written permission. Contact Bee Smith for details.