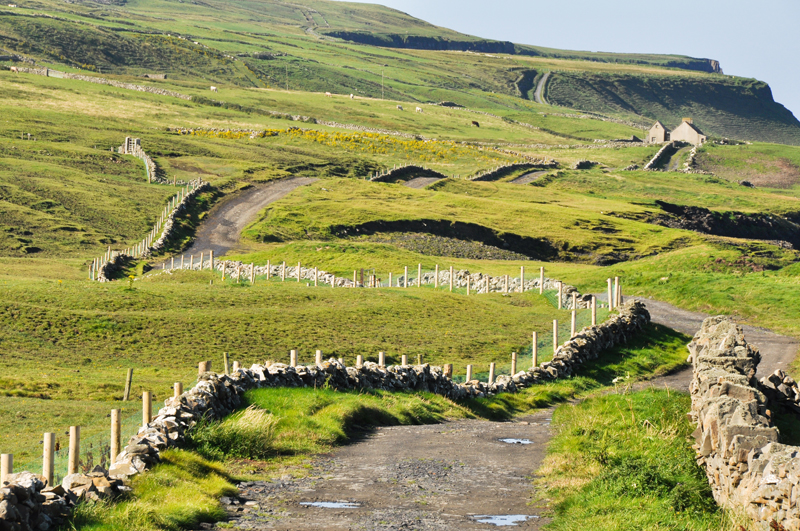 St. Patrick is the national saint, whose emblem is the shamrock, or clover leaf. The tradition is that he taught the Trinity using the single stem but three-leaved plant to explain the three in one god concept.

St. Patrick came as slave, captured on the western coast of Britain. His parents may have been high born Roman citizens living in Wales or Cumbria. We are not sure. The tales recounted in the monastic scripts say he was as shepherd in Antrim; he received a strong call from God to leave Ireland and become a priest. He walked nearly the length of Ireland before sailing to Britain and then to France, where he was ordained a priest.

Then came the second calling. This time is was to come back to Ireland and evangelize the pagan Irish. While there had always been a strong cult of the goddess Brigit in Ireland there was a strong cult of the underworld Crom Dubd or Crom Cruich at the time.

There are many places of pilgrimage associated with St.Patrick. During July there are many pilgrims who climb the Mayo Mountain, Croagh Patrick. This mountain overlooks Clew Bay and is considered a holy mountain. Many pilgrims climb the 764 metre height barefoot as part of the penitential part of pilgrimage.

There is also St. Patrick's Purgatory in the middle of Lough Derg in Donegal. This island monastery has been immortalized in Seamus Heaney's long poem "Station Island." The pilgrimage is marked by pray, little sleep, very plain and minimal sustenance. Many pilgrims also go barefoot during their pilgrimage.

Another focus of spiritual devotion are the many St. Patrick's Holy Wells. One of the largest and loveliest is at Holywell, near Belcoo, Co. Fermanagh. This holy well, which has a cure for nervous and digestive disorders, was a focus of St. Patrick's attention because it was the center of the Crom Cruich cult in the northwest of Ireland.

I have also noticed that there are large rocks, known as glacial eratics, called St. Patrick's Chairs. These are sites that were sacred to pagans and had previously been known as Druid's Chairs or Hag's Chairs. This is a direct example of the newer religion absorbing previous customs.

I will leave you with one of the most famous of St. Patrick's Blessings.



Christ shield me this day:
Christ with me,
Christ before me,
Christ behind me,
Christ in me,
Christ beneath me,
Christ above me,
Christ on my right,
Christ on my left,
Christ when I lie down,
Christ when I arise,
Christ in the heart of every person
who thinks of me,
Christ in the eye that sees me,
Christ in the ear that hears me.






You Should Also Read:
St. Patrick Banishing Ireland's Snakes
St. Patrick's Day Foods


Related Articles
Editor's Picks Articles
Top Ten Articles
Previous Features
Site Map





Content copyright © 2022 by Bee Smith. All rights reserved.
This content was written by Bee Smith. If you wish to use this content in any manner, you need written permission. Contact Bee Smith for details.