Slaapmutske Nightcap from Belgium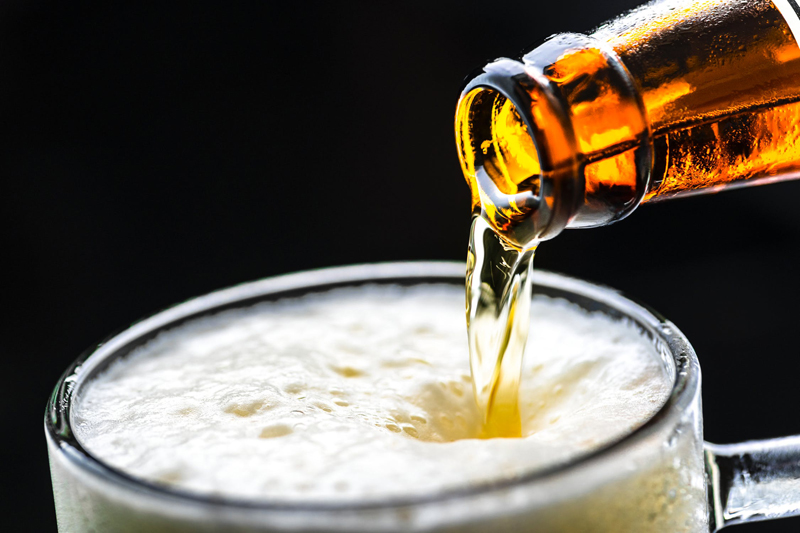 What makes a Night Cap so seductive?

Is it the torrid anticipation of Bohemian passion that accompanies the relaxation of inhibition? Perhaps it is the shedding of daily tensions, built up like a simmering volcano within your seething spirit? Or the promise of sweet slumber that lures you into the drifting fog? Such associations with the legendary nightcap permeate our adult society - wanting, wishing and desiring the charms of evening rejuvenation.

Slaapmutske is a sleeping hat or night cap trilogy of beers designed by Dany De Smet and Marleen Vercaigne of East Flanders, Belgium, one that has climbed into the spotlight with intoxicating allure in just a few short years.

In 1992, De Smet completed his education in brewing engineering and accepted a position as Brewmaster for Brouwerij Huyghe in Melle, Belgium – best known for its world-class Delirium Tremens Belgian Strong Ale. During that same period, he and Marleen Vercaigne met and fell in love, inspired by an enthusiastic, shared devotion for homebrewing. They created small, experimental batches of beer in their kitchen with Patrick Scheirlinck, a colleague who also held a position at Brouwerij Huyghe. Homebrewing allowed them the freedom to design test flights of beer using a variety of processes and noting the nuances achieved with different yeasts, malts, hops and spices.

Dany de Smet, meanwhile, continued his immersion in the brewing industry, with positions as a brewing hygiene specialist, an educator in Brewing Technology and Quality Control at the Ghent Brewing High School, and a participating founder of the Bierliefhebbers van de Egmontstede (BLES) in Zottegem.

Dany and Marleen married and, in 1999, celebrated the birth of their son Jonas with the creation of a specialty beer that was deep burgundy-walnut with a compact, creamy tan head. Aromas of fresh bread, herbs, pepper and coriander merged with flavors of sweet malt, light chocolate, and an underlying spiciness with 9% ABV. Visiting friends dubbed it Jonasbeer, but the De Smet family knew this special new beer needed its own unique name.

It is an innate human desire to calm the crying child, and Dany and Marleen were no exception. One brisk winter evening while Baby Jonas was displaying a tirade of tears, Marleen dipped his pacifier in Jonasbeer and positioned it in his little, suckling mouth. Like a miraculous nightcap, Baby Jonas' tears ceased, making Marleen proclaim the beer as Slaapmutske.

Slaapmutske Winterbier was introduced into the Belgian beer scene in 2000 and prompted a following throughout Belgium, the Netherlands, South Africa, Alaska, and the mainland USA. It soon became necessary to license a larger brewing facility to satisfy the market demand, and Slaapmutske is now cooperatively brewed at de Proefbrouwerij in Lochristi-Hijfte, Belgium (East Flanders). This affords Slaapmutske the advantages of state-of-the-art brewing equipment and a higher level of control for maintaining quality and flavor.

Since the introduction of Slaapmutske Winterbier, the De Smets have created a trilogy of beers for enthusiastic beer fans. Most famous of the three is the award winning Slaapmutske Tripel Nightcap, a golden brew at 8.1% ABV with hazy orange highlights, voluminous, rocky head and flecks of yeast, floating in a lightly carbonated body. Aromas of honey, sweet malt, melon and citric lemon drift toward your nasal passages. Sweet, doughy malt touches the taste buds, while vanilla and fruit – apple, pineapple, plums, and wild berries – merge with pepper in a clean, tart finish.

As the winner of two People's Choice Awards, Tripel Nightcap has gained attention as a desirable young newcomer upon the beer podium. In 2002, Slaapmutske Tripel was chosen by over 10,000 festival-attendees as Best Beer in its Class at the 2nd International Beerfestival in Zwevegem, West Flanders, Belgium. This is a notable achievement for a young brewery, competing in the same category as Duvel Belgian Strong Pale Ale or the Trappist beers of Chimay and Westmalle. During the 11th National Beerhappening in Zottegem, Belgium, Tripel Nightcap was again chosen as Best Beer in its Class.

Slaapmutske Blond is a Belgian pale ale with hazy, dark-honey body and whipped cloud-like head. Barley and wheat malts combine with aromatic American hops for gigantic opera notes of fruit, honey, anise, and pepper, finishing with an herbal bitterness and clean tartness.

Deep garnet depth shines within Slaapmutske Bruin, while a full, long-lasting head of tawny beige rests lazily on the surface. Aromatic layers of caramel, coriander, orange and licorice pull at your olfactory senses, enhanced by flavors that echo a light sweetness on the tongue.

In the short span of six years, Dany and Marleen De Smet have introduced four beers to the international beer market, increased demand for Slaapmutske Beer and won prestigious awards at Belgian beer festivals. Dany De Smet believes in his beer creations. In a committed effort to promote Slaapmutske, De Smet personally contacts importers, consumers, writers, and pub owners asking them to try his beer…

…a rather charming way to do business!

Cheers!

 
You Should Also Read:
Trappist Beer - The Select Seven
Biere de Garde - The Best Kept Secret of French Flanders
Pleasurable Saison & Belgian Beauty


Related Articles
Editor's Picks Articles
Top Ten Articles
Previous Features
Site Map





Content copyright © 2022 by Carolyn Smagalski. All rights reserved.
This content was written by Carolyn Smagalski. If you wish to use this content in any manner, you need written permission. Contact Carolyn Smagalski for details.