It's George's Fault at Home Sweet Homebrew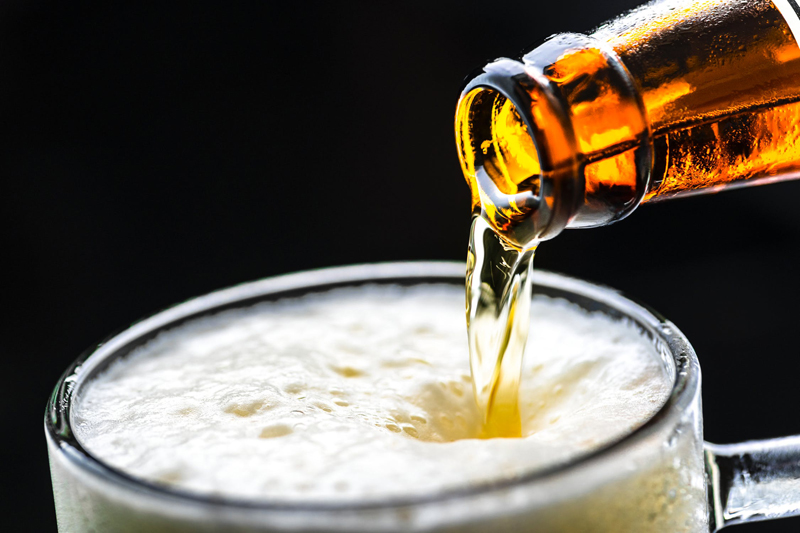 You are an intelligent person…at least you are when you look into the mirror at that beautiful mug looking back at you. Throughout your journey into the discovery of real beer, your tastes have matured. You find it difficult to picture yourself with a can of Keystone Ice, your favorite brew back in your college days. You love the aromas and flavors of coriander and orange peel, sweet malt, vanilla, oak and pine – all nuances you seek as you sample beers from the USA and compare them with those of Belgium, England, Germany, Japan, Australia and the Czech Republic. You are the Balboa of Beer and the Magellan of Malt - a true adventurer on a continuous search for more exciting depth and complexity in beer.

So why not make your own? For those more analytically gifted individuals, the idea of crafting your own beer is a tantalizing thought. You know you can make better beer than Miller. For others, the task of creating a palatable brew is a wee bit unnerving. You may want to try, but you need guidance and direction. You need someone who will speak with clarity, sell you what you need and nothing more, lead with experience, and who has a track record of notable homebrew history.

Meet zymurgists George Hummel and Nancy Rigberg of Home Sweet Homebrew in Center City Philadelphia, Pennsylvania, USA. George and Nancy have been immersed in the beer scene since 1986, long before many current-day breweries had created their own distinctive signatures of beer. They have gleaned a bevy of awards from their penned works and homebrews, have hosted tastings and seminars, are accomplished speakers, and have been featured in Ale Street News, Mid-Atlantic Brewing News, Beer Philadelphia, New Brewer, Barley Corn and Mother Earth Magazine.


George Hummel is a recognized BJCP beer judge, and has been a common sight on the campuses of Temple and Drexel Universities, where he taught courses on beer and beer appreciation. He serves as Master of Ceremonies during beer dinners at the famous Monk's Café in Philadelphia, and is an approachable source of information for brewers, both novice and seasoned.

…and however it turns out, it's George's Fault.

George's Fault – the Gold Medalist in the Specialty Honey Lager or Ale category at the 2005 Great American Beer Festival in Denver, Colorado. Didn't George's Fault nose out Dogfish Head Midas Touch Golden Elixir and Flossmoor Station Ella's Epidur-ale? Did that have something to do with George Hummel?

Hummel humbly asserts credit to Charlie Papazian, President of the Brewers Association and author of a recipe originally published in Zymurgy Magazine and eventually, in The Complete Joy of Homebrewing many years ago. Throughout his years of homebrewing, Hummel used the recipe, tweaking and twisting the ingredients and process, until he began winning Best of Show ribbons in multiple homebrew competitions.

His Home Sweet Homebrew Philadelphia location exposes him to many brewers, both amateur and professional, and Nodding Head Brewery in Philadelphia was no stranger to Hummel.
Hummel gave the recipe, with a 10.5 % ABV and Belgian-like complexity, to Gordon Grubb, Master Brewer at Nodding Head, with the agreement that if it did poorly in the Great American Beer Festival, it would be George's Fault. Grubb brewed a few test batches, further adjusting the chemistry for the increased brewing quantities needed for a commercial brewery, and submitted the specialty beer for competition in the Great American Beer Festival. When George's Fault won the Gold, it validated all that George Hummel already knew and understood about the complexity of brewing beer, selecting quality ingredients, and adhering to a systematic process of sanitization, record keeping and analysis.

Hummel has cultivated a cache of high quality malts, grains, hops, specialty products, chemical additives, equipment, concentrates, spices and books in his Home Sweet Homebrew store. He has created his own Specialty Beer Recipe Kits, holds weekly tastings, runs HOPS meetings  - Homebrewers of Philadelphia & Suburbs - and ships all over the world. With George, the sky's the limit! Ditto with Nancy!

Home Sweet Homebrew is located at 2008 Sansom Street, Philadelphia, Pennsylvania, USA or by internet access at www.homesweethomebrew.com.

Top right photo: George Hummel at the University of Pennsylvania Museum of Archaeology and Anthropology Chinese Rotunda

Cheers!
You Should Also Read:
Homebrew Tips for the Novice Brewer
Homebrewing - Books & Resources - Novice to Expert
Poor Richard's Ale 'Saluts' Ben Franklin's 300th Birthday


Related Articles
Editor's Picks Articles
Top Ten Articles
Previous Features
Site Map





Content copyright © 2023 by Carolyn Smagalski. All rights reserved.
This content was written by Carolyn Smagalski. If you wish to use this content in any manner, you need written permission. Contact Carolyn Smagalski for details.