Poor Richard's Ale 'Saluts' Ben Franklin's 300th Birthday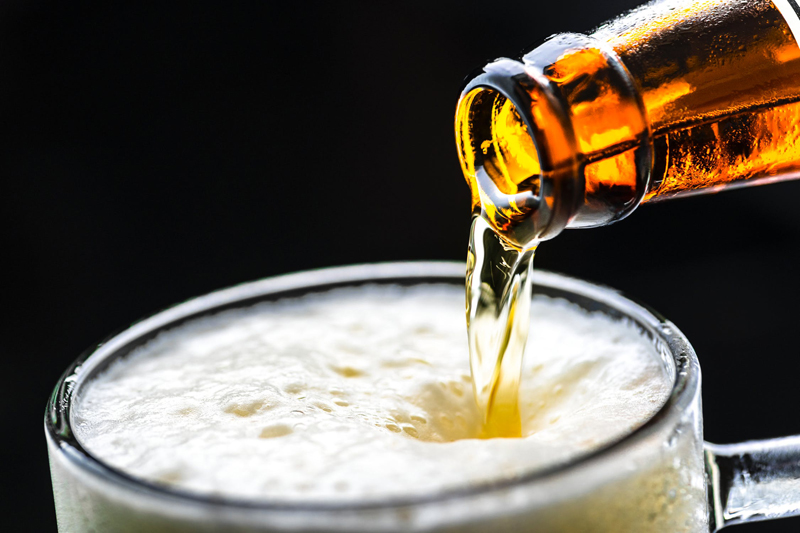 If Ben Franklin raised a glass of Poor Richard's Ale, what kind of 'salut' would he bestow upon those gathered to celebrate his 300th birthday?

"Poor Richard's Ale?" you ask.

Wednesday night, September 28, 2005, Brewers Association members gathered in the Presidential Dining Room at Wynkoop Brewing Company in Denver, Colorado for some serious business. In anticipation of the historic celebration of Franklin's tricenntennial, five distinguished judges assumed command in an intellectual and sensory quest to select a Commemorative Beer to be deemed 'crowned-glory' of the Benjamin Franklin Tercentenary.

Two prestigious panel judges had been past winners of the Brewers' Association Russell Scherer Award for Innovation in Craft Brewing - John Harris, Brewmaster of Full Sail River Place in Portland, Oregon and John Mallett, Production Manager of Kalamazoo Brewing Company, Kalamazoo, Michigan. In addition to their earned credentials, both members are descendents of Franklin himself. Other illustrious members on the panel were Brewmaster Steve Bradt of Free State Brewing Company in Lawrence, Kansas; William Brand, author and columnist of "What's On Tap" in the Oakland Tribune, Oakland, California; and Nicola Twilly, Programs Director of the Benjamin Franklin Tercentenary.

In historical accounts, Ben Franklin, notable statesman, brilliant inventor and charismatic businessman, captivated the hearts of generations. He was a man who enjoyed his friendships as much as he enjoyed his beer, as evidenced in his words, "He that drinks his Cyder alone, let him catch his horse alone." His writings, particularly Poor Richard's Almanac, were peppered with these light-hearted musings:

"There can't be good living where there is not good drinking."

"Drink does not drown care, but waters it, and makes it grow faster."

"Beer is living proof that God loves us and wants us to be happy."

Selection of the honorary brew had to endure an intrinsic look into the historical styles of the time. What ingredients were available to Colonists? What grains were indigenous to the American colonies? How were beers crafted and preserved? Was Porter or Lager available to Franklin? What flavor profile was he likely to appreciate? What documentation did the brewers present to support their decisions?

Out of the pack emerged Tony Simmons of Pagosa Springs, Colorado with his rendition of Franklin's favorite brew, Poor Richard's Ale. Said Simmons, "Ben Franklin's favorite type of beer could have been similar in gravity and strength to the modern version of an Old Ale."  With his fledgling Brick Oven Brewing on the horizon, the honor of being chosen as creator of Franklin's representative brew elevates Simmons in the eyes of the brewing community and beer enthusiasts alike.

Poor Richard's Ale has a reddish-copper hue that is edged in walnut highlights, the depth of color being captivated by the spiced molasses base. Aromas are of moderate maltiness, drenched in a symphony of corn and nuts. The flavor profile is clean and bright, allowing the corn and molasses to effuse. Corn was indigenous to the people in the colonies, while molasses was the popular sweetener of the era. It is likely that Franklin's chosen brew was similar in character. Hops were difficult to obtain; however, the bitterness yielded by cooked molasses would have balanced out the malt/corn sweetness, bringing this ale close to authentic moderate strong levels with 6.6% ABV, rather than mimicking a strong Scotch Ale.

Brewers across America can share in the glory of Poor Richard's Ale. Ray Daniels, Brewers Association Director of Craft Beer Marketing has given the go-ahead to disseminate the recipe throughout the nation in celebration of Franklin's love for craft brews and dedication to never-ending excellence.

For authenticity in brewing, Tony Simmons makes the following recommendations:

Malt – "For authenticity, I recommend using either English floor malt or Maris Otter for the base of "Low Malt." I then suggest the addition of Biscuit, Special Roast, and a touch of Black malts to approximate "High Malt."

Adjuncts – "I suggest using a medium or dark grade molasses and keeping the amount to less than 3% of the fermentables for optimum flavor."

"…For modern interpretation, I suggest using 'Pregelatinized Yellow Corn Flakes'…approximately 18-20% corn in a grist composition."

Mashing – "a mash temperature of approximately 154F."

Hops – "I suggest Kent Goldings as they were 'discovered' in the 18th century…"

Yeast – "A modern yeast equivalent would be to use a low-to-moderate attenuation English or Scottish yeast strain."

Note: Recipe makes 1 barrel of finished beer.

RECIPE – Poor Richard's Ale
OG: 1.068 (suggested range = 1.060 – 1.086)
FG: 1.018 (suggested range = 1.014 – 1.030)
IBU: 27 (suggested range = 25 – 35)
SRM: 17 (suggested range = 12 – 25)
BU/GU Ratio: 0.39 (Strong Scotch Ale = 0.41 from AOB Style Guidelines & Daniels)

Ingredients for 1 bbl: (Assuming 75% efficiency)
Pale Malt ('Low Malt') = 44 lbs. (59%)
Flaked Corn = 14 lbs. (19%)
Biscuit ('High Malt') = 9 lbs. (12%)
Special Roast ('High Malt') = 5 lbs. (7%)
Black Patent ('High Malt') = .75 lbs. (1%)
Molasses = 1.5 lbs. (2%) – 15 minutes from end of boil

Mash: 154F for 45 min or until complete conversion

Hops:
Kent Goldings (5% AA) - 5.0 oz. - 60 min
Kent Goldings (5% AA) - 4.0 oz. - 45 min
Kent Goldings (5% AA) - 4.0 oz. - 30 min

Boil: 90 minutes

Yeast:
English - White Labs 002 (Wyeast 1968) OR Scottish – White Labs 028 (Wyeast 1728)

Now that you have the secret formula, Brewers, bear forth the hefty words of Franklin when he wrote, "Hide not your talents. They for use were made. What's a sundial in the shade."

Cheers!

 
You Should Also Read:
Beer Commemorates Ben Franklin's 300th Birthday
Lincoln Facts - and Beer
Beer Judge Basics & Continuing Education


Editor's Picks Articles
Top Ten Articles
Previous Features
Site Map





Content copyright © 2022 by Carolyn Smagalski. All rights reserved.
This content was written by Carolyn Smagalski. If you wish to use this content in any manner, you need written permission. Contact Carolyn Smagalski for details.