Colours – Blue and Purple Annuals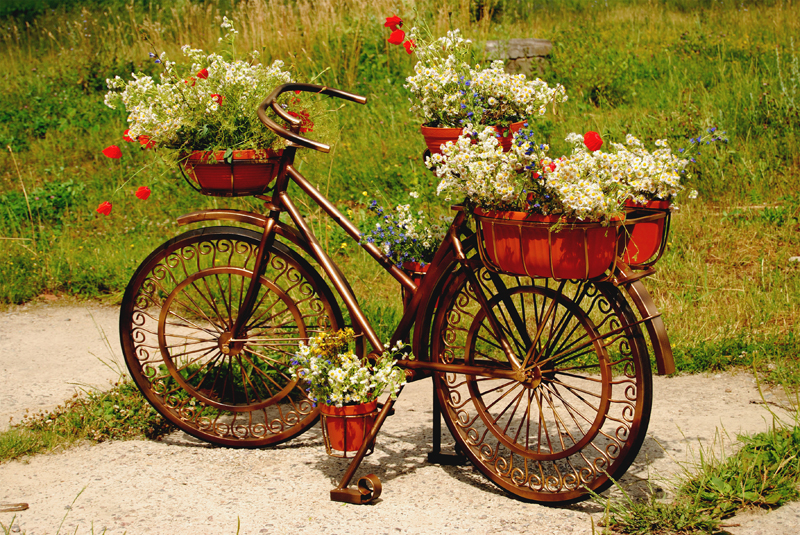 There are a wide variety of annuals available in colors of blue and purple which do very well in containers. Here are ten of my favorites chosen because of their ease of growth, resistance to disease, and long bloom time.
African Daisy - These are heat and drought tolerant and will bloom from late spring until frost. Deadheading encourages more/quicker rebloom. Full sun and moderate water. Grows to 18" high x 24" wide. Upright. Evergreen foliage and perennial in mild winter areas.
Sweet Basil - 'Purple Ruffles' and 'Dark Opal' are wonderful as an accent in mixed plantings. Deadhead to continue bloom and to keep plants compact. Full sun to part shade and regular water. Grows 12-18" tall and 12" wide. Upright.
Calibrachoa (miniature petunias) – Million Bells(R) brand cultivars are the best I've seen with compact growth and blooms from spring through fall. Does not require deadheading. Full sun and moderate water. Grows 6 to 12" high x 20" wide, spreading and drooping. Wonderful trailing over the edge of large containers or in hanging baskets.
Cosmos – Stay with the shorter varieties unless used as a center point of a very large container. Blooms summer through fall. Does not require deadheading. Full sun and moderate water. Shorter forms grow 12-20" high x 12" wide, upright. Tall varieties can grow as high as 6 to 8 feet.
Echinacea purpurea (coneflower) – Single and double flowered forms are available. Blooms late summer through fall. A perennial in mild climates or if containers are protected from freezing. Grows 18-36" high and wide depending on cultivar (some grow as tall as 5 feet, so check before purchase). Full sun and moderate water.
Heliotrope - In warm climates these are a perennial. Large, compact clusters of small fragrant flowers from spring through fall, year round in mild climates. Deadhead to remove spent flower clusters. Sun to part shade and moderate water – avoid over watering. Grows 12-18" tall and wide, will grow up to 4 feet in a large container over several years. Upright with slightly drooping branches.
Lobelia – 'Cascade', 'Sapphire', and 'Fountain' are the best trailing/hanging cultivars for hanging baskets and spilling over the sides of containers. Hundreds of small flowers from Spring until frost. Does not require deadheading. Full sun or partial shade and most need only moderate water. Grows 6" high by 12" long or longer. Some cultivars have bright green foliage and others have purple to bronze – choose the ones you like best and that blend well with the other plants in your containers.
Ornamental Peppers - Black Pearl (14-18") and Explosive Ember(10-14") have attractive purple foliage and purple or red fruit. Full and bushy, they are beautiful in containers all by themselves. Blooms summer through fall, followed by very hot peppers which can be used in cooking fresh or dried. Full sun and moderate water. Upright, bushy growth.
Petunia hybrida – Available in single and double flowers and Grandiflora (large flowers) or Multiflora (smaller flowers but more numerous). Can be grown bushy by pinching off branches half-way when plants are well established, or allowed to trail. Blooms summer through fall and into winter in especially mild climates. Occasional trimming of branches encourages re-bloom. Prefers full sun but most cultivars will tolerate part shade. Regular water. Grows 12-24" high and 2-3 feet across, depending on cultivar.
Verbena – Can be grown as a short-lived perennial in mild climates. Blooms summer through fall. Does not require deadheading. Requires full sun and warm to hot weather, moderate to little water. Grows 3-8" high and spreading to 24-36". Verbena is great for hanging baskets and growing over the sides of large containers. Can be susceptible to mildew.
You Should Also Read:
Container Flowers - Red and Pink Annuals


Related Articles
Editor's Picks Articles
Top Ten Articles
Previous Features
Site Map





Content copyright © 2022 by Jessica Carson. All rights reserved.
This content was written by Jessica Carson. If you wish to use this content in any manner, you need written permission. Contact Lestie Mulholland for details.