Beer for Women - Belgian Bière Babes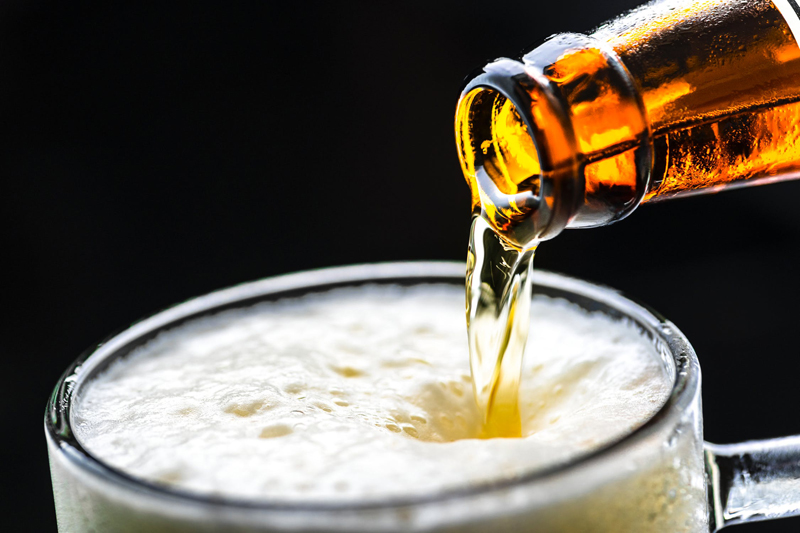 You have a fabulous evening ahead, one that has been planned for a month! After a luxurious soaking in Lemon Cream Body Wash your skin is supple and fragrant. You slather on Blossoms of Pear and it soaks deeply into your pores, making you a delight for the senses. Slipping into that slinky peach dress with the slit up to your assets, you are feeling refreshingly sexy right now. A magic wand of toasted-orange on your pouty lips and a shake of your lioness locks blend well with the iridescent band of crystalline diamonds around your wrist. You are ready to knock 'em dead, M'Lady!

It is time to satisfy your desires…a bit of alcohol to loosen your mood. So, what will you drink? The traditional woman may opt for a bit of champagne, but you are more well-versed than that. Who wants to be a traditional woman, anyway? That was your mother, not you!

You are cosmopolitan! Fabulous! A bit techie, but not a geek! Your mother denied her sexiness. You celebrate it! You have healthy ambition and that's fun! You love food and drink from foreign countries – Thai, Arabic, French, and Maori - experimentation and adventure. You are a Bière de Babe! And that's what you drink! Bière!

Somehow, the accent and extra "e" at the end of the word change things, do they not? Just a fraction more exotic, like your own spirit. A great beer brasserie, one that has spontaneously fermented Belgian Beers, farmhouse French Saisons, Hophead Delights and Bière Brut is what you need for your aroused sensitivity. No Coors Light for you! Perhaps a beer that has undergone remuage and dégorgement - Malheur Brut Reserve from Brouwerij de Landtsheer, Buggenhout, Belgium, for instance…

Remuage and dégorgement is the process used to make Bière Brut. For many years, Belgian brewers sought to develop a beer that would retain the crisp, complex, effervescent character of champagne, along with the added benefit of a rocky, meringue-like head and intricate lacing, delicate enough to rival the most fastidious Irish heirlooms. It would call for secondary bottle conditioning that, if properly done, would add complexity, an appealing dryness, wine-like flavors, and floral accents not present with singular fermentation; however, bottle conditioning often meant the sacrifice of clarity or the possibility of off-flavors such as meaty (ham) or celery-like flavors due to the deterioration of yeast cells over a long period of time (autolysis). Artisan brewers developed techniques to centrifuge and filter the yeast out of the beer after the first fermentation.

Pierre Celis further refined the process by adding a small dose of yeast to the bottle for secondary fermentation, then slowly turning the bottle a little each day as it ages, gradually moving the neck into a downward vertical position. This process is called remuage. After the yeast sediment settles, the neck is frozen. This frozen, yeast enriched bung is then disgorged (dégorgement) by inner-pressure. The beer is given a final small dose of specialized yeast, after which the bottle receives its final cork. You are presented with an effervescent beer with light character, the seductive flavors of peach, vanilla and citrus fruits, and a higher alcohol level, cloaked in smoothness.

If you prefer a beer with a more wine-like character to blend with your salad, choose Girardin Gueuze (rhymes with "furs", ladies – then add the "ahhhh" at the end, just like you would if someone gave you a full length sable coat!) from Girardin Brewery, St. Ulriks Kapelle, Belgium. This is a blend of spontaneously fermented lambic beers that have undergone different aging cycles – some older lambic merged with the younger ones – and refermented in the bottle, producing a highly complex beer with tart flavors of Granny Smith Apples, earth, citric lemon, hay, sherry, and wood. The tartness is amazingly refreshing, making this the perfect choice with lighter foods.

For your adventurous side, you may want to explore the flavors of a cave-aged beer, known as Grottenbier, a Belgian Dark Ale brewed at the Brouwerij St. Bernardus, Watou, Belgium. The body - hazy ruby and orange. The head – voluminous. The inner recesses of your mouth tingle with the flavors of walnuts, toffee, sweet plums, and cinnamon, enhanced with a vinous, resiny profile. It is exotic and erotic, with a lingering palate. A bit secretive, like the inner grotto in which it is stored and fermented.

A little knowledge is a lovely thing. As I said, "Knock 'em dead, M'Lady!"

Cheers!

 
You Should Also Read:
Champagne Beer for Champagne Girls
A Classic Beer Guide for Women
The Pleasures of Beer - A Woman's Passion


Related Articles
Editor's Picks Articles
Top Ten Articles
Previous Features
Site Map





Content copyright © 2022 by Carolyn Smagalski. All rights reserved.
This content was written by Carolyn Smagalski. If you wish to use this content in any manner, you need written permission. Contact Carolyn Smagalski for details.