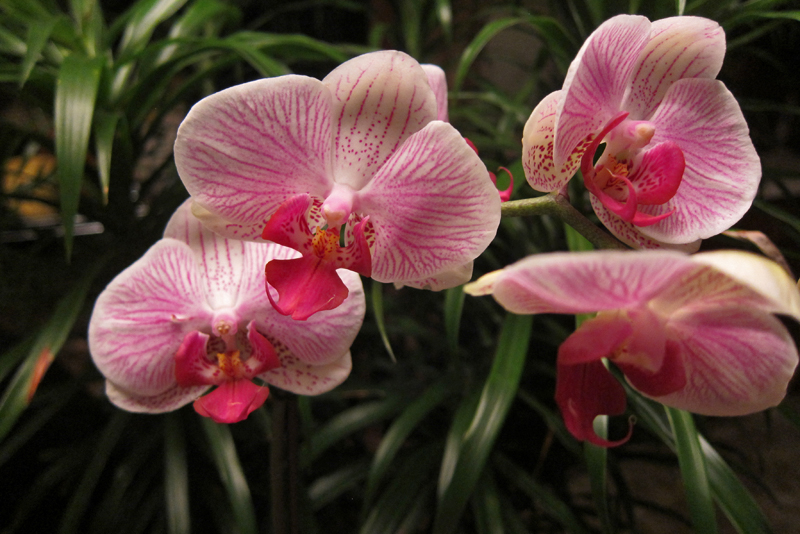 This is a continuation of the Tips articles which were posted previously. If you have any tips you'd like to contribute, please send me an e-mail with "Tips" in the subject line. I would like to thank the members of the AOS Forum, Orchid Dreams Forum and the Houston Orchid Society for the tips they contributed.

Use 70% Alcohol Spray when Repotting
One product in use frequently at our greenhouse during repotting is 70% alcohol. Now this product works extremely well to rid the different orchid genera of the pesky unwanted insect rascals. Placing the alcohol in a spray bottle full strength, then using it to spray down the whole plant (leaves - front and back, pseudobulbs and roots) before repotting will kill the insects and eggs. Remember to clean up the plant as mentioned in the previous tips by removing sheaths from the pseudobulbs as well as dead leaves, dead roots, and old brown flower stems before spraying. Let this spray set on the plant 20-30 minutes prior washing the plant thoroughly with water before repotting. (We have sprayed hundreds of different kinds of orchids with alcohol and never experienced orchid death or damage from this procedure. However, if you have rare or expensive orchids, please beware that you should check with your local orchid grower before using any solution on your orchids. Also, we have sprayed alcohol on Phalaenopsis and Oncidium flowers without damage but it will wilt the flowers of some Dendrobiums and other orchid genera). Thanks to Rose and Ron Poehler owners of County Line Orchids for this tip.

Work on the same size orchids
If you have a fairly large collection with different sized orchids, work on one size or one type at a time. I have standard, compact and miniature cattleyas. I always try to work on just one size at a time because it takes a different touch cleaning and working with standards than it does minis. I've broken off spikes and whole pseudobulbs on the minis using the same pressure that worked just find on the standards.

Use water from your fish tank for your orchids
If you have freshwater tropical fish, use this water for your orchids when you change the water. It will have good fertilizer and really make the leaves green! The wastes contained in the water provide wonderful natural fertilizer for all your plants.

Stake your orchid flowers as they grow
In order to enjoy your orchids flowers to their best advantage, start staking the inflorescences when they are about half grown on Cattleyas. This allows you to control the inflorescence as it grows and you will eliminate the possibility of breaking it off that occurs when the inflorescence is more mature.

You Should Also Read:
Spring Growing Tips
Trivia - World's Tallest Orchid
OrchidWiz Encyclopedia v 2.0


Related Articles
Editor's Picks Articles
Top Ten Articles
Previous Features
Site Map





Content copyright © 2022 by Susan Taylor. All rights reserved.
This content was written by Susan Taylor. If you wish to use this content in any manner, you need written permission. Contact Anu Dharmani for details.