OK, so the shock has begun to wear off. You've found out your teen is pregnant. What are your options?
Here are a few suggestions once the shock begins to pass.
1. This is
not
the time to lose it, to begin spouting lectures, or to play the blame game (whether on yourself or another person). The emotions are many: grief or heartache or any combination of feelings - none of which are light or easy to deal with. This
is
the time to seek a family counselor to help your family work through this situation safely and wisely.
2. This
is
the time to be thinking long-range. This is
not
the time to be thinking only of today or the next nine months (or six or however many there might be). In other words, you need to be considering all sides of all options. Whether or not you believe in the sanctity of life beginning before birth, there are options which must be considered. Abortion? Adoption? Keeping the child and raising it?
3. All of these carry long-term ripples and effects from small choices made today. I say small, because just one choice in and of itself might seem minute, yet it is much like the hinge on a ten foot cattle gate. One inch of movement from the hinge causes the other end of the gate to swing open eight feet!
4. Just because abortion might seem the simplest choice (i.e. "that way no-one will know"), it might not be the best. The statistics for any future successful pregnancy is greatly reduced due to a singular abortion - even though an abortion facility may be reluctant to share that with you (and perhaps right now it might not be a care - but ten years down the road, your daughter might eventually want another child!).
5. On the other hand, having your child become a single parent might seem the simplest choice. Yet the statistics for poverty are very high when a child is raised by a single parent.
6. Still again, perhaps the choice to raise your new little grandchild might seem like the simplest choice. Yet there are long-term considerations important to consider with even this choice.
Again, now is not the time to play the blame game - although stress seems to bring this out of the best of us.
7. One of the most satisfying choices that can evolve out of a difficult situation such as a teen pregnancy is that of adoption. Just speak to any couple who have not been able to have a child of their own. Their gratitude and love and nurturing they shower upon their adopted child can be an amazing thing. What better gift can a person give than to allow the little person they've brought into this world, be raised by two parents who are adults and able to provide what that child might need.
Whatever your choices might be, it would be well to seek counseling by an individual who has no vested interest in the outcome. An adoption counselor obviously will be interested in steering you toward adoption; an abortion clinic makes money from abortions, so obviously will be interested in gaining you as a client.
The choices facing you and your teen are important ones with many long-reaching ripples in the future. By remembering not to play the blame game and by prayerfully considering all of the options, truly the best consideration and choice will be made.
~~~~~~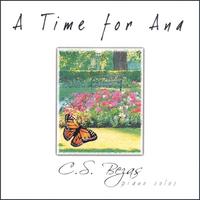 My new CD,
A Time for Ana
, is out! Here are just some of the reviews:
""Your music reminds me of a waterfall. It has a beautiful melody that carries you and leaves you wanting more and never tiring of it." - Anson Service, of Heuristic Productions
Lori Nawyn, of Parker Lane Publishing, says: "
A Time for Ana
is a welcome addition to the music libraries of adults who need to unwind and de-stress, in addition to soothing children who have experienced trauma of any sort."
And business owner, Hayley Fair says: "Our customers absolutely LOVE your music playing in our store!"
For more information, visit my
CDBaby website
. If you'd like signed copies, write me personally to let me know.
This site needs an editor - click to learn more!


Related Articles
Editor's Picks Articles
Top Ten Articles
Previous Features
Site Map





Content copyright © 2023 by C.S. Bezas. All rights reserved.
This content was written by C.S. Bezas. If you wish to use this content in any manner, you need written permission. Contact BellaOnline Administration for details.