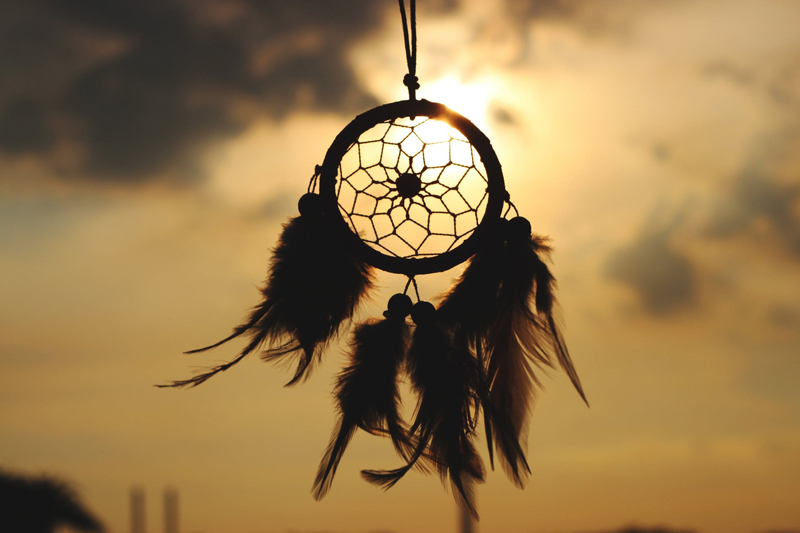 The Dance Shawl is an integral piece of regalia for all female dancers. Women's Traditional is the oldest style of women's dance. Also called Straight or Buckskin, it includes leather, wool, and cotton dresses, such as the Cherokee Tear Dress. In this dance, the shawl is draped over the arm, with the fringe swaying gracefully. The Fancy Shawl dance is a more recent dance style, originating within the Northern Tribes, along the borders of Canada and the United States. It is often referred to as Northern Shawl. In this physically demanding dance, the shawl is worn over the shoulders, with arms extended. The shawl is like the wings of a bird, with the decorative fringe, its feathers.

When not in full regalia, it is proper to wear a shawl while dancing. Most arena directors will require this, but there are social dances in which shawls are not needed. For many gatherings, not having full regalia is not an issue. With a dance shawl, you will be welcomed to join intertribal dances at many events, and they are simple to make.

Starting with cloth selection, a gabardine or other polyester, reversible fabric is a good choice. It doesn't fray easily and has a smooth sway and bounce. It's also washable and not too heavy or hot. To determine the length (yardage) needed, measure from the base of your fingers on one hand, across the shoulders to the same spot on your other hand. Add at least 2 inches for hem. When placed over your shoulders, the finished shawl should be comfortably grasped with your hands at your waist and elbows bent slightly. Too short will not work, but longer shawls can be draped over the wrists. If in doubt, add a few inches. The fabric should be wide enough to extend from your neck down to the top of your legs. A 45 inch wide fabric will work, doubled for a young girl, or cut down for a ladies shawl. A 60 inch wide fabric is most commonly used for women, and is worn folded in half.

Before cutting and sewing, consider how the shawl will be worn. Many ladies start their regalia with a shawl and wear it over the shoulders until their outfit is complete. Then it is worn over the arm when in full regalia. Also consider the weight of the fabric. Using a 60 inch wide fabric that's folded, may be too heavy and hot. Shawls can also be lined to cover stitches of appliqués and ribbon work on the front, or to provide additional warmth.

For an un-lined shawl, fold the edges twice for a hem less than an inch wide. Corners can be rounded or folded for a sharp angle. The hem can be hand or machine sewn. Now the shawl is ready to adorn with ribbon, appliqués, embroidery, beads, sequins, or fabric paint. It can be as simple as a one ribbon trim, or as elaborate as a quilted Sioux star, or a hand-painted masterpiece. In planning your decorations, keep in mind how they will look with the shawl on your shoulders, or folded across your arm. The colorfastness and durability of adornments should also be considered. Prewash each fabric attachment in salt water to set dyes and prevent staining. Leave at least one inch of the outer edges free for the fringe.

Fringe displays the gracefulness in your dance steps and gives life to your shawl. It should be long and full for maximum sway and bounce, but should not touch the ground. Spool chainette is considered traditional, and spacing is important. If it's too far apart, your shawl will look "bald," and if it's too close, you'll be adding a pound or two. The additional weight and closely placed holes may tear the fabric. Depending upon the type of fringe used, spacing of ¼ to ¾ inches is standard. Experiment with a fabric scrap to determine what is pleasing to you. The space can be approximated or precisely marked with a sewing pencil, or other disappearing ink product. The marks should be even and above the hem.

There are several methods of attaching fringe. The needle method works best with lighter fabrics and single or double strand fringe. Thread the fringe and push through the fabric. Even up the ends and then knot the fringe close to the fabric edge. When knotting, be careful not to bunch up the hem, so the portion of fringe above the knot is flat with the fabric. A quality fringing needle is recommended, as others dull quickly.

The awl and hook method uses a sharp awl to punch holes, and a small pointed crochet hook to pull the fringe through. This method is quicker. Sections can be marked, punched, and then fringed. Some fabrics will close up after the hole is punched. Depending upon fabric, a small slit can be cut with a thin blade knife. A wooden cutting board under the fabric is most helpful.

Although unconventional, I have used the precision leather punch available at Crazy Crow. It has 5 hole sizes, and was much easier on my hands. However, with a conical head, the holes do close up. Attaching a pre-fab fringe would be quicker and easier than these methods, but it is expensive, and considered a short-cut in poor taste. Thin satin ribbon is an accepted fringe option. Strips can be cut and sewn next to each other for full coverage. They can also be pulled through the fabric and knotted. For a lively fancy shawl dancer, satin ribbon is a lighter and sturdier fringe.

With chainette or satin ribbon fringe, fraying is an issue to be addressed. Some use clear fingernail polish on each strand, but this needs to be reapplied after washing. There are products which permanently seal the ends from pulling and fraying. Experimentation with scraps is advised. I would not recommend knotting the ends. This inhibits the important sway of the fringe. Fringed shawls should always be hand washed and air dried.

The dance shawl is a piece of regalia to be creative with. Use your imagination and let your personality show through your designs and adornment. But most importantly, be proud of your creation and enjoy it while dancing to the Drum.

You Should Also Read:
FORUM-Making a Dance Shawl


Related Articles
Editor's Picks Articles
Top Ten Articles
Previous Features
Site Map





Content copyright © 2019 by Jane Winkler. All rights reserved.
This content was written by Jane Winkler. If you wish to use this content in any manner, you need written permission. Contact Jacqueline Olivia Pina for details.