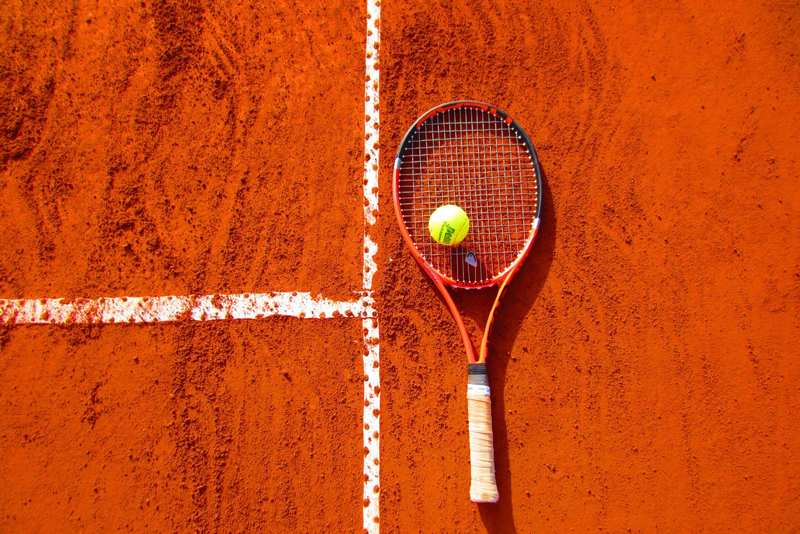 Professional tennis is a career for an elite few. For the rest of us, tennis is a social event, and a great way to get exercise. Once you've mastered the basics, you may even want to participate in a local tournament or league play.
If you're interested in learning tennis, or are just starting out, make sure that you're familiar with the basics of the game. You can get started with the overview below, and you may also want to check out
Tennis Terminology
for a review of some common tennis terms.
The Game
Tennis is a non-contact sport, played by 1 to 4 people. Typically, a
singles
match consists of two individual opponents, and
doubles
is played with teams of two people on each side of the net.
Doubles is generally a more popular social game than singles, as it appeals to a broader population (i.e. you don't have to be in as good of shape). As you begin learning some basic tennis stokes, you may also want to read about
Doubles Strategy
, as you will find it important as your game improves.
A common variation on the standard game of tennis is
Canadian Doubles
. This game is played recreationally, with two players against one, rotating position after a few games between all three players. Canadian Doubles is generally adopted when one partner of a foursome doesn't show up for a match, and the other three still want to play.
For those of us who don't have a tennis partner or anyone else who wants to play, you always have the option of hitting against a wall (
backboard
) or finding a ball machine.
Scoring
Anyone new to tennis has got to wonder what all this fourty-love stuff is all about. Why don't they just count points from one to four and be done with it? Well, that has to do more with the history of the game (covered more in-depth in another article) than anything else.
Regular scoring
means counting points by 15, and you have to win the game by two. Both players start at love, or zero. The first point is 15, the second is 30, the third is 40 and the fourth is game. If both players win 3 points each, the game is tied at 40-all, or
deuce
. The next point won is called advantage (to whomever won it –
ad-in
if the server, and
ad-out
if the returner). If that same person wins the next point, they win the game. If not, the score goes back to deuce and play continues.
No-ad scoring
is a more simplified system, and often times quicker game. Points are counted 1-2-3 and 4. If the players should reach 3 points each, or 3-all, the next point is considered sudden death, and whoever wins that one wins the game.
Equipment
All you need to play tennis is a racquet, some balls and good shoes. You don't have to belong to a fancy club, unless you're so inclined. The local high school or community college, even a neighborhood park, is a great place to find courts.
When you're just starting out, any tennis racquet will do. Avoid the temptation to buy the latest and greatest, most expensive frame in the tennis shop. As your tennis game improves, you'll outgrow your current racquet and need to buy another one soon enough. If you are more advanced and want to learn more about current racquet technology, check out
Racquet Facts
for an overview.
Good tennis shoes are also important, but that doesn't equate to expensive. Wear whatever is comfortable, and make sure they have good lateral support.
Social and Competitive Tennis
After you've had a chance to learn about the game, you may want to join a league or play a tournament. You will find organized events at your local club, community park or sponsored by a tennis association. You don't have to be an expert to join these events, they are offered at all levels, and some are even free to participate.
One of the first things you'll need to do is
Know Your Rating
to get an idea of what level you can play. Once you are able to estimate your rating, many tennis events become available for you to play. Most require that you join the
USTA
, but many are local and free.
League tennis is a great way to meet new people, improve your game and have fun. Leagues are made up of teams formed at each of the different levels, some teams are competitive and some are just for fun. There's a new league format available in some of the USTA sections, called
Combo League
. Teams are forming now, so it's a great time to give it a try.
There is much more to the game of tennis, but that about covers the basics. No matter what level player you are, whether you compete tournaments or never keep score, tennis is the sport of a lifetime. So grab a racquet and a friend and go play.
Have fun on the courts!
Recommended Reading
Official Rules of Tennis
I Know Absolutely Nothing About Tennis
Visual Tennis
You Should Also Read:
Tennis Court Etiquette


Related Articles
Editor's Picks Articles
Top Ten Articles
Previous Features
Site Map





Content copyright © 2023 by Sandra Eggers. All rights reserved.
This content was written by Sandra Eggers. If you wish to use this content in any manner, you need written permission. Contact Sandy Eggers for details.