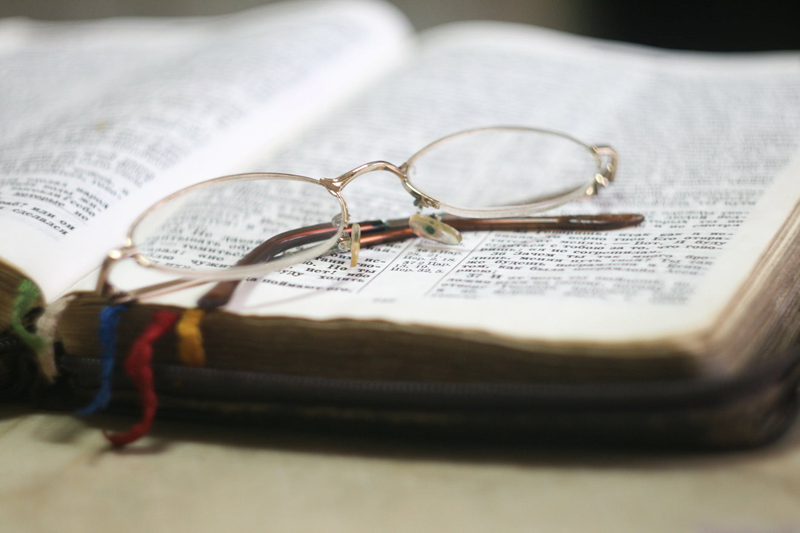 As the world becomes darker, it is more important than ever to have our homes be a source of light. Our homes need to be a place of refuge and peace. But how can you accomplish that when it seems that no matter what you do, you receive opposition? None of us are perfect, and sometimes it may seem extra difficult to achieve harmony in the home. But there are some things that you can do to make Christ the center of your home in spite of any familial difficulties you may be facing.

First, look at what you are and aren't doing. Be honest. You should be able to find room for improvements in some areas. It is easy to become complacent and think we are doing everything well, when in fact we are skipping things that may seem like they are little. But those little things can lead to big things. So it is best to be safe and honestly assess where you are as a family. Perhaps hold a family council and get input from everyone. You should have some ideas already, but leading your family in analyzing choices can be extremely beneficial. Be sure to take great care not to single any family member out for needing improvement or doing things really well. This can make others who may be having difficulties in certain areas feel shut out and not worthy to be part of the family. Make general statements about the family as a whole.

Recommit to having family scripture study daily. Did you know that if you only read two chapters a day as a family, that you can finish all of the standard works in just two years? If you mess up and miss a day, don't throw all your progress away. Just start again where you left off and move forward. But chances are that if the whole family is involved and working on the goal, that someone will remember to remind the family each day to read together. Even if family members are traveling, you can still have daily study together. We often do our scripture reading over the phone. It works, because we have learned to be creative in making it happen.

Recommit to having family prayer each day. If you are reading your scriptures together each day, this is an easy one to accomplish.

Recommit to saying your personal prayers daily. This is your one-on-one time with the Lord. He wants to hear from you.

Recommit to having Family Home Evening weekly. Spending that time as a family will help you build relationships together as you discuss the gospel or have fun activities. This is a place where memories can be built.

Recommit to attending all of your church meetings each week. This is where we go to have our spiritual cups refilled.

Recommit to Visiting Teaching and Home Teaching. Serving others helps us to grow. It is often through another person that the Lord fulfills our needs. Be an instrument in the hands of the Lord.

Recommit to paying a full tithe. This gospel principle is for us to learn and grow from. Be being obedient, the Lord will pour His blessings out and into our lives. He will give us what we need when we really need it.

Recommit to paying Fast offerings. This money helps those who need help with obtaining food and other necessities. Remember, that it is often through another person that the Lord fulfills our needs. Be an instrument in the hands of the Lord.

Recommit to Temple attendance. If you haven't been yet, talk to your Bishop and prepare to get a recommend. If you haven't been in awhile or don't have a current recommend, then talk to your Bishop and do whatever you need to in order to get a current recommend. Attending the Temple will help you to find a true refuge from the world. It will bring you peace.

Recommit to listening to wholesome music. Play music that is uplifting. Hymns and Primary Music can be played to invite the Spirit into your home. Use this powerful tool.

Recommit to being Morally Clean. Be pure in speech, deed, and thought. Avoid unclean movies, books, television, music, pictures, and websites. The Spirit cannot dwell in unclean places. The Lord wants to bless you with the influence of the Spirit. Be prepared by being clean.

There are many other things that you can do to have a Christ Centered home. This is just a start. Remember that making changes will take time. But the Lord is just waiting for you to ask for His help. Even when you stumble along, know that it is important to keep getting back up and moving forward. Neal A. Maxwell said, "Eternal things are always done in the process of time. Direction is initially more important than speed."

By recommitting to having a Christ Centered home, you will find your home to be a refuge from the storm of life. Your family will be happier. Your home will be a source of light in a world of darkness. Isn't that what we all want?


Related Articles
Editor's Picks Articles
Top Ten Articles
Previous Features
Site Map





Content copyright © 2022 by Brenda Emmett. All rights reserved.
This content was written by Brenda Emmett. If you wish to use this content in any manner, you need written permission. Contact Brenda Emmett for details.