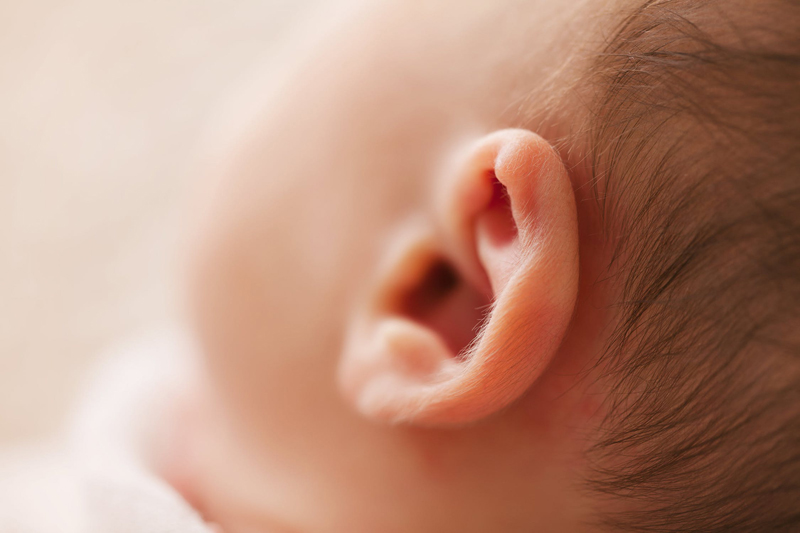 There are many reasons for deafness. This article is not intended to cover all causes of nor be a medical treatise of these reasons.

Diseases or viruses during pregnancy, in childhood and later life, hereditary factors, exposure to loud noise, head injuries, ototoxic drugs, allergic reactions and aging can all be causes of deafness. While events such as malformation of the ear system, injury, and diseases like cancer will affect the ear, and therefore hearing loss in different ways, the most common result of all these diseases and traumas is sensorineural deafness – or the dying of the hair cells in the cochlea. There is no treatment for sensorineural deafness so prevention is the best cure.

Measles, German Measles (Rubella) and Mumps
Common enough in children and even in adulthood these so called childhood illnesses can have a profound and irreversible affect on hearing. If caught during pregnancy, the baby may have hearing problems.

It is thought that the measles virus isn't the actual cause of the deafness but the accompanying side effects of the illness such as encephalitis, middle ear infections or the drugs used to treat all or any of these. While measles during pregnancy can cause a miscarriage or premature birth there is no link between measles in pregnancy and deafness for the baby. Rather Rubella or German measles during pregnancy has a known link to deafness (among other things) for the baby particularly if the disease is experienced in the first trimester. (3)

Mumps can cause temporary deafness, but if complications occur such as meningitis or encephalitis then long term deafness may result.(4)

Ear Infections
Ear Infections, or Otitis Media is very common in children and particularly so in remote indigenous communities. While most children get ear infections this does not generally produce long term hearing complications. However, repeated and consistent ear infections as well as the antibiotics prescribed may cause, or contribute to, long term deafness when the inner ear is involved.

Glue Ear
Glue Ear is a childhood condition of the middle ear where the fluid in Eustachian tube becomes thick and glue like. According to one report (1) 70% of children will get glue ear at some point in their early years. Generally, glue ear causes dulled hearing and therefore may impede speech and linguistic development. However, when treated the child's hearing returns to normal and usually no further intervention is required.

Ototoxic Drugs
Ototoxic drugs simply means drugs which may damage the hearing. This list is long with over 200 identified drug as potentially damaging hearing. Sometimes the loss is temporary and sometimes permanent.(6)

Loud noise
Prolonged exposure to loud noise can cause a sensorineural hearing loss which is progressive long after the exposure to the noise has ceased. Loud noise may be industrial or music played at high volumes. iPods and MP3 players should be limited in their volume. Hearing loss/tinnitus from going to (say) a Rock concert usually abates within 24 hours.

Exposure to a sudden loud noise may cause temporary deafness and tinnitus. But in some cases the hearing loss becomes permanent.

Injury
Head trauma, including whiplash from a car, a work accident or an assault may result in a hearing loss. When the hearing system is damaged or the skull cracked this can cause permanent hearing loss even after the skull has healed.

Aging
Believe it or not, to age is a privilege… but with this privilege comes some negative physical conditions one of which is likely to be deafness. This unwelcome symptom will affect 1 in 4 people by the time they reach the age of 60 and 3 in 4 by the time they reach 75. It is simply the deterioration of the ear system and in particular the dying of the cochlea hair cells resulting in sensorineural deafness. (5) It is important to get a hearing aid as soon as a hearing loss is recognised. By listening to noise, even if the sound is not that clear, this will slow the deterioration of loss.

Unknown causes
Surprisingly in a report from Gallaudet University 2004-2005(2) the cause of deafness in approximately 57% of children was unknown.

Sensorineural deafness is irreversible and untreatable and prevention is the best cure in most cases. The Cochlear Implant has given new hearing to hundreds of thousands of people and wearing a hearing aid can help with both hearing and slow the deterioration of the loss.

References
(1) What is Glue ear? https://www.medicalnewstoday.com/articles/167409.php, Medical News Today
(2) Hearing Loss and Children – Top Causes of Deafness in Children https://deafness.about.com/od/medicalcauses/tp/topcauses.htm, About.com
(3) Measles https://www.hearingaids101.com/measles.aspx Hearing Aids 101
(4) Measles, Mumps, Rubella (MMR) Vaccine https://www.healthlinkbc.ca/healthfiles/hfile14a.stm#E46E6 BC Centre for Disease Control
(5) Age related hearing loss https://www.deafnessresearch.org.uk/?lid=1618 Deafness Research UK
(6) Ototoxic drugs can damage hearing https://www.asha.org/about/news/tipsheets/ototoxic.htm American Speech-Language-Hearing Association



You Should Also Read:
Sensorineural hearing loss
Otosclerosis
Deafness in babies


Related Articles
Editor's Picks Articles
Top Ten Articles
Previous Features
Site Map





Content copyright © 2023 by Felicity Bleckly. All rights reserved.
This content was written by Felicity Bleckly. If you wish to use this content in any manner, you need written permission. Contact Felicity Bleckly for details.