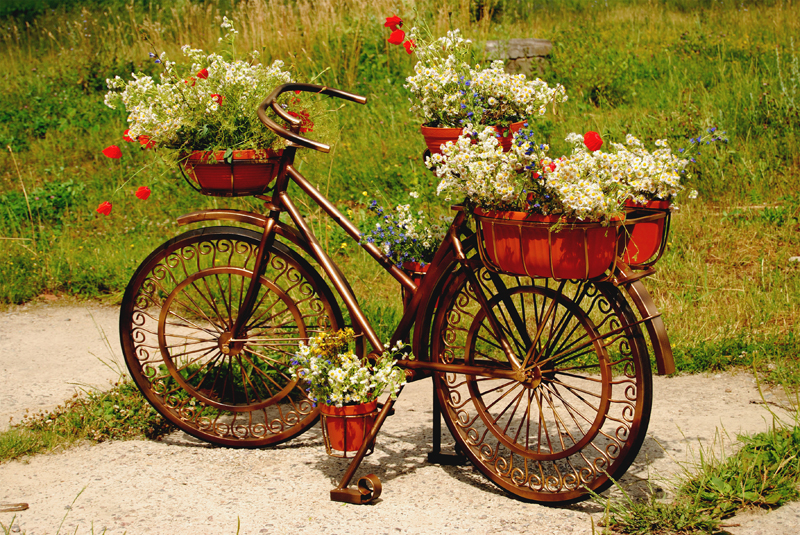 Bearded or German Iris have a fleshy, tuberous main root or underground stem called a rhizome. This rhizome sprouts new rhizome offshoots each year, which in turn become new plants. If left undivided year after year the rhizomes will become overcrowded and the number of blooms will decrease. Overcrowding also leaves the plants highly susceptible to insects and disease. Bearded Iris will need to be divided every three to five years to keep them healthy and blooming well. If the blooms on your iris patch are less this year than last and the plants seem crowded, it is time to divide. This is best done in mid-to-late summer: July or August in the Northern Hemisphere, January or February if you are south of the Equator.

DIVIDING YOUR IRIS
1. Lift the clump of Rhizomes
If your iris are planted in a container, use a trowel to get under the clump of rhizomes and lift it out of the pot, or turn the pot on its side and coax the clump out. If they are in the ground, place a garden fork or shovel a few inches from the clump and push into the soil six inches deep or more. Work the shovel or fork under the clump and tilt to lift the clump from the soil. If the clump is large you may need to do this several times from different directions around the clump.

2. Gently separate the groups of rhizomes by wiggling and pulling them apart, being careful not to damage the small roots.

3. Rinse off the separated rhizomes and inspect them for fungus, rot, or insect damage. Dispose of any rhizomes that are dried out, mushy or smell bad, or are full of holes from insect damage. Also dispose of any that do not have leaf fans. Note that soft rot can easily spread among your rhizomes so cut away any rotted sections with a sharp knife. Disinfect the knife with denatured (rubbing) alcohol or a 10% bleach solution between cuts of diseased rhizomes.

4. Large rhizome sets will have several fans of leaves growing from them. Using a clean, sharp knife or your hands, cut or break the rhizomes apart, making sure each chunk is at least ¾ inch (2 cm) in diameter and 2 to 4 inches (5 to 10cm) long, with one or two leaf fans and several healthy roots. Discard the old central rhizome. Note: Miniature iris rhizomes will be smaller around and shorter, but should still contain one or more leaf fans and several healthy roots.

5. Trim the leaf fans to 6 inches long (15cm) or 3 to 4 inches long (10cm) for miniature iris, and remove bloom stalks and dried leaves. This will reduce the amount of water that the cut rhizomes and new roots will need to supply and let the plants put energy into growing new roots in preparation for the winter.

6. Optional: Dip each rhizome in a solution of 1 TBS baking soda, 1 tsp plain liquid dish soap or insecticidal soap, and 1 gallon of water to inhibit disease.

PLANTING YOUR IRIS
Bearded Iris prefer fertile, slightly alkaline, well-drained soil and full sun.
Space your rhizomes about 12 inches (30 cm) apart if planting in the ground. You can space them closer in a container, but you may need to divide them every two to three years.

1. If desired, amend the soil with well-composted planting mix, bone meal, or a small amount of low nitrogen slow-release fertilizer. Iris are not heavy feeders, so they won't need much. Make sure any amendments are well composted, as partially composted manure or plant matter can contribute to rhizome rot. Note: If your soil is very acidic amend it with lime to make it slightly alkaline.

2. Plant each rhizome at least 2 inches (5cm) from the edge or your container to give them room to grow. Dig a double trench 2-3" (5-7.5cm) wide, 3-4" (7.5-10cm) deep and the length of the rhizome.

3. Lay the rhizome horizontally along the top of the center ridge between the trenches and arrange the small hair-like roots down the sides into each trench. Don't let the roots come in direct contact with any clumps of bone meal or fertilizer, as this can burn the roots.

4. Cover the roots with soil, leaving about 1/3 of the top of the rhizome exposed.

5. Firm the soil tightly around the roots and water-in well.

6. Continue watering weekly if the weather is dry.

If you are planting your iris in a row, arrange your iris so they are all pointing in the same direction with the leaf fans to the same side of the rhizome. This way the rhizomes will all grow in the same direction and there will be less crowding.

If planting your iris in circular patterns, arrange the rhizomes so the leaf fans are all pointing away from each other.

If you live in an area with harsh winters you can loosely mulch your iris the first year with salt hay or straw at first frost, or move the container to a protected area. Be sure to remove the mulch as soon as the weather starts to warm. Note: mulching can keep the rhizomes too moist and promote rhizome rot and also provides a home for gnawing pests like mice, so only mulch if your iris are not well established the first season.

Your iris will bloom sparsely the first year after planting and bloom well in the second and third year. When blooming declines divide and re-plant again.

................................................................................

CASUAL VISITOR … and just browsing? Why not sign up to the Container Garden newsletter? It won't matter what space or how many pots you have or even how much time you have to spend in your container garden; what will matter is that you get our reminders and good advice and ideas all in one interesting article.

You Should Also Read:
Easter Lily Pots


Related Articles
Editor's Picks Articles
Top Ten Articles
Previous Features
Site Map





Content copyright © 2023 by Jessica Carson. All rights reserved.
This content was written by Jessica Carson. If you wish to use this content in any manner, you need written permission. Contact Lestie Mulholland for details.