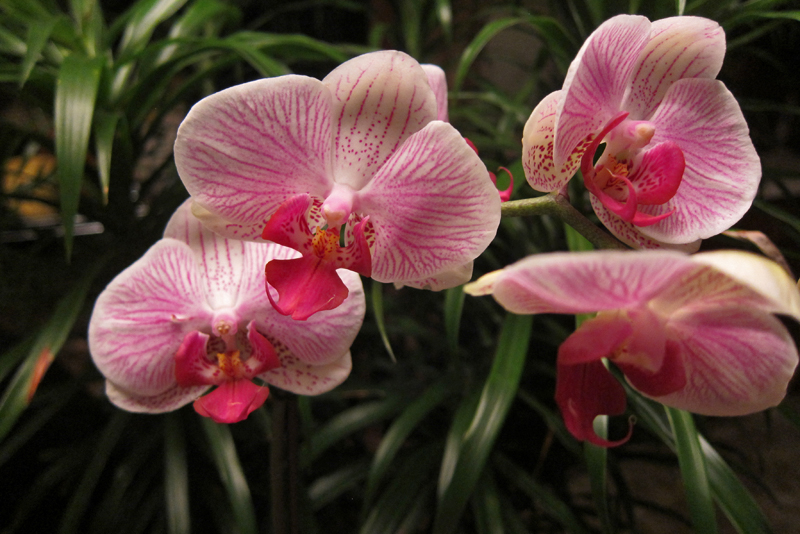 This is a continuation of the Tips articles which were posted previously. If you have any tips you'd like to contribute, please send me an e-mail with "Tips" in the subject line. I would like to thank the members of the AOS Forum, Orchid Dreams Forum and the Houston Orchid Society for the tips they contributed.

Use hydrogen peroxide to kill crown rot contributed by Sandy Hardy
Hydrogen Peroxide is great for treating crown rot, especially in monopodial orchids, e.g. Phalaenopsis and Vanda. Use it straight/full strength, pouring it directly into the crown of the plant. If rot is present it will fizz and bubble. Keep the plant in lower light, drier than normal, and re-treat every 3 days until you see no more fizzing or bubbling. Then treat it once more just for good measure:) Slowly reacclimate it to the plant's normal conditions. The plant will usually keiki (make a baby plant) following this process as sometimes the "mother plant" will die anyway. That really depends on how early you notice the problem.

Keep that tag
Even if you're just getting your first orchid, don't throw away that tag. Almost everyone does and later regrets it. The tag tells you what kind of orchid you have purchased or received as a gift so you can find out how to treat it. It also gives you a name that can be used to determine later on what its parentage is and to show it if you become an addict!

Over watering
If you are an over waterer, lavish your skills on mounted orchids. Water them as often as you want --it's virtually impossible to over water a mounted plant. This way your other plants don't get too much love in the form of water from you! I love to pay my plants attention, but confine my daily watering routine to the few mounted items I have. I'm happy and they're happy.

Hydrogen Peroxide kills insect eggs
A 5% solution of hydrogen peroxide fizzes any insect eggs and destroys most insects upon contact, yet is harmless to plants and skin. It can be used as a spray on orchids. Be sure to follow-up at five day intervals for about two weeks.

409 Cleaner as insecticide
A mixture of one part 409 cleaner to one part Simple Green automotive cleaner and 2 parts distilled water makes an effective spray for scale and many other insects. This solution is a variant on the dishwashing liquid and water combination I've mentioned elsewhere.

You Should Also Read:
What to do when you go on vacation?
Light Meters and Hygrometers
Exhibiting your orchids at Orchid Meetings


Related Articles
Editor's Picks Articles
Top Ten Articles
Previous Features
Site Map





Content copyright © 2022 by Susan Taylor. All rights reserved.
This content was written by Susan Taylor. If you wish to use this content in any manner, you need written permission. Contact Anu Dharmani for details.