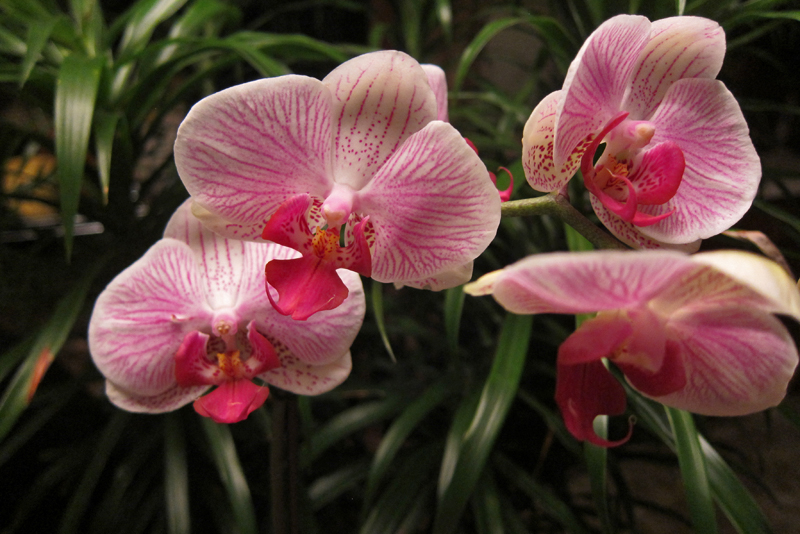 Be careful of glazed decorative pots
When using decorative glazed pots be sure that there is no water at the bottom of the pot which will keep the medium too wet. Also be sure to put your orchids in a decorative pot two sizes larger than your orchid to allow for extra air circulation around the orchid roots. When your orchid has finished blooming, give it a break and take it out of the decorative pot and use the pot for another blooming one.

Use grape root as a mount
Grape root which can be found at many large pet stores is a great idea for mounting orchids; they seem to thrive on it. It is also possible to find decorative hanging items made of grape root which make a nice looking as well as utilitarian mount. Many of the decorative wreaths found in crafts stores are also made of grape root or grape vine. Be sure that they have not been treated with chemicals.

Cutting large pieces of cork
When cutting large pieces of cork, use a drill to cut a series of holes and then simply break the cork along the weakened area. This gives a more natural looking mount than a sawed piece. Some growers also use the drill to make indentations into the cork to encourage better root growth for their orchids. This gives them more surface and some provides an imitation of true bark.

Group plants to increase humidity
For indoor growing, group plants either in a humidity tray or just with other plants to increase humidity. Just the fact that there are a number of plants together and they are all respiring will increase humidity to some extent. A humidity tray will increase it even more. Just be sure that none of your plants are sitting in water or the roots will rot and the plant will eventually die.

Hydrogen peroxide in your fertilizing mix
Add a 5% solution to your fertilizing mixture. Plant roots can easily handle this strength and it immediately attacks root bugs and bacteria while releasing oxygen to the roots as it reverts back to water.

Increase circulation in large pots
Use a ceramic saw blade to cut slits in the side of large clay pots to give more air to roots on specimen sized plants. Large pots dry out very slowly and slits allow more air to get to the root area. Another idea to increase air circulation and reduce the amount of medium in large pots is to put a smaller pot upside down in the middle of the larger pot covering the hole at the bottom. Large pots dry out slowly, especially in the middle, so this will allow extra air in for faster drying.

You Should Also Read:
Orchid Growing Tips for Summer
Beginner Orchids
Orchid Name Tags


Related Articles
Editor's Picks Articles
Top Ten Articles
Previous Features
Site Map





Content copyright © 2022 by Susan Taylor. All rights reserved.
This content was written by Susan Taylor. If you wish to use this content in any manner, you need written permission. Contact Anu Dharmani for details.