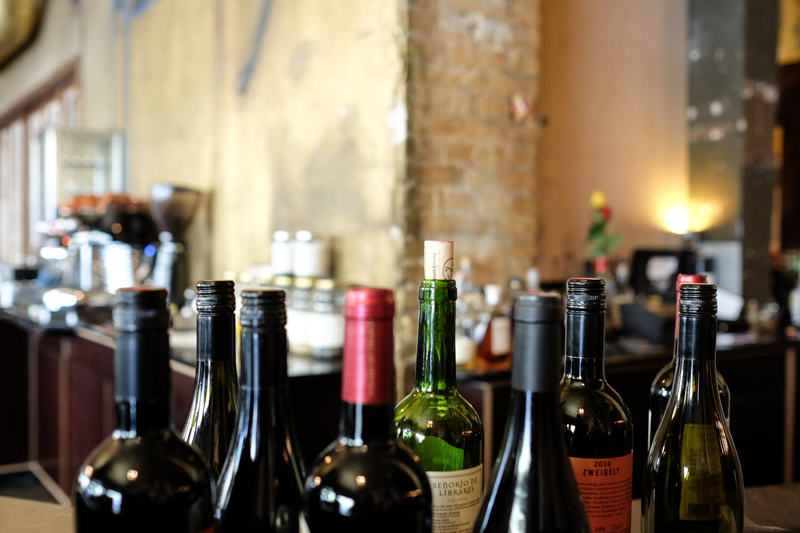 Two thousand years before Christ ancient Egyptians were inscribing on clay wine amphorae details such as its vintage, type of wine and where the grapes were grown that we find today on wine labels.
Labels on bottles are, however, relatively recent being less than 200 years old. Prior to that wine was sold from the winery in bulk, in barrel. In those days before wine entered the mass market merchants would bottle wine themselves for sale to clients. In grand houses of the rich the barrels would rest in cellars before filling decanters for dinner parties, or bottled for further storage by the household. The chief servant was the butler, a title that mutated from the original one of 'bottler', a indication of how importantly that job was viewed..
A silver or porcelain label on a small chain would hang around the neck of the decanter to tell guests whether the contents were claret, burgundy, Madeira, Port etc.
We only need a label on a bottle to tell us what wine is inside. If you've bought a barrel of wine and bottled it yourself, you know what is in the bottles and all that is needed is a sign above the stack of bottles in one's cellar.
In 1927 the move to winery bottling started. Chateau Mouton Rothschild, a top winery in France's Bordeaux region, decided to stop selling their wine in barrel and bottle all their production at the winery, starting with the 1924 vintage. By doing so they could guarantee that wine bearing their name hadn't been adulterated, boosted with Algerian wines, watered down or otherwise mucked around with by dishonest merchants between the winery and end consumer. They needed a label and called on artist Jean Carlu to design one. From 1945 every vintage a different artist has been contracted to produce a design for their label. Artists include Pablo Picasso, Salvador Dali, Andy Warhol and Lucien Freud paid with ten cases, 120 bottles, of wine with their label.
Winery bottling became the norm, but slowly and for many years famous merchants such as Avery's and Harvey's in Bristol operated their own bottling lines in cellars below their warehouses and affixing standard labels with the winery name overstamped. Lesser wines continued to be sold to middlemen and shippers who packaged and branded them under different names for supermarkets and restaurants.
But wineries around the world with a reputation to maintain bottled their own wines. Mobile bottling plants visit smaller wineries that cannot afford to own their own machinery.
In recent years remote bottling has returned for inexpensive wines. Faced with huge increases in fuel charges large customers such as major supermarkets and merchants supplying restaurants have found they could make savings by shipping wine in bulk and bottling locally. Wine is shipped in huge bladders inside a standard temperature controlled container, rather than wooden barrels.
Instead of paying to ship thousands of bottles across the world, just the wine is moved. Wine shipped from southern hemisphere vintages to the north can be bottled in plants otherwise idle. Although the reason for doing so is monetary, green factors are the ones publicly offered. Such bulk shipped wines may be labelled with the same label as used at the winery, although to be legal it should have an indication of where the wine is bottled.
I must admit that I do not like bulk shipped wines and avoid them where I can but increasingly I'm finding them on restaurant wine lists – where you don't discover it until the waiter leaves the bottle with you - and on shop shelves.
As the saying goes, what goes around, comes around.
Ask questions and talk about wine on our
forum
.
| | | |
| --- | --- | --- |
| | Peter F May is the author of Marilyn Merlot and the Naked Grape: Odd Wines from Around the World which features more than 100 wine labels and the stories behind them, and PINOTAGE: Behind the Legends of South Africa's Own Wine which tells the story behind the Pinotage wine and grape, also available for the Kindle. | |
---


Related Articles
Editor's Picks Articles
Top Ten Articles
Previous Features
Site Map





Content copyright © 2022 by Peter F May. All rights reserved.
This content was written by Peter F May. If you wish to use this content in any manner, you need written permission. Contact Peter F May for details.