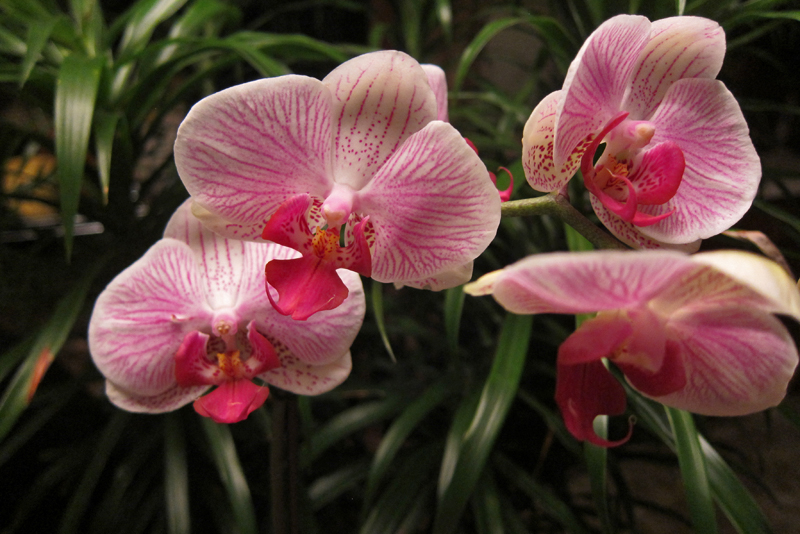 Cymbidiums are one of the oldest of domesticated orchids. They have been grown in Southeast Asia and Japan for hundreds of years where the breeding and display of orchids is an art in its own. After the Phalaenopsis, they are the most commonly sold orchids for decorative display in the home. Blooming plants will do well inside and flower for up to six weeks and are used extensively for this purpose.
There are more than 44 species of Cymbidiums originating in Asia, India and the Pacific Islands including Australia. There are three groups of the genus: the large flowered plants which need a cool spell to initiate blooming; miniature warm-growing varieties; and pendulous varieties. The most popular and most hybridized are the large flowered varieties which are very common on the West Coast of the US and will grow outside in most of northern California. These orchids grow about three feet, or 90 centimeters, and have roots about half the height of the vegetative plant.
Beautiful Orchids
has some lovely photographs of standard Cymbidiums on their website. The miniatures are only miniature in comparison with the standard size -- the one I have is about two feet, or 60 centimeters, tall and about three feel, or 90 centimeters across. The advantage of the smaller plants is that they will reliably flower in warmer temperatures where the large varieties will not survive well. The pendant types, mostly from Australia, are generally grown in hanging baskets to best display their blossoms.
In nature the species mostly grow as epiphytes (in trees) or as terrestrials (in the ground), but are cultivated primarily in pots as a semi-terrestrial with a medium size or mixed media (half bark and half terrestrial orchid mix). They require more watering than many other orchids except during the winter months. The most important factor for Cymbidiums is the night temperature, especially during the summer months. They prefer temperatures in the 60s, or 15 degrees C, to grow well. The miniatures will tolerate warmer night temperatures better.
According to the American Orchid Society, Cymbidiums are not to be considered for either indoor or under light growing. They require lots of space and very high light levels in order to produce flowers. They will survive lower temperatures than most orchids and supposedly can take temperatures of 25 degrees F, or -3 C, for short periods of time. I have not been happy with what the foliage looks like on my Cymbidium Golden Elf 'Sundust' after being in temperatures this cool. The foliage survived, but shows dark brown spotting as a result. I would recommend putting them in a sheltered area if freezing temperatures are expected.
Good air circulation and relatively high humidity are necessary for these plants. They generally start putting out their spikes from mature pseudobulbs in the fall as the temperatures start to get cooler. I have found that staking is necessary to keep the inflorescences straight. Dark varieties should be left in high light; lighter colors should be moved as soon as the flowers open so that they do not fade.
You Should Also Read:
Beginner Orchids
Orchid Keikis
Seed crosses or mericlones


Related Articles
Editor's Picks Articles
Top Ten Articles
Previous Features
Site Map





Content copyright © 2022 by Susan Taylor. All rights reserved.
This content was written by Susan Taylor. If you wish to use this content in any manner, you need written permission. Contact Anu Dharmani for details.