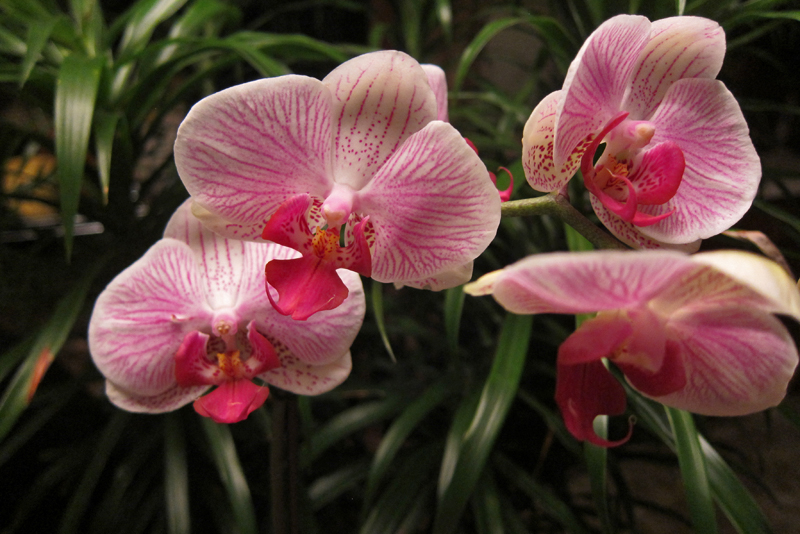 Phalaenopsis or Moth Orchids
As nights start to cool off it's time to put your Phals outside or in a cool place in order to initiate flowering. The temperature needed to induce flowering is around 60 degrees F, or 15 degrees C, at night. After about three weeks in these cooler night temperatures you should start to see the inflorescences developing at the bottom of the plant near the medium. Applications of bloom boosting fertilizer will also encourage blooming. As it reaches about six inches or 15 centimeters start staking the inflorescence to produce the best display of flowers.

Paphiopedilum or Slipper Orchids
Standard Paphs will be starting to show inflorescences now. Be sure to watch for hot days since bud blast can result. They need cool temperatures to bloom successfully. Fertilize with low nitrogen, high phosphorous and potassium will encourage blooming.

Cattleyas
Winter and spring blooming Cattleyas will be putting out sheaths and inflorescences at this time. Be sure to fertilize with bloom booster instead of high nitrogen to encourage them. Stake up the inflorescences for best presentation. Start reducing the watering and fertilizing for spring and summer bloomers to allow for their fall resting period. Any seriously overgrown plants can be repotted, but it is better to wait for spring if possible.

Watch your watering schedule
The advent of cooler weather will cause your plants to start growing more slowly thus needing less water. Be sure that you check your plants carefully to make sure that your watering schedule from the summer months is not giving them too much moisture now. The tried and true method of picking up the pots to see if they're light works well. If they don't seem dry, don't water. Wait a day or two.

Get plants ready for moving inside
If you are luck enough to be able to move your plants outside for the summer, it's time to start getting ready to bring them in when the weather cools off. Do this a few plants at a time while enjoying the cooler outside temperatures. Clean them up, remove old sheaths, treat for insects so that you will be all ready when the first cold front arrives.

Fungus, Insects and Air Circulation
The beginning of cooler weather will bring on fungal and insect infections. Check your plants each week and make sure that you have maintained adequate air circulation and humidity for your plants. Spider mites particularly are a problem in the early fall months as the temperatures fall -- check for tiny reddish insects and webbing on the back of leaves.

Be careful of water temperature
When the weather gets cooler the temperature of your water will also get cooler. Remember that your plants appreciate water around the same temperature as the air when watered. You can use a thermometer or your hand to determine whether it is right or not. Keeping a container with water near your plants will ensure that it will not damage leaves. Cold water will make spots on your leaves that will never go away.

You Should Also Read:
Bringing in Your Orchids
Neem Oil
Exhibit your orchids in the home


Related Articles
Editor's Picks Articles
Top Ten Articles
Previous Features
Site Map





Content copyright © 2022 by Susan Taylor. All rights reserved.
This content was written by Susan Taylor. If you wish to use this content in any manner, you need written permission. Contact Anu Dharmani for details.