Guest Author - Mavis Metcalf
If you have your birds in an aviary (or flight), a nice addition to have would be a trio of Chinese Painted Quail (or Button Quail) to run around on the floor. These are wonderful little birds (about the size of a tennis ball) and as long as you have a source of food & water on the floor, as well as a dish of sand so they can have a dust bath, they will be very happy to live with you.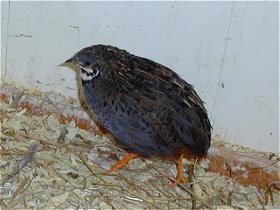 This is a picture of a normal male. The females do not have the black & white marking under the chin. Thanks to Terry at
Chinese Painted Quail
for the use of the photo.
When I have kept them, I had one male with a few females. If you get a pair (1 male & 1 female), the male may hound the female too much. It is much better in my opinion to have a few females and only 1 male, as the males would fight with any more in the area. Right now I have one lonely male left in my flight as he outlived the 4 hens he lived with.
The hens seem to lay eggs constantly, although Iím sure each one only lays one egg each day. My hens very seldom ever sat on their eggs, but this one the in the picture below gathered up a few to sit on one time. There are lots more eggs under her that you canít see here. Unfortunately none of these eggs hatched.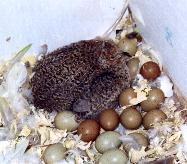 I did have some babies hatch by gathering up the eggs & putting them in an incubator. The babies have got to be the most adorable little things ever. They are up & running within minutes after hatching, but are so tiny & fluffy that they are amazing.
None of the baby pictures I took ever turned out, but if you go back up to the link for the first picture of the male above, this page has pictures of some babies.