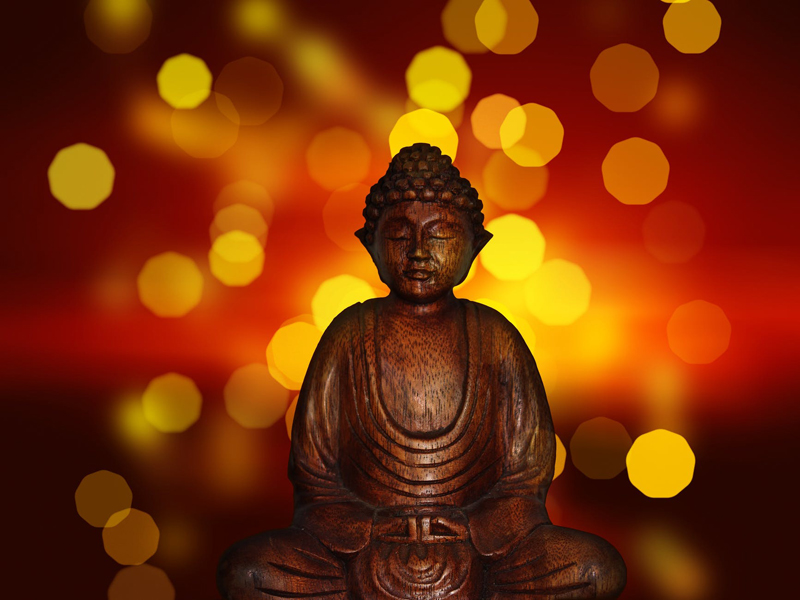 As Buddhism's popularity in the West has grown, many scholars and religious leaders have drawn parallels between the lives and teachings of Buddha and Jesus. The Dalai Lama and Thich Nhat Hanh, probably the two most well-known Buddhist leaders within the West, have both authored books on the subject, and many Christian theologians have as well. The 'lost years' of Jesus - the years from age 13 to 30 which are not covered in the Bible - have triggered theories that he traveled to the Far East during that time and received Buddhist and/or yogic teachings.
Based on the life stories of Buddha and Jesus as they have come down to us through scripture, there are several similarities:
* Both had transformative spiritual experiences at around age 30 that initiated their teaching activities.
* Both traveled from village to village preaching, rather than doing so within the established religious hierarchies and temples of their time (Judaism in the case of Jesus, Hinduism in the case of Buddha.)
* Both preached to average people - farmers, fishermen, and poor villagers - defying the class and caste rules of their respective societies.
* Both emphasized the personal or inner spiritual life, as opposed to the external rituals or doctrine of the time.
* Both ended up triggering major social reforms movements within their respective societies.
Another parallel that is often noted is that the miracles ascribed to Jesus in the New Testament - healing, manifestation of bread and wine, the transmission of grace or peace through a laying on of hands - are also common in the life stories of Indian yogic and Tibetan Buddhist masters. Also present in some of these traditions is the idea that a spiritual master can transmute the karmas of a student to ease their path, which is sometimes compared to the Biblical statement that Jesus "taketh away the sin of the world."
Jesus' life between the ages of 13 and 30 is not accounted for in the Bible, and some believe that he traveled to the Far East for teachings. This idea was first posited by Nicholas Notovitch, a 19th century Russian who claimed to have visited a Tibetan Buddhist monastery in Ladakh that had manuscripts telling stories of a saint named Issa, who they believed to be Jesus. Although the existence and authenticity of these manuscripts has been hotly debated over the years, others have come forward with similar stories.
Another connection sometimes noted is between Buddhist teachings and The Gospel of Thomas, one of several coptic gospels found in Egypt in the 1940s, none of which are included in the New Testament (and whose standing varies amongst different Christian denominations.) The Gospel of Thomas consists mainly of sayings attributed to Jesus. A couple that are often compared to Buddhist teachings are:
"If you don't bring forth what is inside you, what you don't bring forth will destroy you."
and
"The Kingdom of God is inside/within you (and all about you), not in buildings/mansions of wood and stone. (When I am gone) Split a piece of wood and I am there, lift the/a stone and you will find me."
However, it isn't necessary to look outside the Bible for parallels between Jesus' and Buddha's saying. Marcus Borg, a Biblical scholar, along with Buddhist teacher Jack Kornfield, compiled an entire book of parallel sayings (link at the end of this article) from the New Testament and the Dhammapada, respectively. Here are a few sets:
Buddha:
If you do not tend to one another then who is there to tend to you? Whoever who would tend me, he should tend the sick.
Jesus:
Truly I tell you, just as you did it to one of the least of these, so you have done it unto me.
Buddha:
Consider others as yourself.
Jesus:
Do unto others as you would have them do unto you.
Buddha:
One who acts on truth is happy, in this world and beyond.
Jesus:
You will know the truth and the truth will make you free.
Buddha:
Hatred does not ever cease in this world by hating, but by love; this is an eternal truth... Overcome anger by love, Overcome evil by good. Overcome the miser by giving, overcome the liar by truth.
Jesus:
Love your enemies, do good to those who hate you, bless those who curse you, pray for those who abuse you. From anyone who takes away your coat do not withhold even your shirt. Give to everyone who begs from you; and if anyone takes away your goods, do not ask for them again.
These are just a few of the parallels drawn between Jesus and Buddha. Check out the following books if you would like to learn more: