Gwen Hancock, a native Kentuckian, was well-known among family and friends for her delicious homemade southern cakes. I was lucky enough to have her as a mother-in-law, and to learn to cook southern dishes from her first-hand. This
Fresh Southern Coconut Cake with Pineapple Filling.
is my adaptation of Gwenís original cake (I have streamlined a few things due to modern technology, but not changed the final result). This is still my husbandís favorite and was the cake he always requested as his birthday cake growing up. I still make it at least once a year for his birthday, but itís so good, I serve it occasionally other times of the year, too.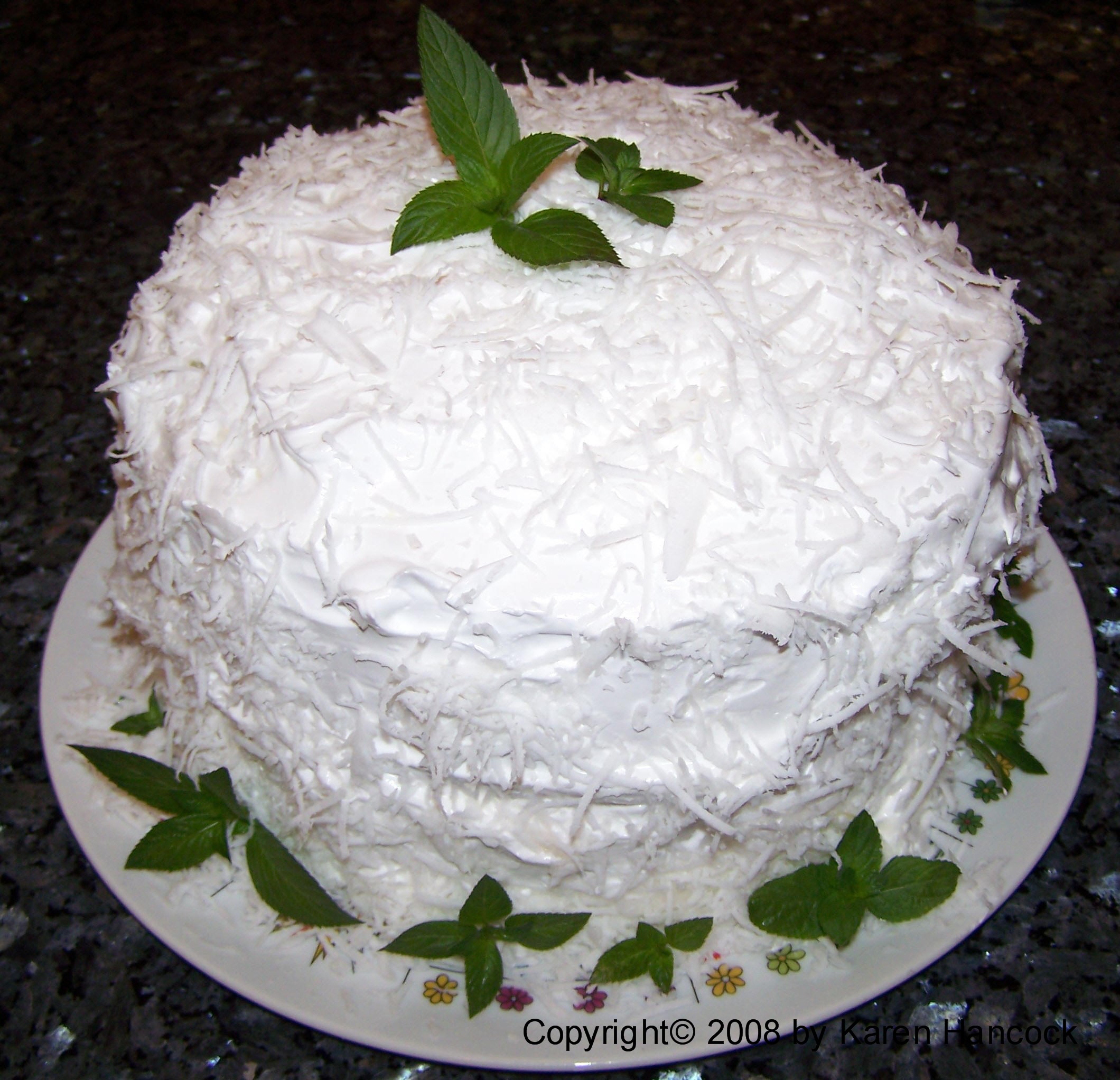 It would be unconscionable to use packaged coconut for this special cake; fresh coconut is a must. My husband usually prepares the coconut for me, but I have done it myself a few times and it isnít really that difficult, especially if a food processor is available to grate the coconut once itís removed from the shell. Detailed instructions are given below.
16 Servings
1 fresh coconut
1
Basic White Cake
, baked in three 8" layers
1 batch
Microwave Pineapple Filling
1 batch
Fluffy White Frosting
Prepare the coconut:Puncture the eyes of the coconut and drain the juice into a bowl; strain the juice through 2 layers of cheesecloth and set aside.


Place the coconut on a baking sheet in a 350į oven and bake for 30 minutes; remove from the oven and cool.


Crack the coconut with a hammer and remove the coconut meat (push the blade of a butter knife between the shell and the coconut meat; it will come out easily).


With a vegetable peeler, peel off any brown rind.


Finely grate the white coconut, either in the food processor or with a hand grater, and set aside.
Assembly:Cool the cake layers and sprinkle 2 tablespoons of the fresh coconut milk evenly over each layer.


Place the bottom cake layer on a serving dish (upside down) and spread half of the pineapple filling over.


Top with the second layer (bottom down) and cover with the remaining pineapple filling.
Top with the last layer.


Cover the sides and top with the seven minute frosting and press the grated fresh coconut over the sides and top of the cake.


Refrigerate at least 4 hours before serving.


Refrigerate any leftovers.
Amount Per Serving
Calories 539 Calories from Fat 218
Percent Total Calories From: Fat 40% Protein 5% Carb. 55%
Nutrient Amount per Serving
Total Fat 24 g
Saturated Fat 14 g
Cholesterol 80 mg
Sodium 268 mg
Total Carbohydrate 74 g
Dietary Fiber 1 g
Sugars 25 g
Protein 6 g
Vitamin A 6% Vitamin C 6% Calcium 0% Iron 7%