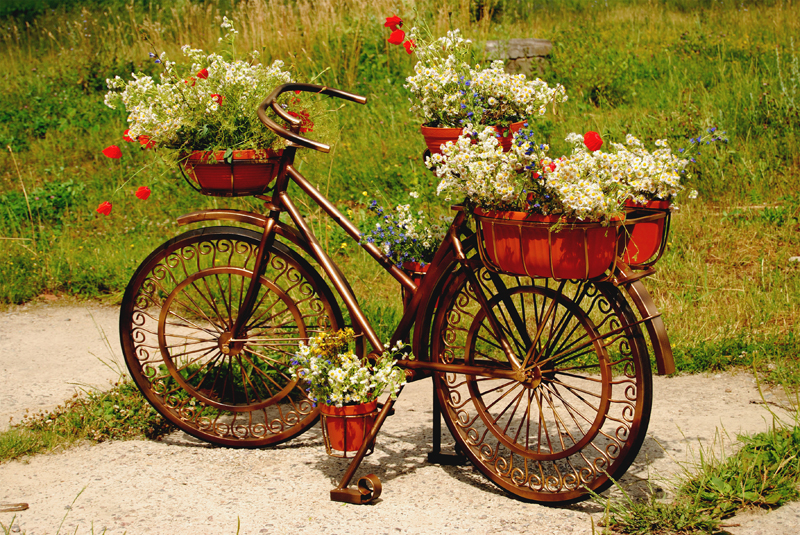 Butterfly populations have declined rapidly in recent years, due in part to lack of habitat for their young. We all love to watch beautiful, multicolored butterflies flit from flower to flower in our garden, but we hate to see the eaten leaves and partially stripped stems due to feeding caterpillars. But you can't have butterflies without caterpillars! And since many butterflies live only a few days to a few weeks, providing a home and food for their young is essential to their life cycle. Fortunately, many of the plants preferred by caterpillars are not the same which are fed upon for butterfly nectar, so it is easy to grow both in your garden.

Butterflies will lay from 200 to 500 eggs in groups of three or four to up to several dozen, usually on the undersides of the leaves of caterpillar host plants. Some butterflies use only one specific host plant for their eggs and young, so if you wish to attract a specific type of butterfly do some research into its preferences. A butterfly egg will hatch about five days after being deposited and the young caterpillar will first eat the eggshell. The caterpillar will then feed upon the surrounding greenery until it grows large enough to start the metamorphosis into a butterfly. The caterpillar will shed its skin four to six times during the growth cycle, allowing it to grow larger. Finally, after a few weeks, the caterpillar will attach itself to a leaf or branch and convert into a pupa. The pupa will morph into a butterfly and emerge after several weeks.

Where a caterpillar eats leaves and stems voraciously with tough chewing mandibles, the butterfly instead drinks liquid nectar from flowers, and juice from rotting fruit, with a long proboscis. Nectar-producing flowers are what attracts butterflies, and there are many beautiful ones which do very well in containers.

Be sure to provide a variety flowers which will bloom all summer long, and plant caterpillar host plants in succession to ensure fresh greens for the hungry caterpillars. Adding a bowl of muddy water or nectar solution or some juicy sliced fruit will also be much appreciated by the butterflies visiting your garden. Be sure to avoid the use of insecticides - use ladybugs, praying mantis and lacewings to control unwanted pests, instead.

Here is a list of plants and flowers to grow in your garden to create a beautiful butterfly sanctuary:

CATERPILLAR HOST PLANTS
Anise
Anethum graveolens – Dill
Cabbage
Citrus
False Indigo
Fennel
Grasses
Helianthus - Sunflower
Lupine
Nettle
Parsley
Queen Anne's Lace

BUTTERFLY FOOD FLOWERS
Achillea - Yarrow
Aquilegia - Columbine
Astilba
Borage
Calendula
Coreopsis
Cosmos
Delphinium
Dianthus
Echinacea purpurea – Cone Flower
Echinops – Globe Thistle
Eupatorium – Joe Pye Weed
Gaillardia grandiflora - Blanket Flower
Goldenrod
Iberis - Candytuft
Lathyrus ororatus - Sweet Pea
Liatris -Blazingstar
Lilac
Lobelia
Monarda – Bee Balm
Oregano
Phlox
Rudbeckia – Gloriosa Daisy, Black-eyed Susan
Salvia – Sage
Sweet Alyssum
Tagetes – Marigold
Zauschneria – California Fuchsia
Zinnia

FOOD PLANTS FOR BOTH CATERPILLARS AND BUTTERFLIES
Alcea rosea - Hollyhock
Antirrhinum – Snapdragon
Asclepias – Butterfly Milkweed, Common Milkweed, and Swamp Milkweed
Aster
Clover
Heliotrope
Milkweed
Nasturtium
Passion Vine
Penstemon
Verbena
Violet

................................................................................

CASUAL VISITOR … and just browsing? Why not sign up to the Container Garden newsletter? It won't matter what space or how many pots you have or even how much time you have to spend in your container garden; what will matter is that you get our reminders and good advice and ideas all in one interesting article.



You Should Also Read:
Attracting Hummingbirds to Your Garden
Colours - Red and Pink Annuals
Attracting Bees and Pollinators


Related Articles
Editor's Picks Articles
Top Ten Articles
Previous Features
Site Map





Content copyright © 2022 by Jessica Carson. All rights reserved.
This content was written by Jessica Carson. If you wish to use this content in any manner, you need written permission. Contact Lestie Mulholland for details.