Searching for the Alpha King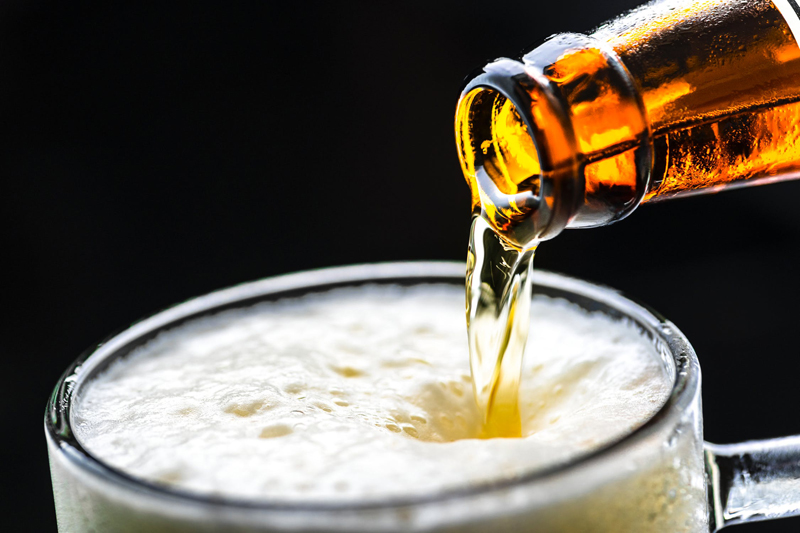 Somewhere in the stillness of the night the vines begin to rustle. They wrap in a clockwise pattern around a complex trellis system, reaching for the sky, the sun, the moon. The air is lightly scented with piney spice, while papery cones catch the ethereal light. Something lurks in the shadows.

Your nostrils flare, infused with the scent of alpha bitterness. The king looms up in the inky blackness - his face, layered in green. Crushed hop cones fall from his palms, releasing aromas of oils and resins. He is the Alpha King, ruler of the palate, released from his vessel like Aladdin's magic genie.

Glowing within your glass, Alpha King Pale Ale from Three Floyds Brewing in Munster, Indiana, USA, takes on iridescent lights of orange, tinged with scarlet. A creamy head of soft white crowns the body. Fresh hops and tropical fruits – oranges, melons, honeydew, peaches and nectarines – fill the nose. You wonder if Centennial, Cascade and Warrior are the Holy Trinity to which His Imperial Majesty belongs. Could this be an extension of his enlightened reign? Is he a descendent of Solomon and the Queen of Sheba, a stroke of royal brilliance seldom seen on earth?

As the King tumbles across your lips, a hops explosion hurls across the tongue. The rollercoaster of delight emerges, painting your tastebuds with ebullient zest. You feel the juices dripping down your chin, sweet and fragrant. Aromatic spices and florals tap in lively animation, drenched in a balance between sweet malt and citrus. Bitterness grabs at the back of your throat, and you scream for greater pleasure.

Those who covet his crown hold the Alpha King in high esteem. He has gained a following, challengers who meet in Denver, Colorado each Fall, competing to seize the crown as the Alpha King in his own rite. It is the Alpha King Challenge, hosted by the inimitable Chris Black at the Falling Rock Tap House.

On September 29, 2006, the 8th Alpha King competition rolled out – one in which 64 beers were evaluated by 15 judges in a blind tasting, sponsored by Hopunion, Brewing News and Three Floyds Brewing. The challenge, which seeks the most well balanced, flavorful, highly hopped beers of 60 IBU's and above, is open to licensed breweries and must be sold commercially. Barleywines, although high in IBU's, fall into a different category and are excluded from this competition.

The grand, first-place win was awarded to Ed Bennett of Boundary Bay Brewing and Bistro in Bellingham, Washington for Imperial IPA, a coppery American Double IPA. Its deep-coral hue dances with a foggy glow, like a tropical sunset. Pungent aromas of grapefruit, orange, caramel, and spruce fill the air. The taste is rowdy, with a significant malt foundation and mountain of hops, drenched in sticky pine-sap and orange liqueur. Velvety and yielding on the tongue, it lingers in a long , bone-dry finish.

Jeff Bagby of Pizza Port Brewing in Carlsbad, California snatched double awards for Hop Suey in second place, and Wipeout IPA taking a close third. Hop Suey Double IPA has a creamy texture with fruity aromas and huge floral-hop presence that rolls down the throat in a memorable finish. On the sidelines, Wipeout IPA shows off a West Coast attitude, filling the nose with resin and tinging the tongue with lemon sorbet and sweet malt. Hops as clean as fresh-cut grapefruit persistently push through the crowd, but are tempered by Crystal malt.

Winners were presented with a cash prize from Hopunion, gift certificate for yeast from White Labs, and a commemorative glass, fashioned by Rastal German Glassware. Three Floyds' Barnaby Struve loomed over the festivities as the Alpha King mascot himself - green from the tips of his hair to the tips of his gnarly fingers.

Errr…was that really a mask?

Cheers!
 
You Should Also Read:
GABF ProAm Competition 2006 - Beer Nirvana
Behind Closed Doors - The Granddaddy of Beer Competitions
Beer Book Review - Ambitious Brew - The Story of American Beer


Related Articles
Editor's Picks Articles
Top Ten Articles
Previous Features
Site Map





Content copyright © 2022 by Carolyn Smagalski. All rights reserved.
This content was written by Carolyn Smagalski. If you wish to use this content in any manner, you need written permission. Contact Carolyn Smagalski for details.