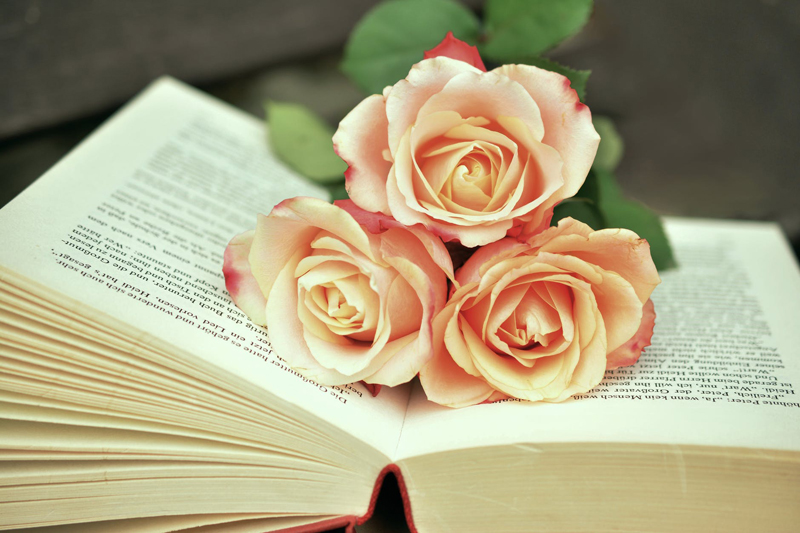 Choosing a Bible is a personal choice. There are many different translations to pick from...some are good....some are not so good. Even if you settle on a translation, there are other things to consider. Do you want a bulky Bible? Hardcover or leather? Would you prefer a devotional Bible? A study Bible? Additionally, some Bibles include extras such as concordances, study aids, maps while others do not. This week, as part of the
Bible Translations
series, I discuss two of the Bibles I liked.
First up,
The Woman's Study Bible: Enriching Your Heart, Mind, and Spirit with God's Word
by Thomas Nelson, Inc. The Bible was an attractive peacock blue, soft leather with an imprinted design. Included in the $54.99 purchase price was a coupon for a free 2 day Women of Faith event pass (buy one get one free offer). At first, I thought I was not going to like it. It started off with a Ketubah marriage contract (see Christian Lit forum for explanation), family history pages, and a foreword by Anne Graham Lotz. Oh, no.....here it comes, a touchy, feely Bible geared toward married women or toward women whose only longing is to be the perfect Proverbs 31 wife. Boy, was I surprised....and pleasantly so!
The Woman's Study Bible
is very detailed. Included are two pages of Bible introduction, and four pages about the New King James translation. A feature I have never seen before--it gave me an "aha, nice!" moment--are the pages devoted to recording a woman's "spiritual" mother. You can record the names of the women who helped to grow your faith and who accompanied you on your Christian walk. Because these women are so important, space is alloted to jot notes about their godly characteristics, their spiritual gifts and specific Bible verses pertaining to or favored by them.
Each book of the Bible is prefaced with a section which provides information on the author, date written , the historical context the book was written during, the purpose for the book, the specific target audience, literary characteristics of the book, themes, and an outline. I
did
say this specific Bible is detailed! Footnotes on the individual pages give more information on the Hebrew etymology of words.
Also included are the normal extras featured in most women's Bibles: quotes, summary teaching points, and short essays meant to inspire by offering a biblical lesson on topics such as character, employment, abuse, and specific women of the Bible. Much more impressive; however, are all of the other extras that
The Woman's Study Bible
includes. Some of which are:



Flowers of the Bible


Includes scriptural references to the flower and details about how it was used.


Women healed by Jesus


Includes the name and gives specific information on her faith and the response of Jesus.


Women and the parables of Jesus


Names the parable as well as the target audience and application of lesson.


The emotions of Jesus


Provides specific emotions experienced by Jesus during an incident and how he reacted.


Prayers for your children


Presents scriptural references to promises and provides guidance on what to pray for specific problems.


Millenial views


Explains the different end times views.

I like this Bible. It provides a litany of extras that will enrich your Bible reading experience. In addition, the New King James Version is easy to understand while not straying from the meaning of God's word.
FCC Disclaimer: This book was reviewed for free in the bookstore. Compensation for completing the review was not offered or accepted.


Related Articles
Editor's Picks Articles
Top Ten Articles
Previous Features
Site Map





Content copyright © 2023 by Lyn Sedmina. All rights reserved.
This content was written by Lyn Sedmina. If you wish to use this content in any manner, you need written permission. Contact Lyn Sedmina for details.