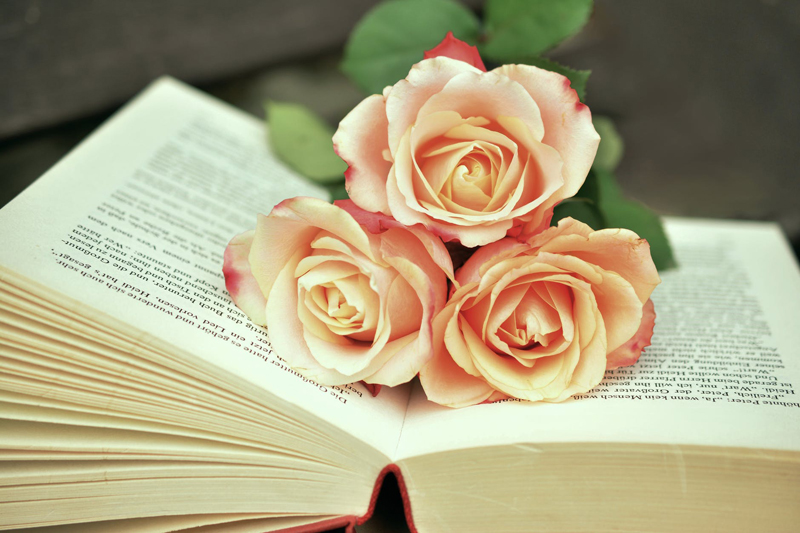 Allegories, Mystery, Romance, Historical, and Modern fiction written emphasizing Christian values.
Lord of the World Review


In a world where humanism is the accepted norm and religion is no longer tolerated, how will the church survive? What will society be like during the rise of the anti-christ? Join Father Percy Franklin as he fights for his faith.
A Place In The Heart


What happens when a young, inexperienced, Christian journalist from a small town is faced with international travel and a famous writer? Will she uphold her vows of purity or will she be tempted by fame and glamour?
A Plain and Simple Heart Review


Young Rebecca Switzer sets off for Rumspringa in order to find her one true love. Will she be successful and return to her Amish community or will she choose to live live among the English?
A Vision of Lucy


A christian romance set in the wild west, A Vision of Lucy is the third installment of the Rocky Creek Romance series by Margaret Brownley.
Away From


Imagine a world where Christians are persecuted-forced to accept a chip to access basic necessities. Would you flee your town, your country, leave your friends and relatives in search of a less hostile area? Would you cave to the pressures of society and fall under the antichrist's influence?
Betrayal and Hope


Betrayal and Hope is the first book in the Spirit War trilogy by Fernando Quiros. While engaging and well written, how accurate is its theology?
Book Review of Angel Sister


Set during the Great Depression, the addition of a tiny orphan in a small town turns one family upside down as they find redemption.
Book Review of The Chase


Haunted by the memory of a story she covered when she was a newscaster, famed author, Kariss Walker, decides to forgo writing another romance. Renewing contacts with the FBI, Walker decides to weave the story of the little girl's death into a suspense novel..in the process almost losing her life.
Book Review--Illusion


Christian fiction giant, Frank Peretti recently released a new book after a long absence from the publishing scene. Fans of Stephen King and Dean Koontz will like Peretti's latest, Illusion.
Books That Will Make You Smile


Are you looking for a book that will provide a quick perk-me-up? These are for you!
Christmas on Nutcracker Court


Christmas more than any other time of year is when folks gather together in love and support. The celebration of the Christ child and the hope Jesus brought to mankind seems to inspire the best in society. What is sweeter than a Christmas romance to kick things off?!!?
Crossing Values


Despite running from her demons for years, Amber is finally forced to face them. As a new Christian, will she be strong enough to trust in God?
Damascus Countdown


Espionage and intrigue interwoven with biblical themes. Will Shirazi be able to stop the nuclear attack or will it be too late for Israel?
Deadly Ties


I like books that include a section of discussion questions. They normally are well suited to a book discussion group or LIFE group. Deadly Ties; however, falls short in both its portrayal of a Christian response to domestic violence and in its character development.
Dinner With A Perfect Stranger


Imagine receiving a formal invitation to dine with Jesus. What would you ask him?
Discovery in the Desert


If you like Christian and science fiction, pick up a copy of Discovery in the Desert...a break-out novel by Tom Thiele. See what happens when a NASA time travel experiment goes awry landing David Hart in the middle of the Judean desert with Jesus.
Dying To Read


Women can be petty, but what could have caused one of the book club members to kill another? Was it really one of the ladies, or someone sinister lurking in the shadows? Follow amateur sleuth, Cate, as she embarks on her first case.
Fair Play Book Review


What happens when a headstrong doctor meets an equally headstrong Texas Ranger in 1890s Chicago? Find out in this story of love, transformation, and an exciting journey which changes their lives and the face of an underprivileged neighborhood.
Finding Our Way Home Review


Sometimes we hurt the ones we love the most and push away those whose help we truly need. What happens when grace comes into our lives and we open ourselves to the possibilities of blessings from others?
Forgiven


In her first novel, Sheilah Fletch writes of the redemptive power of the Holy Spirit as she weaves a tale around a beautiful corporate executive and the bitter ex-con who rescues her from a seriel killer.
Good, Clean Murder Book Review


Struggling to finish her educatin without assistance from her family, Jane cleans houses. What will happen when her best paying clients are found dead? Worse yet, will she be blamed?
Indivisible


If you like thrillers, mysteries, romantic suspense and psychological crime drama and are looking for a light book to read, pick up a copy of Indivisible.
Jordan's Crossing


When faced with an unspeakable family tragedy, would you become a vigilante or could you rely on God and His word? Recently rereleased, Jordan's Crossing highlights the importance of accurate biblical interpretation as applied to our lives. A must read!
Lady In Waiting


A charming contemporary fiction story with a historical twist brings a fictionalized account of the life of Lady Jane Grey to life and weaves it together with the story of a modern woman who is suffering an indentity crisis after her husband of 22 years walks out.
Mercy Come Morning


Forgiveness, love and romance all mixed in at Christmastime. As an estranged daughter rushes to her mother's deathbed, she finds hope for her future by letting go of the past.
Mine is the Night


If you enjoy period romances, pick up a copy of Liz Curtis Higgs latest novel. Set in Scotland, it is the retelling of the stories of Naomi and Ruth and of the love story between Ruth and Boaz. r
Miss Marple; Detective and Model of Christianity


Whether on the big screen or in print, famed British writer, Agatha Christie, is known to most. In an examination of Christie's beloved female detective, Jane Marple, Isabel Anders has found lessons in Christian virtue and living.
Need You Now Review


Families in crisis react differently. In Need You Now, the Hendersons must face lies, infidelity and the addiction of teenage cutting. Will it rip them apart and pull them away from God or will they find their way back?
Out of a Dream


If you think a few inconsequential decisions cannot carry a substantial impact, think again. The lives of Michelle Baron her parents, and her husband are intertwined through New Age delusions, Christianity, and suicide. Who will make it out?
Pursuit of Justice


Set in West Texas, FBI agent, Bella Jordan, races to solve the murders surrounding the legend of the treasure of Spider Rock. Returning to West Texas means Bella must face the demons from her past.
Raspberries and Vinegar


What do you get when you dump three city girls who have a desire to start an organic co-op in the middle of the country? A funny mix of romance, adventure, heartache, and triumph.
Raven's Ladder


Jeffrey Overstreet is a modern day Tolkien who weaves a tale of good and evil in the Aurelia Thread. If you are looking for Christian based sci-fi/fantasy, pick up a copy of the latest installment, Raven's Ladder.
Review of Not This Time


Part three of the Crossroads Crisis Center series will have you trying to guess the identity of the bad guys while rooting for love to blossom among other characters. Once again, Vicki Hinze doesn't fail to deliver.
Saturday Morning


If you enjoy the Yada Yada Prayer Group series by Neta Jackson, you'll like this work of contemporary fiction by Lauraine Snelling. The story focuses on the lives and misfortunes of four women and their struggle to find the good in the midst of the chaos in their lives.
Shadows on the Sand


Take one dead dishwasher, a missing waitress, a cafe owner with a crush on an emotionally damaged cop, and a self righteous cult leader. Center your romantic mystery around themes of brokenness, abuse, and healing and you have Shadows on the Sand.
Sisterchicks Do The Hula


A lighthearted, whimsical story of two women who reconnect to recharge their friendship and, in the process, find clarity for God's purpose in their lives.
SisterChicks Down Under!


Robin Jones Gunn has done it again! Sisterchicks Down Under is a delightful read that will having you laughing over the adventures of two middle-aged women as they help to heal the hurts in each others lives and share the love of God with everyone they encounter.
Six Bits


In a cross between A Christmas Carol meets It's A Wonderful Life, Michael Ringering pens a tale of one man's transformation as he sheds his materialistic, uncaring ways and embraces the beauty of unconditional love.
Spirit War Trilogy


Spirit War is the result of a 10 year project that was lovingly crafted by breakout novelist, Fernando Quiros. While it is engaging and imaginative, it is not without flaws. Join me as we examine the story of Jesus, Mary and Joseph as never before told.
Starry Night Book Review


Some reporters are happy to have a regular column. Carrie Slayton wants a chance to report on real issues. Setting out to obtain an exclusive interview with a recluse, she never dreams she will find love. Can it work when the two are from different worlds?
Tandem


Tracey Bateman presents a vampire tale interwoven with biblical messages. Journey along as she explores love, forgiveness, redemption and the importance of family.
The Ambition by Lee Strobel


Most widely recognized for The Case for Christ, Lee Strobel has penned his first fiction novel. Centered around four main characters, he intertwines their lives as he unfolds a story of corruption, faith and miracles.
The Atonement Child


In The Atonement Child, Francine Rivers gives a heart-wrenching portrayal of a young victim and how her life and the lives of everyone around her are forever-changed by the rape and resulting pregnancy.
The Butterfly Effect


An inspirational book by Andy Andrews that illustrates how the actions of one person can impact many.
The Crossing


Serita Jakes, wife of T.D. Jakes, draws on her ministry experience to pen her first novel. The reader has the chance to follow a story within a story as you follow the death of one person and see the effect it has in the future on several others.
The Fire In Ember


DiAnn Mills weaves a story of redemption and grace set in a small Colorado town. If you enjoy christian period romances, don't miss the story of Ember. Posing as a boy, she is thought to be a horse thief. Saved by a young deputy, love blooms and danger follows.
The Heart's Journey Home


In her breakout novel, Jen Stephens brings a true work of literary art to the world of Christian women's fiction/romance. With an eloquent style, Stephens weaves believable characters and storylines into an intricate fabric that is the story of The Heart's Journey Home.
The Heart's Lullaby Review


Suffering from post traumatic stress, one woman journeys to Harvest Bay to face the family of a fallen soldier. She encounters the father of her son; a man who never knew of the boy's existence. Her life intersects with barren wife. Together they face their own demons and find healing.
The Inn At Ocean's Edge


Have you ever experienced deja vu? What if what you were thinking wasn't just strangely familiar, but was a suppressed memory from your past? What if that memory was dangerous enough to get you killed?
The Last Israelis


Nuclear proliferation has caused an increased threat in the Middle East and the destruction of Israel is imminent. Can 34 men have an impact?
The Master of Evolution


What do you get when you mix new age ideology, christian heresies and a perverted gospel? Give up? A new science fiction story by an aerospace engineer.
Then Along Came an Angel


Inspiring anthology of true stories of angels helping people at dire times of need, rescue, saving, and understanding. A great holiday gift, and a treasured book for you with uplifting tales to encourage you in your faith.
THR3E


Christian suspense and drama written in the style of Stephen King, David Balducci, Dan Brown, and Dean Koontz. If you are looking for a book that will keep you guessing until the very end, grab a copy of THR3E by Ted Dekker.
Touched By A Vampire


Whether you've read the books or not, it's hard to escape having heard about the Twilight series. Have you wondered what was in them, but refused to jump on the Twilight bandwagon? Is it okay to let your teens and tweens read them? This book takes a look at some of the underlying themes.
Two Tickets To The Christmas Ball


Christmas can be a lonely time for many people. For others, it is a beautiful time of family togetherness. Such is the case for our two main characters. Due to some angelic interference, their lives are about to be entwined in a charming, romantic story of Christian romance.
Welcome To Last Chance


Is it possible to escape from the grasp of a drug dealing boyfriend? Will Lainie truly be able to change her circumstances, and will she ever learn to trust any one again?
What A Woven Web


The movie ends, the theater is quiet, and everyone walks out with a dumbfounded look on their faces. That is the best explanation I can give for the feeling you'll get if you read this. Engaging in parts, it appears to be based more upon the theology taught in secular courses about religion.
Woman of Courage


Jilted before her wedding, Amanda Pearce sets out to become a missionary to the Indians, but life in 1837 is fraught with difficulties. Follow Amanda as she faces many adversities on her cross country trip and stands firm in her Christian faith.
Words Spoken True


We all know that Rhett and Scarlett shared a star-crossed love affair in Gone With The Wind. Will Adriane and Blake manage to overcome their obstacles? Set in Louisville, KY during the mid-1800s, Ann Gabhart brings to life an epic love story.
Editor's Picks Articles
Top Ten Articles
Previous Features
Site Map
Content copyright © 2018 by . All rights reserved.
This content was written by . If you wish to use this content in any manner, you need written permission.
Contact Lyn Sedmina for details.