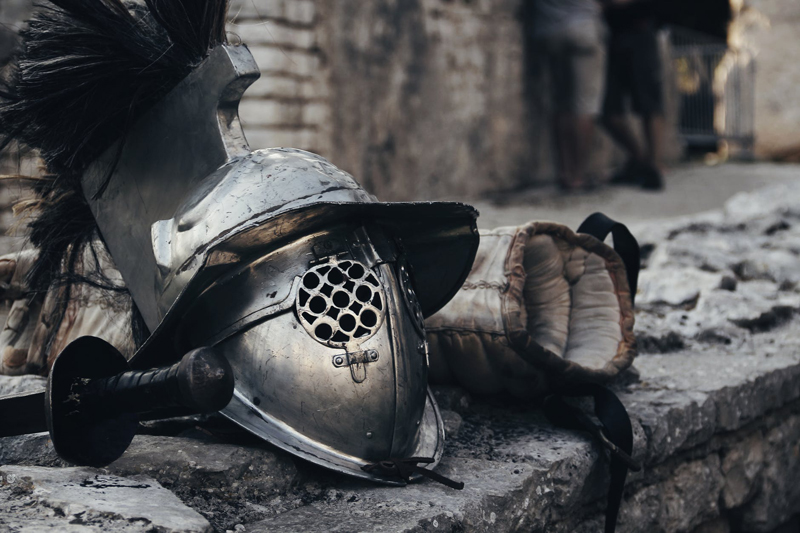 Swing the sword, fell the goblin, swing the axe and the goblin dodges. If your games crawl on and on like this then you've come to the right place. One day I forgot that I wasn't just an encyclopedia for the rulebooks but also the storytelling Game Master. On that day my games suffered for it. Thankfully I've come out of that dark place, and here is what I have to show for it: remain unfaithful to your dice; do not fear the uncharted course; arbitrary rulings can be your friend with proper use; and consistency strongly helps make a good game.

Dice are our friends. Wonderful little randomness engines that they are, they're often our very fickle friends. I tend to favor DM screens not only because players can't determine how powerful my monsters are but also because I can fudge rolls. The way of dice-fudging can be a treacherous slope for the players but it's an invaluable asset for the DM. When a poor dice roll may lead to a disastrous party kill it can be smoothed over in favor of the story. If no enemy is hitting the players then it can add dramatic effect if instead very few enemies hit your otherwise healthy player characters and threaten to turn the tide of combat. There's almost no reason to let the dice rule your calls, so long as you're fair and only making those calls to help along the fun.

Many a game has been held back because the players have gone off the map into waters hitherto uncharted by the DM. Don't let that happen. Improvisation is one of the greatest skills I've ever been able to employ as a DM and it should be a part of every game. Even as you pull the map out of thin air, never let your players know they've gotten past or around your prepared session. In my experience, if you don't tell them then they might never know. Bear in mind that the players aren't leaving behind the story, although they might be ditching pieces you have prepared. The players are the plot's main characters, so the story is taking a segway elsewhere. Follow them, oh grand narrator!

Allow me one disclaimer for my next point: Arbitrary rulings can be your friend, with proper use. That's not creative license to drop the rulebooks in the fish tank. In the event that your players encounter something in the rules you're not familiar with or certain of, make a call then and there unless it will radically impact your game. One of the games I had the most fun in was destroyed largely by rules clarifications. There's more important things in the game than exactly how swimming or terrain will affect the players' actions. Unless a significant character is going to die as a result in-game, don't research the rule during the session. You can always check it out after the game to see if you got it right, or even if your call brought about more fun for everyone.

Especially when you get into arbitrary rulings, but it's true with all of the above advice: Consistency does make a good game. Did you ad-hoc alter the swimming rules last session? Let your players know, write it down as a house rule and stick with it. If the world is shifting around your players on such a fundamental level as the physics of floating, immersion is ruined. Change the system if you must, then be upfront about it with your players. Just keep the ruling the same so no one feels cheated or like they aren't the favorite. Doing this, you can tailor almost any system so it can work well with any group. Happy story-moving!


Related Articles
Editor's Picks Articles
Top Ten Articles
Previous Features
Site Map



Follow @rpgbellaonline
Tweet





Content copyright © 2022 by Leif Sutter. All rights reserved.
This content was written by Leif Sutter. If you wish to use this content in any manner, you need written permission. Contact Leif Sutter for details.