Achieving the Perfect Hangover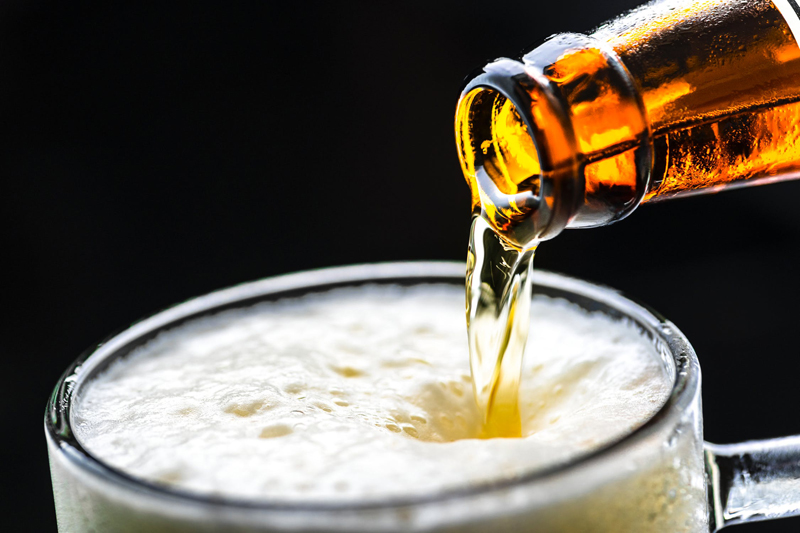 You really did not intend to become such a wreck. After all, you were shining last night! Stunning in the way the opulent brocade bodice hugged your body, while shimmering gold lame danced sheer and sexy around your legs. Your Lanzoni & B shoes reflected the glimmer of a Belgian Tripel. That was before you decided Bière Brut was your evening companion. It shone like golden straw, its head – thick and creamy – and tasted harmless as it rolled across your tongue in light and delicate waves.

Achieving the perfect hangover is both an art and a science. Typically, people who drink beer expect that their intake of alcohol will be lower than the drinker of wine or spirits. Most beer styles have an ABV (alcohol by volume) content that lingers around 4-7 %. The average wine drinker can count on a glass of wine carrying an 11.5% ABV wallop, and a drinker of hard liquor can expect 38% or more.

With more than 69 styles of beer to choose from, however, it is important to know your styles. Dark color and full body are not reliable indicators of alcohol content. Many beer styles hover in the range of 10-15% ABV, without any clear-cut alcoholic burn, dark color, bold heaviness or vinous characteristics. These are as potent as any "sipping beer" that does choose to announce its machismo in bolder ways, and care should be taken to have a reliable, designated driver or overnight reservations so you can do that hangover justice. Be a responsible consumer.

I encourage you to taste. I would never, of course, condone guzzling great quantities of beer until you dance on the tables or fall into slumber so deep that your friends could line up an olive-army on your head, complete with toothpick parasols and pom-pom sticks. You do not want to lose your lady-like demeanor with a bout of vomiting. Minimize the effects of ethanol dehydration by drinking equal amounts of water for every beer you consume, particularly when drinking beer with high alcohol by volume.

Beer Fox Recommended High ABV Beers for Spirited Celebrations

Quadrupel

Trappistes Rochefort 10 – Brasserie de Rochefort (Abbaye de Notre-Dame de Saint Remy), Rochefort, Belgium –11.3% ABV – Deep garnet brown, malty palate, flavors of chocolate-covered liquored fruit, silky and warming.

Three Philosophers – Brewery Ommegang, Cooperstown, New York, USA – 9.8% ABV – Auburn bronze, fruity, nuances of fresh sourdough, almond, peppery, with a dry finish.

The Reverend – Avery Brewing Company, Boulder, Colorado, USA – Ruby tones with a white head, symphonic fruits of plums, banana, and pears, Belgian yeast with clove spiciness, medium mouthfeel, warming, yet subdued.

Eisbock

Aventinus Weizen Eisbock – Private Weissbierbrauerei G. Schneider & Sohn GmbH, Kelheim, Germany – 12% ABV – Dark brown umber, assertive flavors and aromas of fruit, molasses and alcohol

EKU 28 – Kulmbacher Brauerei AG, Kulmbach, Germany – 11% ABV – solid copper color with tight toffee-like head, sweet malt, bready, medium carbonation with light alcohol lingering in the background.

EisPhyre – Capital Brewery, Middleton, Wisconsin, USA – 11% ABV – Fiery, orange-copper color, brandy-like, malty, tinged with exotic vanilla, elegant.

Biere de Champagne / Bière Brut

DeuS – (Brut de Flandres) – Brouwerij Bosteels, Buggenhout, Belgium – 11.5% ABV – elegant, cork pops like a firecracker, golden with huge white head, spiced with cardamom, sweet Belgian malt, citric and effervescent. A delicate cross-over beer, processed in the "methode de champenoise."

Malheur Brut Noir (Black Chocolate) – Brouwerij De Landtsheer NV, Buggenhout, Belgium – 12% ABV – Deep crimson mahogany with tawny head, airy and soft cocoa malts, plum, spice, pepper notes, brandy-ish.

Malheur Cuvee Royale – Brouwerij de Landtsheer NV, Buggenhout, Belgium – 9% ABV – Straw yellow with generous, snow-white head, citrusy, with a yeasty aroma and clean alcohol.

Imperial Porter

Gonzo Imperial Porter – Flying Dog Brewery, Denver, Colorado, USA – 9.2% ABV – Inky opacity with red curling around the edges of the glass, slight head, chocolate espresso, licorice, rye, and seducing alcohol.

Zywiec Porter – Zywiec Breweries PLC (Heineken), Zywiec, Poland – 9.5% ABV – Ebony red with burning highlights, dark fruits, nuttiness, mint hoppiness, roasted malts, smooth imported chocolate with hints of caramel, washed by a zap of alcohol.

Porter – Stepan Razin Brewery – St. Petersburg, Russian Federation – 8% ABV – violet black with crimson strokes of light, earthy, roasted malt breadiness dressed with raisins, meaty, dynamic.

American Double IPA

120 Minute IPA – Dogfish Head Craft Brewery, Milton, Delaware, USA – 21% ABV – Dark yellow topaz with voluminous white head, sweet malt, pine, peaches and apricots, hidden alcohol sneaks in like a covert lover, decadent.

I2PA Imperial India Pale Ale – Rogue Ales Brewery/ Brewers on the Bay, Newport, Oregon, USA – 9.2% ABV – Brilliant clouds of coppery orange, with Brussels lace catching in gobs on the glass, bready malt, citric, angelic nectar, flowers, and bitterness that grabs the tongue in pleasurable waves.

Stoudt's Double IPA – Stoudt's Brewing Company / Black Angus Restaurant & Brew Pub, Adamstown, Pennsylvania, USA – 10% ABV – Cloudy copper body with rocky, white head, sweet tangerine and peach, washed with fresh florals, pine and honey, malty, candi-sugar backbone, citric profile, and vague warmth on the palate.

Russian Imperial Stout

Brooklyn Black Chocolate Stout – Brooklyn Brewery, Brooklyn, New York, USA – 10.6% ABV – Dark walnut brown with reddish brown head, aromas of bitter baking chocolate, licorice, figs and burnt caramel malt, a smooth curtain of creaminess across the inner surfaces of the mouth, like coffee-tinged cocoa drenched in velvet.

Stone Imperial Russian Stout – Stone Brewing Company / Stone Brewing World Bistro & Gardens, Escondido, California, USA – 10.8% ABV – Obsidian garnet with a head of tan, bourbon-laced notes of caramel, coffee and wood.

Dark Lord Imperial Stout – Three Floyds Brrewing Company / Brewery & Pub, Munster, Indiana, USA – 13% ABV - Black coal body with an ecru head, a chocolate lovers dream with blends of creamy milk and bitter baker's chocolate, charred wood, fruit, molasses, complex, with a viscous body feel.

Tripel

Maredsous 10 – Brouwerij Duvel Moortgat NV, Breedonk-Puurs, Belgium – 10% ABV – Hazy sunset, orange with creamy white head, fruity, sweet malts, spicy, complex.

De Dolle Dulle Teve (Mad Bitch) – Brouwerij De Dolle Brouwers, Esen, Belgium – 10% ABV – hazy gold with meringue-like head, citrusy lemon zest, pine cones, herbal spices, pepper, coriander, and definite alcohol presence.

Allagash Curieux (Bourbon Barrel-Aged Tripel) – Allagash Brewing Company, Portland, Maine, USA – 11% ABV – Hazy amber, a fruit cart of citrus, vanilla, wood soaked in bourbon.

Doppelbock

Samichlaus Bier – Brewery Castle Eggenberg, Eggenberg, Austria – 14% ABV – Cherry claret body, layer upon layer of complexity, as if it were a gift from God, caramel, figs, dates, red wine, sherry, vanilla, fruited brandy, chocolate, with sizzling alcohol and a lasting, memorable finish.

Smuttynose S'muttonator (Big Bear Series) – Smuttynose Brewing Company, Portsmouth, New Hampshire, USA – 9.8% ABV – Sparkling copper amber with slick, tan head, toffee, grapes, cherries, plums, fresh bread dough, earth, and smooth alcoholic layering.

American Barley Wine

Old Horizontal – Victory Brewing Company, Downingtown, Pennsylvania, USA – 11% ABV – Copper red, full bodied, roasted malt flavors, seductive dark fruit, toffee and caramel, and alcohol that begs to be savored in long, languorous sips.

Sierra Nevada Bigfoot Barleywine Style Ale – Sierra Nevada Brewing Company, Chico, California, USA – 9.6% ABV – Foggy, ruby umber with minimal rings of lace, roasted malts with florals and pine needles covering a forest floor, peaches and apricots are surrounded by leather, with subtle alcohol hiding in the background.

Olde School Barleywine – Dogfish Head Craft Brewery, Milton, Delawre, USA – 15.04% ABV – Full bodied, glowing with coppery presence within the glass, candied fruit and spiced cake, creamy on the tongue, with a warm, brandy presence.

Braggot

Kuhnhenn Braggot – Kuhnhenn Brewing, Warren, Michigan, USA – 13% ABV – Soft golden straw, hints of malt and honey, crisp toast, fresh bread.

Brother Adam's Bragget Ale – Atlantic Brewing Company, Bar Harbor, Maine, USA – 11.8% ABV – Light amber, fruit, caramel malt and honey with an intoxicating allure.

Premium Oak Brackett – White Winter Winery Inc, Iron River, Wisconsin, USA – 10% ABV – Crimson Walnut, with tiny effervescent bubbles, dark, toasty malt, earthy oak and vanilla feather the palate.

Cheers!
 
You Should Also Read:
Beer for Women - Belgian Biere Babes
Hangover Cures - A Beer Fox Guide
Champagne Beer for Champagne Girls


Related Articles
Editor's Picks Articles
Top Ten Articles
Previous Features
Site Map





Content copyright © 2018 by Carolyn Smagalski. All rights reserved.
This content was written by Carolyn Smagalski. If you wish to use this content in any manner, you need written permission. Contact Carolyn Smagalski for details.