Exhibiting Your Orchids -- Preparation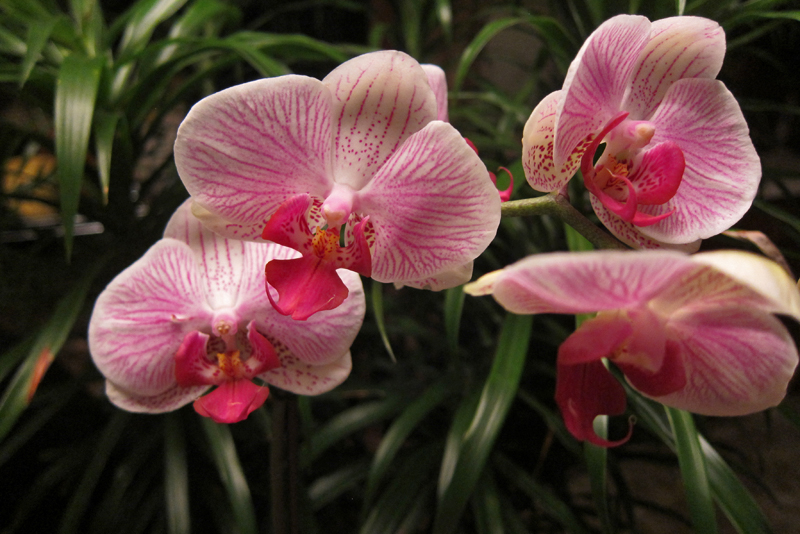 If you are planning an exhibit, especially for the first time, you will need to do quite a bit of work ahead of time so that you can enjoy the experience rather than be overwhelmed with all the details. If possible work with a friend to divide up the activities, or work together to make it easier on both of you. If your society has pictures of previous year's shows and exhibits check them out to give you some idea of what is expected.

Building the backdrop is one of the most important and time-consuming activities. If you are doing a table top exhibit -- generally a 2 foot x 8 foot exhibit -- you will need a backdrop approximately as high as the table is wide. It should be almost as long as the table and have side pieces at least 2 feet in length to provide a stable "U" shape on top of the exhibit table. The framework can be made of a variety of materials from PVC pipe to wood lattice. Remember that you are going to have to tote this framework to and from the show so it should be made to either tear apart easily or fold down to manageable proportions.

The backdrop is normally covered with some kind of black cloth preferably with a matte finish. This provides the best background to show off the orchids and bring out the colors in the flowers as well as in the foliage used to showcase them. Several yards of extra fabric are also necessary to cut up and place around pots and the various containers used to provide a pleasing display. Assemble a series of plastic pots, wood or plastic boxes or other sturdy containers to use for adding depth and elevation on the flat table surface. You will need to bring a number with you so that you can work with the exhibit until it suits your flowers and your space.

Pieces of driftwood, various mosses, containers of ferns, palms, or other foliage in containers are used to fill in around the orchid plants in the exhibit. The point to remember is that you are showcasing the orchid flowers, not the items around them. There are a number of suggested ways to set up the exhibit. One is to showcase one plant -- either in the middle or at one side -- and then arrange around the focal point. The focal point plant should generally be the highest in the exhibit to give it the most importance. Another way is the build up both sides of the exhibit and have the middle down at table level.

Many orchid shows will have a theme and you should try to produce an exhibit that works with that theme. Small pieces of statuary, plates or items with orchids on them can be used, but be very careful not to introduce any other kind of flower or the exhibit may be disallowed. Be aware not to overshadow your orchids with the other items in the exhibit.

You Should Also Read:
Exhibiting your orchids at Orchid Meetings
Orchid Name Tags
Exhibiting Your Orchids


Related Articles
Editor's Picks Articles
Top Ten Articles
Previous Features
Site Map





Content copyright © 2023 by Susan Taylor. All rights reserved.
This content was written by Susan Taylor. If you wish to use this content in any manner, you need written permission. Contact Anu Dharmani for details.