Homebrewing - Gross Inspiration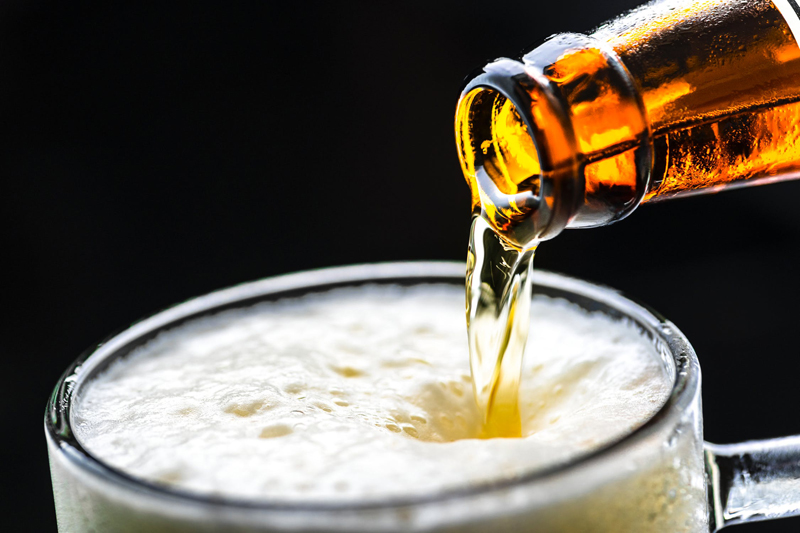 From time to time, the Beer Fox scours through cyberspace, seeking threads of evidence that might reveal the intensity and depth of your love for beer. You, the beer enthusiast, are the one I often think about as I drift off to sleep at night…the one I admire and most want to meet at a beer festival. True, we share a common love, but I am highly impressionable. Verbal exchanges about Saccharomyces cerevisiae or the Zythos Bier Festival or Vinnie Cirluzo and Russian River remain with me like a cherished artifact.

How about homebrewing? Have you ever considered brewing your own magic? What image comes to mind? Can you hear or see the yeast bubbling in the fermenter, rising up like an amorphous alien before you? Perhaps you see yourself as the "mad scientist," in white smock and horn-rimmed glasses, carrying a clipboard with chemical calculations scribbled upon white, wort-stained pages. Let us go one step beyond - touring hop farms in Idaho where you duck and weave, hiding from the great Hop Devil and rolling on a pile of hop cones like an American Bobtail on catnip? Is the adrenaline flowing yet?

I met Janis Gross in Denver, Colorado at the Great American Beer Festival 2006. She quickly earned a seat in my personal "Beer Hall of Fame" - that place in my mind where the most select breed of beer enthusiasts live. Janis is the National Homebrew Competition Director for the American Homebrewers Association and coordinates projects for the AHA. Her story is impressive.

As a 17-year-old junior in high school, she found her own inspiration in a concise, 79-page book about homebrewing. This little book was enough to convince her young, technical mind that brewing self-developed creations would be fun and personally satisfying. She started brewing in 1993, while earning double degrees in Electrical Engineering and Philosophy at the University of Colorado.

Her heart was captured by that first homebrew, where it remained throughout 10 years as an Electrical Engineer. This connection with homebrewing continued into her next position as author of technical software manuals. Recognizing that this passion never seemed to diminish, she knew that eventually her life would be immersed in the golden elixir.

As she crafted more than fifteen brews each year, she conducted sample tastings at her desk. Meticulous documentation was a part of the routine for every batch. Says Janis, "With my engineering background, taking notes was second nature." Competitions became a highlight and she earned kudos and ribbons for her efforts.

In July of 2005, her desire to enter the world of beer-and-brewing was stronger than ever. She quit her job and contacted Paul Gatza at the Brewers Association in Boulder, Colorado, seeking a professional position. In the interim, she set down stakes at What's Brewin', a homebrew supply on Bluff Street in Boulder. With her passion for brewing, it was not long before she was National Homebrew Competition Director, responsible for eight U.S. regions, Canada, and the Cider region. She is no longer eligible to enter homebrew competitions because of her position with the AHA, but she continues to brew for the experience and personal satisfaction.

Inspiration can be found anywhere. Janis laughs at the day she was struck by a brilliant idea in the shower - an idea for a Coffee Mead that won her the Gold at the International Wine Competition, held by WineMaker Magazine in Manchester Center, Vermont. Using a base of Wildflower honey mead, she racked it on top of Columbia Supremo Decaf coffee beans for 11 days before completing a tertiary fermentation prior to bottling. This produced a glimmering, brown-tinted gem with legs that would make Charlize Theron green with envy.

Another spark fired in her head for brewing Pumpkin Ale. She baked "pumpkin-pie pumpkin" before adding it in the mash. Knowing that spices are absorbed and diminished by the pumpkin, she adjusted her spice selection to provide a pleasant balance within the low-level pumpkin profile. Experience counts!

Whether you are new to the brew or a seasoned homebrewer, the AHA provides a superb homebrew forum at beertown.org. As a member of the AHA, you have immediate access to the experience of Janis Gross, Paul Gatza, and others who enthusiastically share their knowledge. For information, click into TechTalk at:
https://www.beertown.org/homebrewing/techtalk.html

Cheers!
 
You Should Also Read:
Homebrewing - Books & Resources - Novice to Expert
The Palmer Method of Homebrewing
Behind Closed Doors - The Granddaddy of Beer Competitions


Related Articles
Editor's Picks Articles
Top Ten Articles
Previous Features
Site Map





Content copyright © 2022 by Carolyn Smagalski. All rights reserved.
This content was written by Carolyn Smagalski. If you wish to use this content in any manner, you need written permission. Contact Carolyn Smagalski for details.