Beer Trivia for Beer Enthusiasts - Lightning Round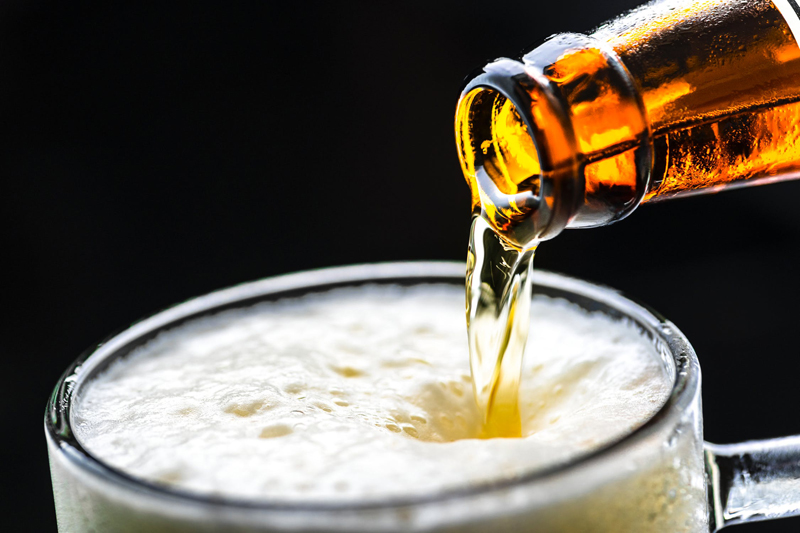 How about a Lightning Round of Beer Trivia for all you beer enthusiasts? A few little short questions are perfect for a quick drenching of beery fun.

Q. List three reasons for using hops
A. As a bittering agent; as an aromatic; as a preservative

Q. What 2 syrups are usually served with Berliner Weisse?
A. Woodruff syrup and raspberry syrup.

Q. What causes the phenolics (clove, banana and nutmeg) in Hefeweizen?
A. The yeast

Q. What did the first Oktoberfest celebrate?
A. The marriage of Crown Prince Ludwig to Princess Therese von Sachsen-Hildburghausen

Q. What was Midnight Sun Oosik Amber Ale named in honor of?
A. A Walrus penile bone.

Q. What style of beer is Samichlaus Bier from Brewery Castle Eggenberg, Eggenberg, Austria?
A. Doppelbock

Q. What style of beer is Old Horizontal, Victory Brewing, Downingtown, PA, USA?
A. Barley Wine

Q. According to The Beer Fox, what is the Holy Trinity in Alpha King Pale Ale by Three Floyds Brewing in Munster, Indiana?
A. Centennial, Cascade and Warrior hops

Q. Where and when is the Alpha King Challenge held?
A. At the Falling Rock Tap House, Denver, Colorado, USA, the Alpha King Challenge is held each fall, in conjunction with the GABF.

Q. Who is the founder of Boston Beer Company?
A. Jim Koch

Q. Collecting beer mats is called:
A. Tegestology, aka "tabletop communication."

Q. What 3 states produce 94% of the total American hop crop?
A. Oregon, Washington and Idaho

Q. Who are Hildegard and Bas van Ostaden?
A. Owners of Urthel in Belgium, brewers of Hop-It.

Q. In what year was Michael Jackson's first "book on beer" published, and what was the name of that book?
A. 1977 – "The World Guide to Beer" – published that same year on both sides of the Atlantic. His "first book" published was "The English Pub", in 1976.

Q. What is Jim Roberts' pen name?
A. Dr. Fermento

Q. What is Don Russell's pen name?
A. Joe Sixpack

Q. What is the advantage of having a beer pedicure?
A. The hops and enzymes in the beer help to soften calluses. It is rich in vitamins and has a toning effect on the skin.

Q. What style of beer was Victory Brewing Company's celebration hybrid 10th Anniversary Beer?
A. Dopplesticke Alt

Q. Where is the first Beer Museum in the world?
A. Pilsen, in the Czech Republic. It is The Brewery Museum Ref. No. 58.

Q. In Germany, what term is used to describe the low tolerance that German men have for hangover pain?
A. Der Katzenjammer. It translates to "the wailing of cats."

Q. Where is Guinness Storehouse?
A. At St. James's Gate Brewery, Dublin, Ireland.

Q. In any beer, an unpleasant aroma reminiscent of damp paper or cardboard indicates:
A. Oxydation

Q. Sun struck or skunky aroma in finished beer is a result of light (UV radiation) exposure to what component in beer?
A. Iso-alpha acids.

Q. What is faro?
A. A version of lambic sweetened by candi sugar.

Q. What is the Dutch language term for spiced beer?
A. Kruidenbier.

Q. What is a widget?
A. A capsule of nitrogen in cans or bottles of "draught" beer. (especially in Britain)

Q. What is the German term for an unfiltered beer without the distinguishing features of either a Kellerbier or a Kräusenbier?
A. Zwickelbier

Q. Who is the patron saint of Belgian brewers?
A. St Arnold of Oudenburg.

Q. What is Chibuku?
A. African beer, made from sorghum, turbid, milky-looking, quick fermenting, and typically home-brewed with a short shelf-life – typically sold in plastic milk bottles.

Q. What is Grottenbier?
A. Cave-aged beer – a Belgian dark ale.

Q. What is Gose?
A. Salty, coriander spiced, acidic wheat beer, with roots in Leipzig, Germany.

Q. Who said, "Listen to your beer"?
A. Fred Eckhardt

Q. Who said, Never ask for a beer"
A. Michael Jackson in "The Beer Companion."

Q. Who said, "Relax. Don't worry. Have a homebrew"?
A. Charlie Papazian in "The Complete Joy of Homebrewing."

Q. Who said, "A man who doesn't care about the beer he drinks, may as well not care about the bread he eats"?
A. Michael Jackson

Q. What is the approximate percentage of recognized BJCP beer styles with an acceptable strength of 5% ABV or less?
A. 60%

Q. Name a beer made with buckwheat.
A. Any of the following:
Rogue Morimoto Soba; Triumph Brewing Buckwheat Beer; New France La Messegere; Brewery Silenrieux Sara Buckwheat; Brewery Silenrieux Organic Buckwheat Ale; Rogue Buckwheat Ale; Silenreiux Leireken Buckwheat Ale; Brasserie Le Cheval Blanc (Quebec) Coup de Grisou; Ezo Buckwheat (Soba) ale – brewed by Rogue; Beer Telenn Du (by Brittany).

Q. Black Cat (English Dark Mild) is brewed by:
A. Moorehouse's Brewery, Burnley, UK

Q. In what style of beer might you find molasses as an ingredient?
A. Old Ale or Porter. e.g. Theakston's Old Peculiar Old Ale. Also in Poor Richard'sAle, the Commemorative Beer for the Ben Franklin Tercentenary in 2006.

Q. What beer was the sponsor of the Lance Armstrong LIVESTRONG Challenge in 2006?
A. Spoetzel Brewery's Shiner Beer

Name the beers associated with each of these towns:

Q. Einbeck
A. Bock, Kulmbach

Q. Cologne
A. Kölsch

Q. Düsseldorf
A. Altbier

Q. Dortmund
A. Dortmunder Export

Q. Bamberg
A. Rauchbier

Q. San Francisco
A. Steam Beer

Q. Pilzn
A. Pilsener

Q. Munich
A. Dunkel

Q. Leipzig
A. Gose

All fired up?  "Relax.  Don't worry.  Have a Homebrew."

Cheers!

You Should Also Read:
Beer Trivia for Beer Geeks
Naming Your Homebrew - A Touch of Irreverence
World Beer Records - Extreme Beer


Related Articles
Editor's Picks Articles
Top Ten Articles
Previous Features
Site Map





Content copyright © 2022 by Carolyn Smagalski. All rights reserved.
This content was written by Carolyn Smagalski. If you wish to use this content in any manner, you need written permission. Contact Carolyn Smagalski for details.