In near zero temperatures, we walk along Fifth Avenue where, in the overnight hours, a fresh layer of pallid, white snow has dusted the sidewalks. The sky, platinum with cloud-cover, hangs like a tarp over head. Sounds of passing cars echo in muffled resonance as I pull a fleece Ketchika firmly over my ears. My eyes are watering now, stinging from the cold and wind. A brief moment more, and the doors of the Glacier Brewhouse beckon with amicable hospitality.

Inside, the warm glow of burnished cherry wood highlights a massive, stone fireplace, where flickering logs cast amber light into the surrounding space. A high, open beamed ceiling merges with exposed pipes and hardware. Reddish-brown earthiness, reminiscent of unglazed pottery, softens in the glow of brass and indirect lighting. Behind a wall of windows, the polished brewhouse demands lingering glances from curious patrons. Members of the wait staff glide gracefully from customer to kitchen with purposeful order, projecting an attitude of exceptional attentiveness. The eclectic scene is comfortable and casual, yet warm and effervescent.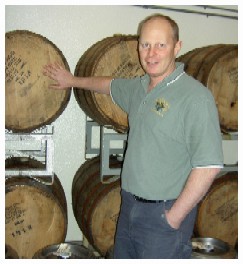 Kevin Burton, Head Brewer at Glacier Brewhouse, greets us with the same warmth as reflected in the surrounding décor. He introduces us to three attractive women: Anna Plumb, who manages the restaurant, Monique Barker, title-holder of Best Bartender in Northwest Brewing News, and Dalyn, our talented server who boasts a melodic voice that can inspire an army. Glacier Brewhouse prides itself on having a "Can Do Brew Crew," and this attitude-of-service is obvious from the get-go.

When Burton discovered the intense satisfaction inherent in the brewing profession, he walked away from a lucrative career of practicing law and never looked back. I like to think of him as passing through the looking glass from "the Dark Side" into a world where he creates magic. Originally from the Modesto, California area where he learned the craft of brewing, Burton moved to Anchorage in 1995 and worked at Glacier Brewhouse; then moved on to Midnight Sun. Glacier had left an indelible mark on him as a brewer, and he felt compelled to return, where he wields the brewers'mastshaff as Head Brewer.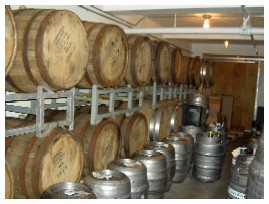 He has developed an impressive "Wall of Wood" in a chilled vault beneath the floor of the Brewhouse and keeps this cooperage "like a man keeps his favorite mistress." Among this wall-and-a-half of firkins and casks are at least fifty barrels of special release beers, conditioning in various types of oak that have been selected for the nuances each may impart. Virgin Oak infuses notes of vanilla and coconut on the palate. Those formerly used for Chardonnay or Jim Beam will pass on the distinctive characteristics of their "mother tongue" while conditioning. Hungarian, Ukranian, and French oaks have their own distinctive profiles to add.

Imagination at Work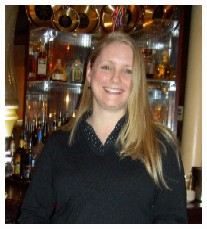 Kevin Burton originally crafted Imperial Blonde as Ice Axe Ale for the West Rib Pub & Grill in Talkeetna, Alaska. Talkeetna, which means "River of Plenty" in the Athabascan culture, was a former supply center for the gold mining district in Alaska and is a coveted location for its abundance of fish. It also developed into a nucleus for the climbing community, and is a "jump off point" for climbing expeditions on Denali (Mount McKinley). In a happy collision between fate and imagination, Burton had the opportunity to purchase a significant cache of crystallized honey from Wisconsin in a bargain bid, and set out to fashion a beer that would stand up to the stalwart tastes of the Talkeetna climbers. What resulted was ambrosia for the gods – light in color, with a smooth, silky feel, a touch of sweetness, and a 9% ABV, but no hint of alcoholic burn. It was love at first bite – the hidden alcohol of Ice Axe Ale grabbed most patrons before they realized their excess. The West Rib implemented a sure-fire activity test to warn of the impending danger of this magnanimous brew: It has a climbing wall in the bar. Patrons can have only two Ice Axe Ales…unless they can still climb the wall and touch the ceiling.

Twelve Days of Barleywine


Big Woody, is famous for Barley Wine Style beers. The Twelve Days of Barleywine is an annual celebration, beginning on December 10th and running until the Winter Solstice on December 21st. Twenty-two vintage brews roll out at the rate of two or three each day. Kevin Burton and his brewers, along with Anna Plumb, serve as a Sensory Evaluation Team, tasting each seasoned batch to ensure quality, and evaluating them for the characteristics that distinguish each as a "prized possession."

Examples of these distinctive Barleywines: 2003 Cherry XXXmas aged in Jim Beam barrels for three years, yielding 10.5% ABV; 2006 Russian Imperial Stout aged two years in a Ukranian oak barrel, with 9.2% ABV; or 2004 Big Woody Barleywine aged for one year in Napa Valley wine barrels of American oak, measuring 10.75% ABV. These are, indeed, prized possessions and well worth a king's ransom.

Beer Fox Tasting Notes

Oak Aged Belgian Tripel – This rare offering, only available in January, is crafted using Bastogne Belgian Trappist yeast, the same yeast from which Orval has sprung. It is aged for nine months in French oak, and yields a beer that is honey-bourbon in appearance, with a smooth palate and complex flavors of apricots, spices, pepper, and vanilla. 9.25% ABV

IPA – A grapefruit grove greets the nose as hazy amber fills the glass, topped by frothy cream. Smooth sheets of lace coat the inner surfaces. Fifty-five IBU's present with clean flavors and a balance between sweet maltiness and the bitter hop giant. 6% ABV

Double IPA – The sight of an illustrious collection of shined copper vessels can seize your breath in a heartbeat. The rich depth of color in this Double IPA exudes the same intensity and calls up feelings of solid warmth with its coppery body and creamy, beige head. Its nose displays a huge hop profile of floral and citrus notes of lemon, orange, and grapefruit. Brewer Kevin Burton confirms that it has more than double the hops used in Glacier's standard IPA. The hops are balanced by a huge quantity of malt – Pale, Crystal and CaraAroma – yielding greater depth than a normal IPA and 120 IBU's. A long, bitter finish satiates, but leaves you begging for more. 7.67% ABV

Black Rye Bock – Black as an obsidian cabochon, this lusty gem sports a creamy tan head that imprints generous swaths of cream on the surfaces of the snifter. Rye makes up 30% of the grist, adding a spicy tone to the bittersweet chocolate palate. Lager yeast contributes to its depth. As a style, it merges qualities of a Rye Beer with Bock and Schwarzbier to deliver a richly provocative cold-weather beer. 6% ABV

Oatmeal Stout – Solid ebony commands attention that gives rise to imaginings of black Jaguars, polished marble, and elegant leather. Tight, slick bubbles of brown decorate the surface in a thick finger of froth. Caramel malt and rolled oats form the backbone of this wonder child. Aging in "Beam Barrels" smoothes the profile even more. Add nitro, and you have satin, velvet, silk, glistening ice…for the palate!

Glacier Brewhouse provides a full dining experience of Alderwood fired meats (baby back pork ribs slathered in whiskied barbecue sauce), fresh Alaskan seafood (pepper encrusted salmon with slow-simmered, blackberry pinot noir demi-glace), gourmet pizza (prime rib, kahlua style, with exotic, roasted mushrooms, onions and marinated tomatoes on a shallot butter crust), spent-grain bread, and erotic desserts (fruits and nuts, infused with Grand Marnier, wrapped in warm pastry and served with ice cream) that merge well with superb craft beers, refreshing wines, and elegant cocktails. Glacier Brewhouse is located at 7329 Arctic Boulevard in Anchorage, Alaska. Savor the experience!

Cheers!

Photos (from Top): Glacier Brewhouse Head Brewer Kevin Burton; Glacier's prized Wall of Wood; Anna Plumb of Glacier Brewhouse; Best Bartender Monique Barker