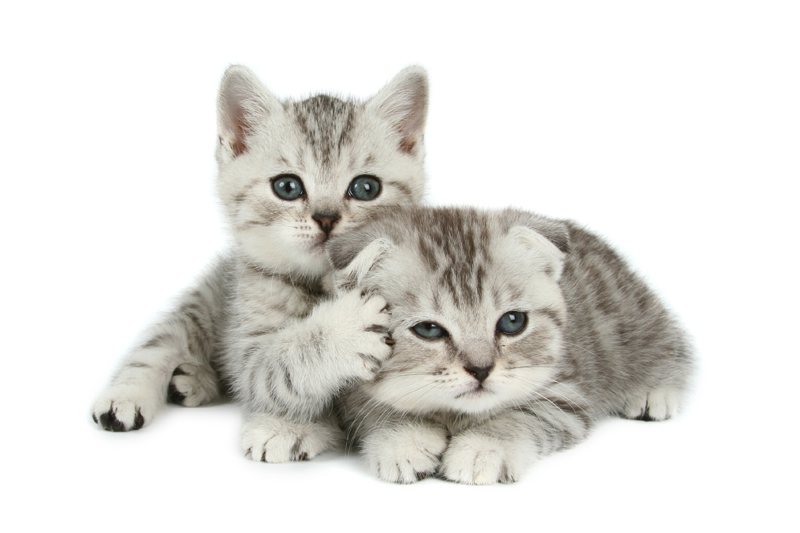 Since preventative care is just as important for your cat as it is for you, there are some vaccinations your veterinarian might recommend for your cat or kitten. Generally vaccination boosters are given annually, but there is now some controversy that indicates yearly might not be necessary (that's a topic to explore in a future article).
Here is an overview of the vaccinations your veterinarian might recommend for your feline friend. Since cats environment and living conditions vary, discuss the types of vaccinations and frequency that are right for your cat with your veterinarian.
FVRCP
In addition to Rabies, FVRCP is the main vaccination given on a yearly basis. This vaccination protects your cat against several diseases.
FVR stands for feline viral rhinotracheitis, which is a severe upper respiratory infection caused by a feline type 1, herpes-virus. Feline Viral Rhinotracheitis can cause sneezing, coughing, lethargy, nasal discharge and high temperature. Some cats develop pneumonia and occasionally eye lesions. Weight loss and dehydration are common since most cats infected with the virus don't want to eat or drink. This disease is chronic and it's possible for cats to suffer permanent damage to both the respiratory system and the eyes.

C stands for calicivirus infection. Calicivirus is also an upper respiratory infection. There are several strains of caliciviruses that can affect cats - from mild to life threatening. Many of these strains cause similar respiratory signs to that of feline viral rhinothracheitis.
These two diseases account for a large majority of the upper respiratory infections found in cats. Some cats can be carriers without actually having signs of the disease.
P stands for panleukopenia. Panleukopenia is commonly known as feline distemper (and infectious feline enteritis). This virus causes loss of appetite, vomiting, diarrhea, fever and has a high mortality rate. Panleukopenia is caused by a parvovirus similar to the parvovirus that can affect dogs. The disease can affect cats of all ages, but is most severe and life threatening in young kittens.
Kittens generally will require a series of three FVRCP vaccinations, beginning at around 8 weeks of age.
Rabies
The rabies vaccination protects your cat against rabies and is usually required by law. Most common is the yearly rabies vaccination; however, some states offer multiple year rabies vaccinations (most commonly 3 years).
Feline Leukemia (FeLV)
Initially there is a series of two FeLV injections given three or four weeks apart with a booster given annually for continued protection.
Feline Leukemia is a highly contagious disease that affects a cat's immune system and other organs, and can cause cancer and lead to death. Cats of all ages can get feline leukemia, but young kittens and older cats are more susceptible to the disease. Kittens can also be infected by their mother before they are born. The feline leukemia virus is found in saliva, blood, urine, feces and respiratory secretions. Some cats are infected with the virus but show no signs and can live with it for years. They can, however, still pass the virus to other cats.
Outside cats are more likely to encounter other cats, so they are naturally at a higher risk of being exposed to and developing feline leukemia.
Before starting your cat on a vaccination program for feline leukemia, your veterinarian will most likely require a FeLV test. There is no cure for feline leukemia, so if your cat is in a high risk environment make sure you discuss FeLV testing and vaccination options with your veterinarian.

You Should Also Read:
Cat Heath and Care
Adopting a Cat or Kitten
Tips on Cat Care While You're Away


Related Articles
Editor's Picks Articles
Top Ten Articles
Previous Features
Site Map





Content copyright © 2022 by Melissa Knoblett-Aman. All rights reserved.
This content was written by Melissa Knoblett-Aman. If you wish to use this content in any manner, you need written permission. Contact Melissa Knoblett-Aman for details.