Exhibiting Your Orchids -- Before the Show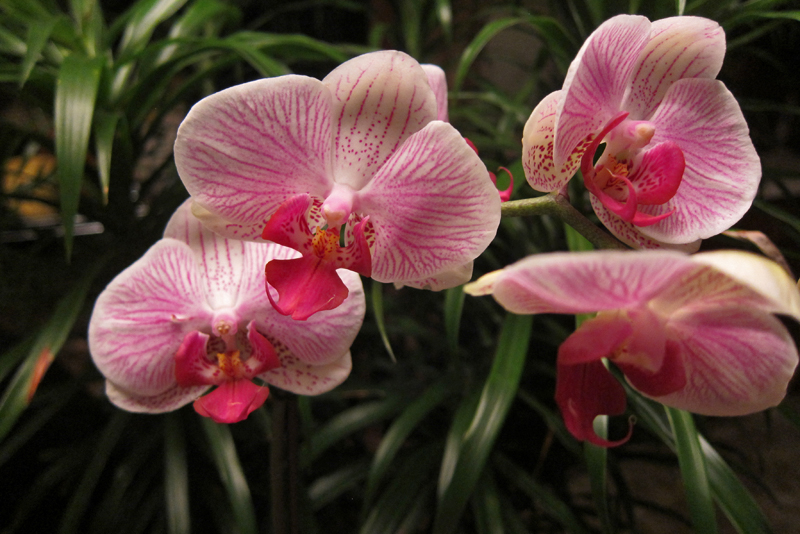 You have done all the preliminary work at home, picked out your perfect blooming plants, prepared your backdrop, and gathered all your props, now it's time to put it all together. Many experts recommend that you do a dry run at home setting up the exhibit and then either taking a picture or drawing a diagram of the setup in order to shorten the length of time it takes you at the exhibit hall.

One of the most basic things you need to think about is getting your orchids to the show in the best shape possible. If you have the ability to hang some of them on a rod in your car this will work well for those that have been hanging in your home or greenhouse. I use a container with 18 inch or 45 centimeter high sides to put my pots in and then stuff newspaper around them to hold them in place. It's important to keep them from falling over and breaking off any flowers. The high sides will provide extra support.

Orchids with delicate inflorescences such as Phals will need protection. A great idea is to tie the Phal inflorescence with a bending wire that follows its natural curve, but continue the wire so that it rests against the flooring that the pot is sitting on. This will support the whole inflorescence until you have arrived at your destination, then remove the wiring.

At the show you will be required to fill out an entry card for each of your orchids with the name of the orchid and its parents. Prior to the show you can look up this information at the Royal Horticultural Society website at https://www.rhs.org.uk/plants/registration_orchids.asp. In about the middle of the page you will se a link for "Grex name search" choose this and then type in the Genus and the name of your orchid. Then click on "search." You can use a wildcard character of "%" to search by a partial name if you cannot find an exact match. Do not include the name in single quotes on your tag. Bring all this information to the show with you to save a lot of time at registration time.

You will also need to identify your orchids in a pleasing manner in your exhibit. Most people use black cardboard paper cut into 2 inch by 3 inch pieces and lettering with gold or silver pen. These are attached to a stake and displayed in front of each plant. If you're not sure how it should look, look at some of the other displays and see what seems to be pleasing to you.

In addition to your props and flowers you will need to think about how you are going to make the background of the exhibit pleasing to the eye. Many exhibitors use black fabric around pots to make them fade into the background. Mosses, either green moss or Spanish moss, can be used to make the background look more natural. Pieces of driftwood or branches will break up the unnatural effect of a square table and direct the eye toward the orchids you wish to highlight.

You Should Also Read:
Exhibiting Your Orchids - Preparation
Tying and Staking Your Orchids
Look up the Reigstered Name of your Orchid


Related Articles
Editor's Picks Articles
Top Ten Articles
Previous Features
Site Map





Content copyright © 2023 by Susan Taylor. All rights reserved.
This content was written by Susan Taylor. If you wish to use this content in any manner, you need written permission. Contact Anu Dharmani for details.